Samsung launches new selection of music players
In response to the rising spending power of young people, Samsung Electronics Co launched a series of hip digital music players yesterday, aiming to strengthen its local share.
"This new series is a low-end model, which will enable us to grab more share in the local market and boost our unit shipments," said Annie Huang (黃彥莉), assistant manager of the IT marketing department at Samsung Electronics Taiwan Co.
Sales of digital music players in Taiwan would total 1.2 million units this year, including those that support Mpeg-4 video format, market researcher GfK Marketing Services estimated.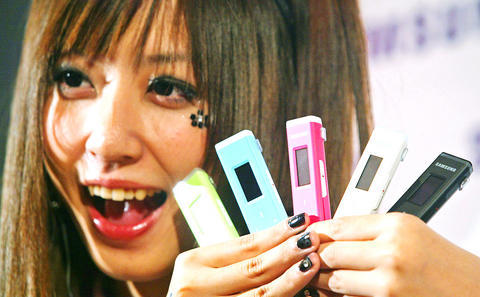 A model displays Samsung's latest MP3 players at a press conference yesterday. The company hoped that the compact and brightly colored players would appeal to young consumers.
PHOTO: CNA
The figure represents a 4 percent increase from last year, it said.
For the first four months, there were a total of 386,000 music players sold in Taiwan, with video-supported models representing 149,000 units, GfK figures showed.
In April, Transcend Information Inc (創見), a Taiwanese maker of memory modules and USBs, unseated Apple Inc's iPods for the first time to take the No. 1 spot with a line of affordably priced lower-end models.
Transcend garnered 13 percent of unit share. iPods took a 12 percent share and Samsung came in third with a 7 percent share, according to GfK tallies.
Samsung is confident it will secure the second brand in the local digital music player market this year, with a 15 percent market share and sales of 120,000 units, Lee Chul-young, president of its Taiwan branch, said in April.
Last year, it had a 9 percent share with 70,000 units sold, Lee said.
The new "U3" MP3 series boasts five choices of colors, with built-in universal-serial-bus (USB) plugs and a clip to attach the player to clothing, so they are a good gadget for teenagers during these happy summer holidays, she told reporters at a product launch yesterday.
They come with price tags of NT$2,290 (US$70) to NT$4,290, depending on size of the storage.
Comments will be moderated. Keep comments relevant to the article. Remarks containing abusive and obscene language, personal attacks of any kind or promotion will be removed and the user banned. Final decision will be at the discretion of the Taipei Times.