Rat poison found in US pet food
AMINOPTERIN Scientists found a drug used to induce abortions and kill rats in pet food sold throughout North America. Sixty million cans and pouches were recalled
Rat poison was found in pet food blamed for the deaths of at least 16 cats and dogs, but scientists say they still do not know how it got there and predicted more animal deaths would be linked to it.
Regulators have focused their investigation on possibly contaminated wheat gluten that came from China.
The substance in the food was identified as aminopterin, a cancer drug that once was used to induce abortions in the US and is still used to kill rats in some other countries, state Agriculture Commissioner Patrick Hooker said.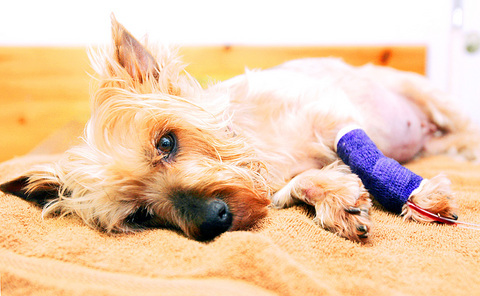 Pebbles, the Yorkshire terrier that became a symbol of the national pet food scare, is treated at Collett Veterinary Clinic in Los Angeles on Wednesday. Pebbles died on Thursday while being treated for kidney failure that developed after she ate some of the suspect pet food.
PHOTO: AP
The federal government prohibits using aminopterin for killing rodents in the US. State officials would not speculate on how the poison got into the pet food, but said no criminal investigations had been launched.
The pet deaths led to a recall of 60 million cans and pouches of dog and cat food produced by Menu Foods and sold throughout North America under 95 brand names. Some pets that ate the recalled brands suffered kidney failure, and the company has confirmed the deaths of 15 cats and one dog.
The Food and Drug Administration has said the investigation into the pet deaths was focused on wheat gluten in the food.
The gluten itself would not cause kidney failure, but it could have been contaminated, the FDA said.
Paul Henderson, chief executive of Ontario, Canada-based Menu Foods, confirmed on Friday that the wheat gluten was purchased from China.
Bob Rosenberg, senior vice president of government affairs for the National Pest Management Association, said it would be unusual for the wheat to be tainted.
"It would make no sense to spray a crop itself with rodenticide," Rosenberg said, adding that grain shippers typically put bait stations around the perimeter of their storage facilities.
The company that produced the food on Friday expanded its recall to include other brands and said it would take responsibility for pet medical expenses incurred as a result of the food.
Comments will be moderated. Keep comments relevant to the article. Remarks containing abusive and obscene language, personal attacks of any kind or promotion will be removed and the user banned. Final decision will be at the discretion of the Taipei Times.