Sanyo vows to help with probe
FALSE EARNINGS? A newspaper report that claimed the electronics giant was being investigated for underreporting losses caused its shares to plummet by 21 percent
Sanyo Electric Co said yesterday it was fully cooperating with an investigation by securities authorities into suspected window-dressing of earnings at the struggling Japanese electronics maker.
Company spokesman Ryo Hagiwara said an investigation was under way but declined to confirm a report yesterday in Japanese newspaper Asahi Shimbun that Sanyo may have falsified its fiscal 2003 earnings report. He would not elaborate.
The Asahi said Sanyo had written off losses of 190 billion yen (US$1.6 billion) at its subsidiaries, but reported the losses as 50 billion yen. The Osaka-based company may have falsely reported a profit when it was in the red, it said.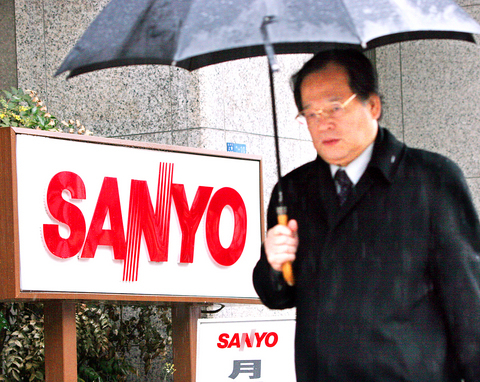 A businessman walks past a Sanyo signboard in downtown Tokyo yesterday. Ailing electronics giant Sanyo said it was under investigation by the country's securities watchdog following allegations that it underestimated its losses.
PHOTO: AFP
Such differences have been corrected over the years, and the company's recent earnings reports are not false, the report said.
Sanyo shares plunged 21 percent to close at 181 yen in Tokyo on the Asahi report.
If the report is true, "there is a possibility the company will be fined," Yuji Yamamoto, Japan's minister for financial services, told reporters in Tokyo yesterday after a Cabinet meeting.
The probe follows recent news of dubious accounting at some Japanese companies which raised questions about whether the world's second-largest economy is keeping pace with global market standards.
In a high-profile court case, former executives at Internet services company Livedoor Co are on trial on charges of falsifying earnings. Major Japanese brokerage Nikko Cordial Corp was fined by securities authorities in December for manipulating profits.
The latest investigation is a blow to Sanyo at a time when it has been struggling to turn around its business, trimming thousands of jobs, reducing factory space and dropping some businesses since announcing a restructuring plan in 2004.
It got a much-needed capital boost a year ago from a group of investors led by Goldman Sachs Group Inc, which became the company's top shareholders and took over the board, joined with Daiwa Securities SMBC Co and Sumitomo Mitsui Financial Group Inc to invest 300 billion yen in Sanyo in January last year in return for management control.
"Our support to Sanyo will remain the same," said Tetsu Morishima, a spokesman for Sumitomo Mitsui, which contributed 50 billion yen to Sanyo's bailout. He declined to comment on possible penalties.
Securities and Exchange Surveillance Commission spokesman Noboru Takayama declined comment, saying the watchdog does not comment on ongoing individual cases.
Sanyo is forecasting around a 50 billion yen loss for the fiscal year through next month.
Like other Japanese electronics makers, Sanyo has been battered in recent years by competition from cheaper Asian rivals. Its performance was also hurt by a 2004 earthquake near its chipmaking plant.
Sanyo has repeatedly promised a turnaround under what has been billed as innovative management headed by former journalist Tomoyo Nonaka, who became chairman and chief executive in 2005, one of a handful of star female chief executives at major Japanese companies.
Nonaka, who joined the company's board in 2002, was appointed with Toshimasa Iue, grandson of Sanyo's founder, who became president.
Comments will be moderated. Keep comments relevant to the article. Remarks containing abusive and obscene language, personal attacks of any kind or promotion will be removed and the user banned. Final decision will be at the discretion of the Taipei Times.