Takeover report boosts Chrysler
US shares of DaimlerChrysler AG jumped more than 4 percent on Friday -- setting a new 52-week high -- after a trade publication reported that General Motors Corp (GM) is in talks to acquire the troubled Chrysler Group.
GM and Chrysler officials would not comment on the report by Automotive News, which attributed the story to people in Germany and the US whom it did not identify.
Several industry analysts said the speculation drove DaimlerChrysler stock up. Its shares closed up US$3.08, or 4.4 percent, to US$73.33 on the New York Stock Exchange. Earlier in the session, it set a new 52-week high of US$74.53.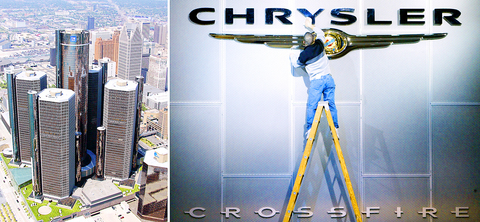 Left: The worldwide headquarters of General Motors is pictured on July 13 last year in downtown Detroit, Michigan. Right: A worker polishes a sign at the Chrysler display on Jan. 4, 2004, at the North American International Auto Show in Detroit. General Motors is in talks to buy rival Chrysler Group from German-US auto giant DaimlerChrysler AG, the Automotive News said on Friday.
PHOTOS: AFP
GM's shares slipped US$0.10 to US$36.34 after rising earlier to US$36.83.
Spokesmen for GM and Chrysler would not comment because so many rumors had surfaced since Wednesday, when DaimlerChrysler chairman Dieter Zetsche said the automaker would not rule out possible sale of its US operations, which it acquired in 1998.
The DaimlerChrysler chairman, who formerly led Chrysler Group, said the German company is considering all options for its US operation, including strategic partners.
But neither firm would deny that talks were taking place, either.
Several analysts said that neither company would gain much if GM acquired Chrysler.
"It doesn't make any sense to me at the corporate level," Burnham Securities analyst David Healy said. "They have competitive vehicles with dealers across the street at every level from subcompact car at least to full-size pickup truck."
Healy and others said it was more likely the two companies would join to develop technologies or hardware such as a clean diesel engine built at a single plant.
"I think there's some fire with all that smoke," he said. "With the Chrysler Group losing money and looking for alternatives to save development costs, joint ventures, technology sharing with GM and some of the other auto companies might make a lot of sense."
The Wall Street Journal and the New York Times on Friday both quoted sources as saying that Chrysler and GM have discussed a possible alliance related to large sport utility vehicles.
DaimlerChrysler has already intertwined its Mercedes operation with Chrysler to the point where it would be difficult for the firms to separate, said Kevin Reale, an AMR Research Inc automotive analyst.
"If you stand back and look at the monies and whatnot that DaimlerChrysler is investing in Chrysler overall, and the level of re-use in architecture and parts you're seeing, I find it very difficult for it to be more than just a rumor right now," Reale said.
Chrysler announced an operating loss for last year of US$1.475 billion on Wednesday, and said it expects to show losses through this year. The firm said it would eliminate 13,000 positions -- including 11,000 production jobs and 2,000 white-collar posts -- over the next three years as it seeks to cut costs and return to profitability next year.
GM has said it would turn a profit for the fourth quarter of last year, but accounting troubles delayed its earnings report.
Comments will be moderated. Keep comments relevant to the article. Remarks containing abusive and obscene language, personal attacks of any kind or promotion will be removed and the user banned. Final decision will be at the discretion of the Taipei Times.