Chi Mei Optoelectronics back in black
OPTIMISTIC OUTLOOK The flat panel maker's president said the company faced a challenging year, after posting earnings of NT$436 million for the fourth quarter last year
Chi Mei Optoelectronics Corp (奇美電子), the nation's second-largest maker of flat panels for computers and TVs, posted its first quarterly earnings in the past three quarters as a price decline slowed on falling inventory.
Chi Mei expects inventory to shrink to a healthy level in the first quarter due to reduced output, which may trigger an early price hike for liquid-crystal-display (LCD) computer panels in the middle of next quarter.
"The business will hit the bottom in the second quarter and start to pick up in the third quarter ? The downturn will be more moderate this time," Chi Mei president Ho Jau-yang (何昭陽) told an investor conference in Taipei yesterday.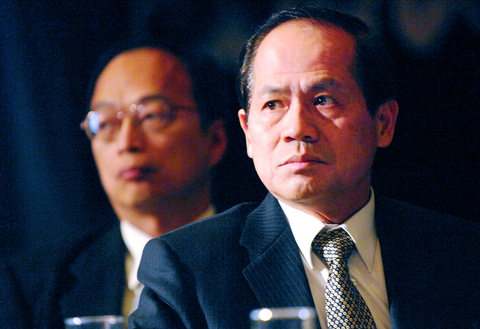 Chi Mei Optoelectronics Corp president Ho Jau-yang, right, and executive vice president Wu Biing-seng listen to questions from investors during the fourth quarterly report in Taipei yesterday. The flat-panel maker said it had swung back into the black for the three months to December with a NT$436 million net profit.
PHOTO: AFP
"We will not rule out the possibility of a shortage [of panels] in the fourth quarter," Ho said.
QUARTERLY RESULTS
During the fourth quarter of last year, Chi Mei eked out NT$436 million (US$13.22 million), or NT$0.05 per share, ending two straight quarterly losses since the second quarter last year, according to a company statement.
This represented a 95 percent decline from NT$8.34 billion, or NT$1.71 a share, a year earlier.
Drastic price correction has driven bigger rival LG Philips LCD Co, based in Seoul, into its third quarterly loss in a row last quarter at US$187 million in losses.
Average selling price (ASP) plunged 23 percent year on year to US$169 per unit in the final quarter of last year, but rose by 8 percent on quarterly basis, Chi Mei said.
Chi Mei expects blended ASP to drop by 3 percent to 5 percent at a quarterly rate in the first three months on seasonal factors, Ho said.
Panel shipments would fall 15 percent quarter-on-quarter, he said.
ANALYST REACTION
"Chi Mei's gross margin largely matches my expectation, but the increase in operating expense surprises me," said Frank Su (蘇穀祥), an LCD industry analyst with BNP Paribas Securities in Taipei.
Gross margin decreased to 10.9 percent last quarter from 24.6 percent a year ago, or a rebound from 4.6 percent last quarter.
Operating expenses, however, jumped 54 percent to NT$4.74 billion from the third quarter.
The one-time spike in operating expense would not be an obstacle on Chi Mei's progress toward a recovery in the second quarter, earlier than the company's forecast in the third quarter, said Su, who gave a "buy" on Chi Mei.
Overall, Ho said "it will be a challenging period this year and yet a high-growth year for Chi Mei."
2007 FORECAST
TV panel shipments should grow 45 percent annually to 13.3 million units this year on fast-growing demand for LCD TVs with bigger screens, Ho said.
Computer panels should increase 30 percent year-on-year to 30 million units, he said.
Chi Mei slightly cut its capital spending for this year to NT$75 billion compared to its earlier estimate of NT$80 billion and the NT$110 billion spent last year.
Comments will be moderated. Keep comments relevant to the article. Remarks containing abusive and obscene language, personal attacks of any kind or promotion will be removed and the user banned. Final decision will be at the discretion of the Taipei Times.