Oil prices mixed as traders keep eye on OPEC
Oil prices were mixed on Friday as traders pored over conflicting reports on OPEC's exports and debated whether the cartel might trim its output further.
New York's main contract, light sweet crude for delivery in December, closed down US$0.45 at US$55.81 per barrel. The contract expired on Friday.
The contract did, however, bounce back from earlier lows which had seen it plummet as low as US$54.86, its lowest point since June last year.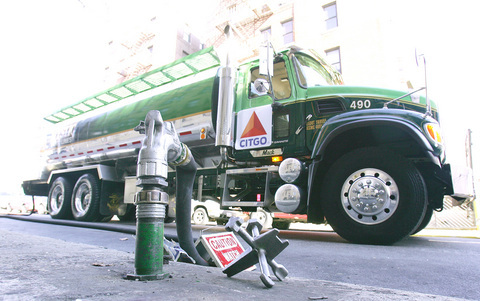 A CITGO delivery truck delivers low-cost heating oil to a cooperative apartment building in the Bronx, New York, on Friday.
PHOTO: AFP
In London, Brent North Sea crude for January delivery settled up US$0.45 at US$58.99 per barrel, after earlier touching a one-year low of US$57.85.
Traders said New York prices had been bolstered by mild weather in the US and perceptions that there are ample US winter fuel supplies in place.
"This is going to put pressure on OPEC to perhaps make bigger cuts," BNP Paribas Commodity Futures broker Tom Bentz said.
The 11-member OPEC cartel decided last month to slash output by 1.2 million barrels per day to 26.3 million barrels per day from Nov. 1, in a bid to put a brake on prices which have tumbled from above US$78 this summer.
According to an analysis by consultancy Petrologistics, OPEC's exports have fallen 1.1 million barrels per day this month.
A separate report by Oil Movements, however, estimated that the cartel's exports actually rose by 210,000 barrels per day starting Nov. 4 and were likely to remain at such a level through to Dec. 2.
"Further [price] weakness no doubt came from data from oil tanker tracker Petrologistics, which suggested that the cartel has carried out only some of their agreed output cuts," Sucden analyst Michael Davies added.
"The data has undermined OPEC's credibility, with many more now questioning whether OPEC will deliver its planned 1.2 million barrels per day cuts," he said.
The US Department of Energy revealed earlier this week that stockpiles of distillates, which include heating fuel and diesel, dived 3.6 million barrels to 135 million barrels in the week ending Nov. 10.
That was more than seven times market expectations, but stocks remain about 6 percent above year-ago levels.
Heating fuel demand ratchets up a gear during the northern hemisphere winter, particularly in the US northeast, pushing oil prices up.
And many Americans take to their cars for the Thanksgiving holiday next week, when analysts predict that demand for gasoline will shoot higher.
Comments will be moderated. Keep comments relevant to the article. Remarks containing abusive and obscene language, personal attacks of any kind or promotion will be removed and the user banned. Final decision will be at the discretion of the Taipei Times.