Hurricane threat drives oil prices up
Oil prices rose on Friday, reflecting traders' concerns over possible hurricane dangers in the Caribbean and Gulf of Mexico to oil exports from Mexico and Venezuela.
The gains came as Emily, the second hurricane of the season, strengthened to a dangerous category 4 storm and took a slightly more northerly track.
With some forecasters predicting that Emily could make landfall on the border of Mexico and Texas in the middle of next week, traders worried about the storm's impact on production in the Gulf of Mexico and refinery operations in the region. There was also concern that Emily could affect Mexican and Venezuelan oil supplies as it makes its way to the Strait of Yucatan.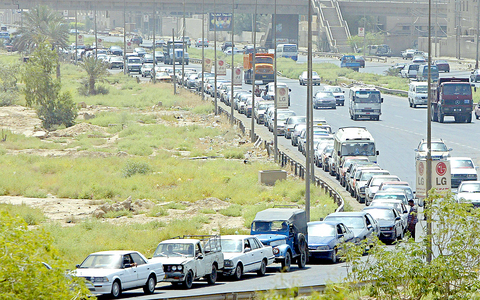 A long line of cars wait outside a petrol station in Baghdad yesterday amid an acute fuel shortage in the oil-rich war-torn country. Long lines of cars were seen waiting outside several fuel stations and people had to wait for several hours to fill up their cars. Light, sweet crude oil closed at US$58.09 in New York on Friday as storms threatened exports from Mexico and Venezuela.
PHOTO: AFP
"The further north it goes, the more of a threat it will become to offshore oil and gas production and shipping," said Marshall Steeves, an analyst at brokerage Refco in New York.
"It is the uncertainty of what's going to happen over the weekend. You could come in Monday morning with a much higher open if the storm approaches the main part of the Gulf," Steeves said.
Light, sweet crude for August rose US$0.29 to settle at US$58.09 per barrel on the New York Mercantile Exchange.
Heating oil futures rose by US$0.0052 to US$1.6621 a gallon while gasoline futures declined by US$0.0052 cent to US$1.6883 per gallon.
On London's International Petroleum Exchange, Brent futures for September, the new front-month contract, rose US$0.65 to settle at US$57.61 a barrel.
Venezuelan authorities ordered several oil tankers in the key refining zone of Puerto La Cruz to remain in port, likely delaying exports.
Analysts tracking Emily's path said it could hit the Cantarell oil field in Mexico, which could immediately wipe out 2.5 percent of the world's daily oil production of around 84 million barrels.
"The market is still tightly enough balanced and the cushion of surplus capacity is narrow enough to keep a relatively high floor under prices," said Tom Wallin, an analyst with Energyintel.
Last week, tropical Storm Cindy and Hurricane Dennis halted some production in the Gulf of Mexico and disrupted operations at refinery operations along the Gulf coast.
The fear is that a bigger storm could halt production for a longer period, causing supply shortages.
Comments will be moderated. Keep comments relevant to the article. Remarks containing abusive and obscene language, personal attacks of any kind or promotion will be removed and the user banned. Final decision will be at the discretion of the Taipei Times.