Oil prices rise on terrorism fears
World oil prices rose on Friday amid heightened tension over the risk of terrorism.
New York's benchmark contract, light sweet crude for delivery in September, climbed BrentUS$0. 31 to US$41.67 a barrel. Brent North Sea for September advanced US$0.26 to US$38.27.
Traders appeared nervous ahead of the weekend, said AG Edwards market analyst Bill O'Grady.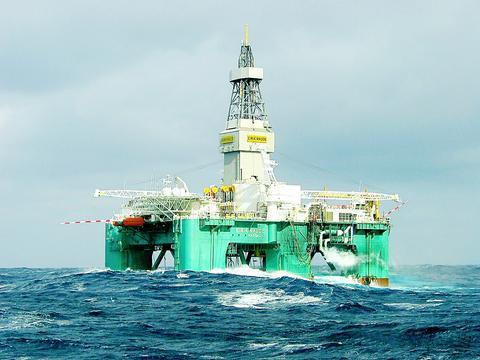 The Eirick Raude offshore rig owned by the Norwegian company Ocean Rig is seen in this file photo from late last year. Spain's Repsol has rented the rig and has been drilling a wildcat 29km off Cuba's northwest coast since last month. Oil experts say Cuba's Gulf waters could harbor large quantities of medium-grade crude.
PHOTO: REUTERS
"There are all kind of worries that something bad is going to happen during the Democratic convention," he said.
The FBI said on Friday it was looking into unconfirmed reports that a domestic group was planning to attack media vehicles during the Democratic Convention, which opens in Boston tomorrow and runs through to Thursday.
Concern over worldwide tensions mounted after kidnappers in Iraq seized Mohammed Mamdouh Hilmi Kotb, the third most senior official at the Egyptian embassy in Baghdad and the first diplomat taken in Iraq's wave of kidnappings.
"The Egyptian diplomat being kidnapped showed that Iraq is still a mess," O'Grady said.
Prices also were supported by a financial crisis at Russian energy giant Yukos, which warned it would declare bankruptcy if the government sold its Yuganskneftegas unit to cover a multi-billion-dollar tax bill.
"It is unclear how much of the bankruptcy talk is designed to put pressure on the Russian government," Informa Global Markets analyst Peter Luxton commented in London.
Funds were unwilling to be in short supply of oil contracts in case of supply disruptions during the weekend, he said.
Also See Story:

Kremlin offered a deal on Yukos by UK consortium
Comments will be moderated. Keep comments relevant to the article. Remarks containing abusive and obscene language, personal attacks of any kind or promotion will be removed and the user banned. Final decision will be at the discretion of the Taipei Times.