US shares rally after earlier sell-offs
STILL DOWN Despite the recovery after shares were down on the news of bombing attacks in Spain, trading still notched up its biggest weekly decline since September
US stocks rallied and the dollar rose on Friday, recovering from a sell-off on Thursday caused by the bombings in Madrid and fears of a possible al-Qaeda link. \nBut even with Friday's gains, stocks still finished down for the week, suffering their biggest weekly declines since September. \nGold, silver, bonds and oil all fell. \nThe Spanish government has singled out the Basque separatist group ETA as the prime suspect in the bombings, which killed nearly 200 people, though the group has denied responsibility. \nFears that Islamic radicals linked to Osama bin Laden's al-Qaeda might have been behind Thursday's simultaneous bombings put security forces on alert across Europe and beyond. \n"The experts have said that you shouldn't listen to whoever is claiming responsibility or not claiming responsibility," said Philip Dow, director of equity strategy at RBC Dain Rauscher. "The bottom line is, is that it's a horrific event." \nImproved outlooks for earnings and brokerage upgrades contributed to Friday's stock market gains. \nThe Dow Jones industrial average closed up 111.70 points, or 1.10 percent, at 10,240.08. The Standard & Poor's 500 Index ended up 13.79 points, or 1.25 percent, at 1,120.57, while the Nasdaq Composite finished up 40.84 points, or 2.10 percent, at 1,984.73. \nFor the week, the Nasdaq lost 3.07 percent, the Dow ended down 3.35 percent and the S&P 500 fell 3.14 percent. \n"Now we're seeing some buying, some short covering. The Nasdaq is acting better than the Dow because it had more of a sell-off than the other indexes," said Todd Leone, head of listed trading, S.G. Cowen. \nInternational Business Machines Corp helped pull the Dow higher. The stock ended up US$2.09, or 2.29 percent, at US$93.30. \nDell Inc. finished the session at US$33.05, up US$1.06, or 3.31 percent, after J.P. Morgan raised its rating on the second-largest supplier of personal computers to "overweight" from "neutral." \nCisco Systems Inc, the world's largest maker of equipment that directs traffic on the Internet, closed up 79 cents, or nearly 4 percent, at US$23.13 and were the second most actively traded on Nasdaq. \nThe dollar rose on Friday as investors took profits on gains made in higher-yielding currencies and shrugged off slightly weaker-than-expected US consumer sentiment data. \nThe University of Michigan's consumer sentiment index showed a preliminary March reading of 94.1, narrowly undershooting February's final reading of 94.4. \n"Michigan was slightly disappointing but despite that, we saw the dollar reach fresh highs on the day, proving that the markets over the past couple of days have been paying more attention to technical factors than fundamental ones," said Omer Esiner, market analyst at Ruesch International. \nBy late afternoon in New York, the euro was down about 0.84 percent at US$1.2216 from US$1.2319. Against the yen, the dollar was trading steady at 110.85 yen. \nAgainst the Swiss franc, which tends to rise in times of geopolitical tension, the dollar rose 1.05 percent to 1.2837 francs. Sterling was down 0.38 percent at US$1.8033, while the Australian dollar fell about 0.8 percent to US$0.7322. \nSterling and the Australian dollar were the hardest hit as investors exited once-lucrative bets on currencies with high interest rates -- often funded with short dollar positions. \nBond prices retreated as an essentially stable reading on US consumer confidence gave bond traders an excuse to sell after a giant rally over the past week. \nThe benchmark 10-year US Treasury note's yield backed off from Thursday's eight-month low of 3.68 percent and climbed to 3.77 percent after the consumer confidence news. The 10-year note's price fell 17/32 to 101-27/32. \nThe two-year note shed 4/32 to 100-6/32, while its yield rose to 1.524 percent from 1.46 percent on Thursday. The 30-year bond fell almost a full point to 109-29/32; its yield rose to 4.721 percent from 4.66 percent late Thursday. \nOn the New York Mercantile Exchange, April crude fell 59 cents to end at US$36.19 a barrel after the US Senate decided to bar oil shipments to the nation's emergency crude stockpile. \nCOMEX April gold fell US$5.40 to end at US$395.60 an ounce. May silver reached US$7.29 an ounce overnight, the highest futures price on a spot continuation basis since the middle of 1988. But it fell to US$6.94, and ended down 13 cents at US$7.063 an ounce on COMEX. \nIn overseas trading, the FTSE Eurotop 300, which tracks the region's top 300 blue chips, closed up 0.28 percent at 989.26. Tokyo's Nikkei average fell for a third straight session to close down 1.19 percent, or 134.29 points, at 11,162.75 on Friday after the bombings in Spain raised security fears.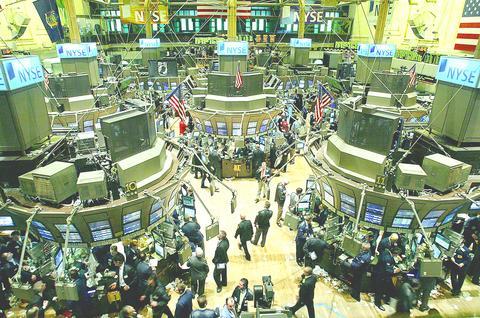 Traders work on the trading floor at the New York Stock Exchange in the middle of the day on Friday. Stocks rebounded on Friday after four days of heavy losses.
PHOTO: AP
Comments will be moderated. Keep comments relevant to the article. Remarks containing abusive and obscene language, personal attacks of any kind or promotion will be removed and the user banned. Final decision will be at the discretion of the Taipei Times.