Americans start to change focus
`Taipei Times' staff reporter in Washington Charles Snyder recently met with Rupert Hammond-Chambers, president of the US-Taiwan Business Council, and discussed commerce and trade issues between the US and Taiwan, and China's influence.
Taipei Times: How have recent moves by US companies to shift business operations from Taiwan to China affected US-Taiwan Business Council membership? \nHammond-Chambers: There has been discussion about the decline in the number of US businesses in Taiwan, and the fact that we were getting a migration of businesses over to the mainland, and a change in focus. That has made it tougher for international organizations like the US-Taiwan Business Council, like the American Chamber of Commerce, to maintain strong client retention, because businesses were changing their focus. \nOf the 1,000-plus international businesses that are in Taiwan, we don't have more than 15 percent to 17 percent of that. So, our ability to maintain growth is pretty good. \nFor other organizations with a much larger piece of that pie, it's tougher to maintain high retention levels, simply because businesses are leaving Taiwan. But our businesses maintained, through this business downturn anyway, growth, albeit slow. \nTT: Have there been any changes in the composition of your membership, and the composition of the type of businesses you work with? \nHammond-Chambers: Indeed. Our organization deals in broad sector areas. We receive a good amount of attention for defense and security work, mostly as a function of the fact that that specific area is one that receives the most attention in policy circles, and tends to find its way in newspapers more. \nBut this represents about a fifth of our member base. We are very strong in technology, were strong in financial services. \nInfrastructure and transportation are also strong areas for us. Telecom is another important area for us. So, I am happy with how diverse a member client base we have at the moment. \nTT: Do you think that in view of what you just said about the movement of businesses to China that that's going to mean a diminution of your role or problems for you? \nHammond-Chambers: That's a very good question. It depends on how aggressive the organization is in continuing to position itself ahead of the curve. \nBut there's no doubt, for example, over the past five to 10 years, that infrastructure opportunities are less real than they were, so companies like Bechtel and others, although they still have interests in Taiwan, are less interested in Taiwan than they were in the past. \nBut if you take the technology sector, we still continue to see very strong growth, and very strong interest in the role that Taiwan plays in the global technology community, and because of that as an organization if we continue to play an active role in the technology sector, we can continue to see good growth, we can continue to see an important role for us in the future of the bilateral trade relationship between the US and Taiwan, and even the trilateral relationship between the United States, Taiwan and China, which is very much the future of this economic triumvirate. \nTT: Getting back to the defense issues, even though your defense membership is 20 percent of your total membership, certainly they play a greater role than some of the other members do, in view of the importance of US arms sales to Taiwan. What are they doing in terms of efforts to improve military relations between the United States and Taiwan? \nHammond-Chambers: Just as a point of clarification, it only appears that they exert more influence because this specific sector receives more attention. All of our member sectors are incredibly active. It's just that other issues are not as interesting, possibly, to talk about or to get the sort of profile that a defense meetings in San Antonio may or defense meetings in St. Petersburg may. \nThe defense companies right now are frustrated because of the lack of dialogue with either government. As a community, we feel that we do not have an active role in decisions that impact our businesses. \nThe fact of the matter is, it is still a business issue for these companies, even though it's defense and security. \nThat doesn't negate the fact that these are hard business issues impacting job security in the United States. \nAnd, a job for Lockheed Martin is as important as a job for Oracle or a job for Microsoft. \nTT: Have your members been effective in trying to lobby the Bush administration, or administrations in Washington generally, on arms sales to Taiwan. I'm thinking in terms of the April 2001 major arms sales package that President Bush agreed to. Did your members have a role? Did your association have an effective role in pushing some of that? \nHammond-Chambers: No. I would not say that we played an organized and concerted effort to lobby, whether it's this administration or the Clinton administration in a concerted way. \nIn connection with the 2001 package, it wasn't an organized effort with the administration to release all of those systems. Now, the companies themselves are actively working, but as an organization, we weren't in there saying, "You should release everything." \nTT: Well, your former chairman was Frank Carlucci, who was a former defense secretary, and your current chairman is William Cohen, who was Clinton's defense secretary. Some people might be forgiven for looking at that saying, "Obviously, these people were picked because of their defense background." What would your reaction to that be? \nHammond-Chambers: It is a fair question. The fact of the matter is that Taiwan as an issue in US foreign policy not just China policy, but foreign policy broadly is one that is steeped in nuances and specific issues and concerns that over time, as we can from the Taiwan Relations Act of 1979 and the switch in recognition, empowers but a few past policy makers to fit the profile that we are looking for in a chairman. \nAnd the fact is that defense secretaries, because the defense and security component of that relationship is such an important one, often fit that profile and that small group of people that we can reach out to. \nNow, you also have the added challenge of persuading one of those people from that very small group to actually take the chair of our organization, not because they don't see the value, but because people at that level are extraordinarily busy. \nSo, it just so happens that in this instance Frank Carlucci and Bill Cohen fit the profile and were prepared to take on this position. \nTT: When is Cohen planning to visit Taiwan and what will the trip entail? \nHammond-Chambers: The May 2003 trip is going to be focused on technology, on US-Taiwan-China technology integration and business integration. Secretary Cohen has a strong interest in young business leaders and will be spending some time with some of Taiwan's youngest and most successful entrepreneurs. \nWe will do some government meetings. Secretary Cohen will be traveling to Taiwan for the first time in his capacity as chairman of our council, although he's been to Taiwan many times in the past. And I look forward to seeing him develop the very strong dialogue that past chairmen of our organization have developed with Taiwan leadership. \nWe will be continuing that dialogue on a whole range of issues: intellectual property rights, agriculture, defense and security. \nThere will be a large number of issues that we will want to talk to people about. And, also to listen to Taiwan's business leaders. We'll spend some time with Taiwan's leading business people to talk about their interests, their investments in China, the sorts of trends that they are seeing. Secretary Cohen is very excited about his trip. He will have a very active number of days in Taiwan. \nTT: Will he be seeing Chen Shui-bian? \nHammond-Chambers: I certainly hope so. If President Chen is available, I think it would be appropriate for Secretary Cohen to see him, but well have to see how the schedule works out. President Chen is a very busy man. \nTT: Do you think that China might get its nose out of joint over a former defense secretary visiting Taiwan and seeing the president and other leaders? \nHammond-Chambers: Not at all. Former defense secretaries go to Taiwan all the time, and to China. Our past chairman, Frank Carlucci, often would visit Taiwan and then China on the same trip. \nSecretary [William] Perry was there when Secretary Carlucci and myself were in Taiwan last November as part of Track Two, and there's a great deal of travel taking place: Cap [Casper] Weinberger traveled to Taiwan many, many times and China as well. So, not at all ... \nTT: On trade itself, the US Trade Representative's office just issued its latest report on foreign trade barriers, and had some tough words to say about Taiwan in terms of intellectual property rights, piracy, agriculture and some other areas. What comments would you have on the report itself and how this is affecting US-Taiwan relations? \nHammond-Chambers: On the report itself, Charles Freeman and the people that Charles works for in the US Trade Representative's office are just a superb outfit. They're as good as the USTR has ever had. They're very active. They really understand the issues, and they have put together a report that absolutely identifies the key issues in our bilateral trade relationship with Taiwan at the moment. \nThese are issues, I am quite sorry to say, that have been issues for quite some time and as an organization, just as other organizations that deal with Taiwan would also say, I believe, we are all frustrated at the seeming inability of Taiwan to be more aggressive in dealing with a whole host of issues that are negatively impacting our bilateral relationship: optical media, IPR violations, agriculture, issues in pharmaceuticals, the same issues that we've been dealing with for a number of years now ...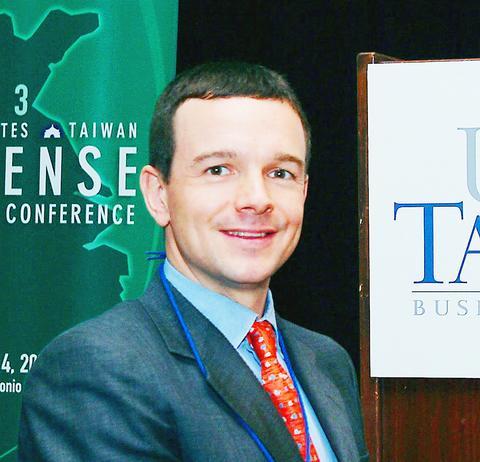 Rupert Hammond-Chambers, president of the US-Taiwan Business Council.
PHOTO: US-TAIWAN BUSINESS COUNCIL
Comments will be moderated. Keep comments relevant to the article. Remarks containing abusive and obscene language, personal attacks of any kind or promotion will be removed and the user banned. Final decision will be at the discretion of the Taipei Times.