Writer addresses office politics
ART OF THE BACK STAB `The end of office politics as usual' by MacGregor Serven discusses ways to deal with the many games played by Americans
If you want to take on an unforgiving, and ultimately undoable task, try challenging Lawrence MacGregor Serven's heartfelt belief that office politics are not -- that's right, not -- an endemic part of human nature. \nTry it -- again and again, with every permutation and combination of expressed doubt you can muster, as a lunch date stretches to a marathon four hours. He won't so much as raise an eyebrow, let alone a vocal decibel. In fact, he will compliment your question-asking skills, even as he sweetly stands his ground. \nAnd therein lies the big difference between Serven and the back-stabbers he writes about. Like most of them, he oozes sincerity and is unfailingly polite. But where they rarely say things their listeners do not want to hear, Serven refuses to twist the truth or ingratiate himself, even to someone with the power to make him look smart or silly in print. \nYes, Serven's specialty is office politics, including the people who play the game and the companies that tolerate it. He writes on the subject -- the American Management Association just published his latest book, The end of office politics as usual -- and consults with companies about it. But unlike so many pop authors who purport to teach readers how to win the political wars, Serven has another mission: to end them. He truly believes that politics can be all but passe if a company sets clear rules and performance-based incentives. \n"Office politics fills a leadership vacuum," Serven, a youthful 41, said over a lunch at a New Canaan, Connecticut, restaurant. "If you build a unified companywide team, politics won't have a place." \nIt's a pretty touching belief for someone who has met as many successful back-stabbers as Serven. There's Steve, who sabotaged a co-worker's computer the day before an important meeting, just so the colleague would seem less prepared. There's Karen, who withheld crucial information from the man who took her place while she was on maternity leave to ensure that she would be missed. There's Tamara, who got her job under false pretenses, then artfully unloaded duties that were above her head onto already overworked colleagues. \nServen ran into them -- and countless more like them -- as he observed workplace habits at companies that are clients of the Buttonwood Group, his management consulting firm in Stamford, Connecticut. He homed in on them and their ilk during focus groups he held, and he has worked with people like them himself in past corporate jobs. \nThe conclusion he derived -- aside from the fact that his examples and suggested cure-alls were fodder for a book -- was that the percentage of truly mean people who will always seek to shine at someone else's expense is actually pretty small. \n"You can't legislate honesty, but you can certainly define consequences and change the rules of the game," he said. "That'll work with 90 percent of your people." \nServen believes that every company must rewrite what he calls its internal rule book. Set it up, he says, so promotions are a matter of selection, not elimination, and the Steves of the world have little incentive to wipe out anyone's hard drive. Make employees feel secure and appreciated, and the Karens won't worry as much about appearing indispensable. \nIt is not easy to prove whether he's right. But over the years, Serven says, he has seen what happens when spite, desire for revenge and plain ambition are allowed to reign untrammeled in the workplace. Here are a few lessons. \nCurbing resentment \nEnvy and bias are motivators every bit as strong as the desire for personal advancement.Keith and Cynthia -- for obvious reasons, Serven doesn't offer last names -- worked for a big aerospace company. Both were in their mid-30s and worked in finance. But that's where the similarities ended. \n"Keith was a blueblood who went to all the best schools, while Cynthia graduated from the School of Hard Knocks," Serven said. \nCynthia was promoted over Keith's head without playing any nasty political games, but she was not content simply to gloat. She questioned Keith's decisions, nitpicked his expense account and eventually forced him out. "She hated what he represented and acted on bias," Serven said. \nHe concedes that nothing could have made Cynthia treat Keith with warmth -- but he maintains that the internal rules could be rewritten to make it harder for Cynthia to apply stricter standards to Keith than to others. \nEncouraging teamwork \nWithout clear incentives, co-workers are not likely to collaborate on their own. Susan, a marketing executive at a financial services organization, thought that different divisions should jointly market their disparate services. Susan's boss, Tom, told her "in very clear language" that she was not to share her marketing plans with anyone else. "Tom was just more comfortable playing everything close to the vest," Serven said. Susan managed to get word of the situation to upper management, who resolved the situation with a political ploy of their own. They did not tell Tom they knew of Susan's frustration, but when it came time to evaluate him, "they gave him low marks because he had not taught his own people to cooperate more with colleagues," Serven said. \nBuilding a paper trail \nIf workers are not forced to keep good records, they can make successors look bad. Before desktop computers were common, a woman in the General Foods planning department -- Serven calls her Anne -- became known for keeping all her data in her head. Eventually she was promoted. "Without training or records, it took her successor 18 months to finally get up to speed," Serven said. "She was perceived as a genius, while he never shook the label of that slow guy who took 18 months to learn the job that she had down pat." The solution, he said, is to force people to keep data and share data -- and judge them on how smoothly the transition to a successor went. \nUnmasking malice \nIf bad-mouthing can't get rid of a rival, praise can sometimes do the trick. Tony was in charge of human resources at a Connecticut software company. Carol, one of his employees, was a "natural born leader" who was much liked by colleagues. She gave no signs of being after Tony's job, but he felt threatened by her nonetheless. \nHe knew it would be futile to try to discredit such a popular employee, so he praised her right out of a job. Knowing full well that she couldn't leave Connecticut because of family reasons, he convinced management that she was exactly the right person to head up human resources in the Washington office. \nManagement pressed her to go; she quit instead. Serven said the situation could have been avoided if the company had set clear and measurable goals for everyone. "Tony might have felt a lot less threatened if he knew he was measuring up," he said. \nServen said political tales had also been part of his family life. One of Serven's early memories is of his father, a banker, referring to his employer as "a Princeton bank." As Serven recalled it, his father, who went to Cornell, got ahead just fine -- but he always felt that he had to work harder than the Princeton graduates employed there. "He really tried to create a nonpolitical, level playing field for his own employees, and that concept stuck with me," Serven said. \nThen there was his paternal grandmother, the youngest of five children, and the only one sent to college. "My great-grandfather said bluntly, `She has the best brains,"' Serven said. That, too, reinforced Serven's belief that, in a just world, merit counts for everything. \nServen knows it would make a better story to say he hung out his own shingle in 1998 because he couldn't stand the politics of the corporate world. But that isn't true, he said. "I liked to write and I wanted variety, so consulting was certainly attractive," said Serven, who received an MBA from Duke University and has worked for several companies, including Chase Manhattan Bank and PepsiCo. \nStill, his eyes twinkle when he talks about his own battles. There was the rival consultant at Deloitte & Touche, another former employer, who knew that one of Serven's projects had been stalled by a client. "We were at this management meeting, and he turned to me and, oh so innocently, asked how the project was going," Serven recalled. "I smiled and said: `Well, Jack, as you know, since we talked about it just this Monday, the client has put the project on hold. And, as you so rightly pointed out to me, it'll probably come back on stream at the end of the month.' He wound up embarrassed, not me." \nThe moral of the story? While corporations should go out of their way to quell politics, workers who end up playing the game might as well play it well, and play to win.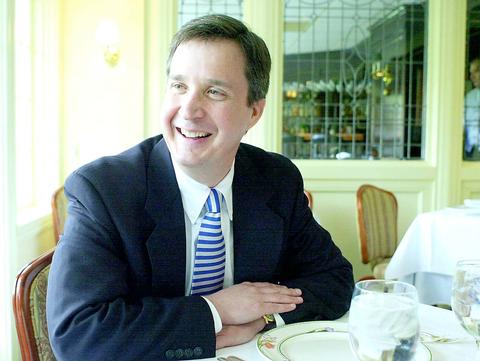 Lawrence MacGregor Serven's specialty is office politics, the people who play them, and the companies who tolerate them. Serven enjoys a lunch at The Roger Sherman Inn in New Canann, Connecticut.
PHOTO: NY TIMES
Comments will be moderated. Keep comments relevant to the article. Remarks containing abusive and obscene language, personal attacks of any kind or promotion will be removed and the user banned. Final decision will be at the discretion of the Taipei Times.