Greenback tops 100 yen after G20 summit
The dollar topped ¥100 for the first time in five months but weakened against other major currencies on Friday as traders assessed the impact of a weak US employment on economic recovery prospects.
At 9pm GMT, the euro fetched US$1.3483 from US$1.3461 late on Thursday in New York.
The dollar meanwhile rose to ¥100.29 from ¥99.52 as investors welcomed the G20 summit pledge to step up efforts to tackle the economic crisis.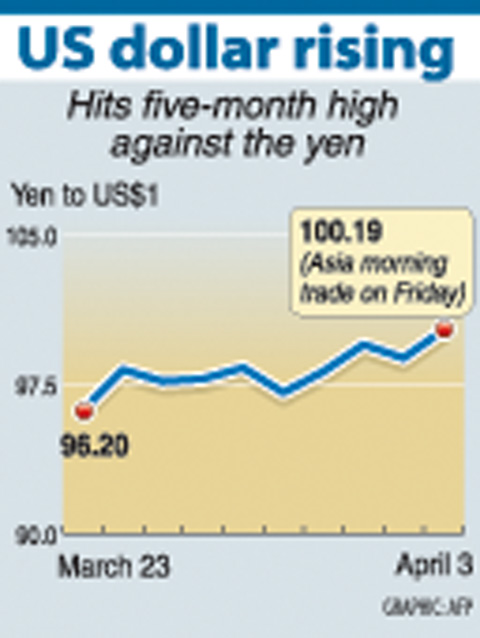 "The actions by Washington and leaders of the 20 largest economies have helped to restore risk appetite," Kathy Lien at Global Forex Trading said.
In late New York trading, the dollar stood at 1.1301 Swiss francs from SF1.1340 on Thursday.
The pound was at US$1.4836 after US$1.4725.
Asian currencies rose for a fifth week, the longest winning streak since October 2007 in the wake of the G20 summit.
Eight of the 10 most active Asian currencies outside Japan advanced in the week after economic reports in China, the US and the UK fueled speculation that demand for regional exports will strengthen.
The Bloomberg-JPMorgan Asia Dollar Index, which tracks their performance, touched a two-month high on Thursday.
The South Korean won advanced 0.6 percent this week to 1,341.50 per dollar, according to data compiled by Bloomberg. The New Taiwan dollar climbed 1.2 percent to NT$33.38 and the Malaysian ringgit strengthened 1 percent to 3.5803.
The MSCI Asia-Pacific Index of regional equities climbed 1.4 percent during the week.
The NT dollar touched an 11-week high on Thursday before paring its advance on reported ­intervention. The central bank bought at least US$1.2 billion of US dollars on Thursday to counter foreign investors' and local corporations' purchases of the Taiwanese currency, the Taipei-based Economic Daily News said on Friday.
Elsewhere, the Singapore dollar climbed 0.6 percent this week to S$1.5051, Indonesia's rupiah rose 0.2 percent to 11,475 and the Philippine peso gained 0.4 percent to 47.862.
Comments will be moderated. Keep comments relevant to the article. Remarks containing abusive and obscene language, personal attacks of any kind or promotion will be removed and the user banned. Final decision will be at the discretion of the Taipei Times.