Markets in Asia drop on mounting financial concern
Asian stocks slumped for a third week amid mounting concern the financial crisis is "reigniting" as the deepening global recession cut into corporate profits.
HSBC Holdings PLC, Europe's largest bank, lost 11 percent for the week after the UK and US governments were forced to provide new bailouts for banks and New York University professor Nouriel Roubini said credit losses could surpass US$3 trillion. Sony Corp plunged 13 percent after forecasting a record loss, while Samsung Electronics Co, the world's largest liquid-crystal display TV maker, dropped 5.8 percent after posting its first quarterly loss.
The MSCI Asia Pacific Index slid 5.2 percent last week to 80.32, the lowest level since Dec. 5. The benchmark measure fell for a third consecutive week, the first time since October it has done so.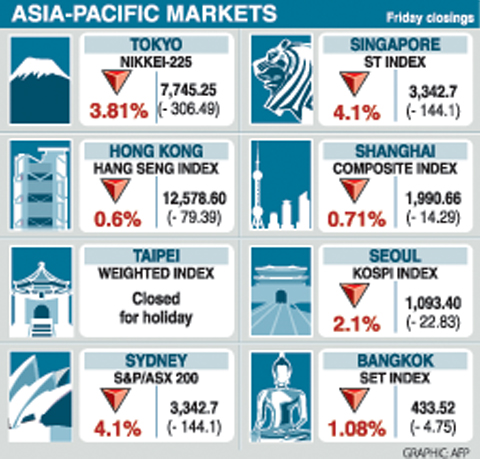 Financial companies posted the biggest declines on the benchmark index, which slumped by a record 43 percent last year as the credit crunch tipped the world's largest economies into recession, forcing companies to cut jobs amid slumping profits.
Japan's Nikkei 225 Stock Average lost 5.9 percent in the week as the yen's climb to the highest since 1995 against the dollar added to exporters' woes. Most benchmark indexes retreated across the region, except in China, where the central government unveiled additional measures to support the economy.
Concerns banks will be nationalized weighed on shares of lenders throughout the world. The UK government moved to raise its stake in Royal Bank of Scotland Group PLC, while Bank of America Corp received a bailout and was forced to slash its dividend to US$0.01.
HSBC tumbled 11 percent to HK$57.45 (US$7.40). Morgan Stanley and Goldman Sachs Group Inc have predicted the bank, which gets about a fifth of its revenue in North America, may have to raise additional capital.
US financial losses from the credit crisis may reach US$3.6 trillion, suggesting the banking system is "effectively insolvent," Roubini, who predicted last year's economic crisis, said on Tuesday. Institutions worldwide have so far reported writedowns and losses of more than US$1 trillion.
Mizuho Financial Group Inc, Japan's second-largest listed lender, dropped 15 percent to ¥212 (US$2.39). National Australia Bank Ltd., the country's biggest by assets, slumped 12 percent to A$16.94.
Sony, the maker of PlayStation3 game consoles, lost 13 percent to ¥1,802. The company said it expects a record ¥260 billion operating loss for the year ending in March amid falling demand, the strong yen and costs to restructure its business.
"Sony's loss forecast was an order of magnitude greater than what some analysts had estimated," Soichiro Monji, chief strategist at Daiwa SB Investments Ltd, which manages the equivalent of US$53 billion, said in an interview with Bloomberg Television. "The bad news about earnings and economies is accumulating."
China last week reported its slowest rate of growth in seven years as the economy grew at an annualized 6.8 percent pace in the fourth quarter. South Korea's central bank also said the country's economy shrank a 5.6 percent last quarter, the biggest decline since the Asian financial crisis.
Samsung lost 5.8 percent to 442,000 won (US$323) as it reported a fourth-quarter net loss amid slumping demand for its computer chips, televisions and mobile-phone handsets.
TAIPEI
The TAIEX closed up 0.13 percent to 4,247,97 on Wednesday before the Lunar New Year holiday. Markets will reopen on Feb. 2.
Other regional markets:
KUALA LUMPUR: Down 0.7 percent. The Kuala Lumpur Composite Index fell 6.33 points to close at 872.69 points with a turnover of 277.13 million shares worth 388.36 million ringgit (US$107.43 million).
JAKARTA: Down 0.9 percent. The Jakarta Composite Index dropped 11.74 points to 1,315.59 in thin volume.
MANILA: Down 0.3 percent. The composite index lost 6.18 points to 1,857.34, while the all shares index shed 0.5 percent to 1,202.41.
WELLINGTON: Down 1.07 percent. The NZX-50 index fell 29.33 points to close at 2,705.09. Turnover was NZ$92.4 million (US$48.8 million).
MUMBAI: Down 1.58 percent. The benchmark 30-share SENSEX index was 139.49 points
Comments will be moderated. Keep comments relevant to the article. Remarks containing abusive and obscene language, personal attacks of any kind or promotion will be removed and the user banned. Final decision will be at the discretion of the Taipei Times.