China, France sign nuclear, airplane deals
China and France signed nuclear, aviation and other contracts yesterday that officials said were worth around US$30 billion, an amount French President Nicolas Sarkozy called unprecedented.
"The total amount of these contracts has never been matched before," Sarkozy told his Chinese counterpart Hu Jintao (胡錦濤) as they met in Beijing's Great Hall of the People before the contract-signing ceremony.
The contracts included an 8 billion euro (US$11.9 billion) deal for the delivery of two third-generation nuclear reactors by French firm Areva, and an agreement worth more than US$17 billion for 160 Airbus planes.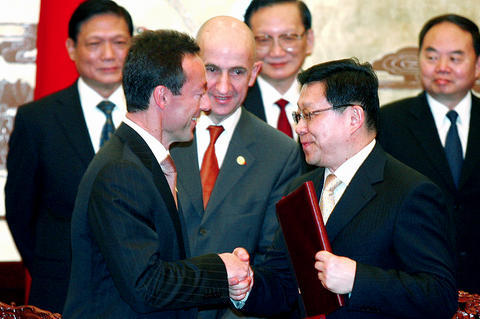 Louis Gallois, third left, chief executive of European Aeronautic, Defence and Space, the parent of Airbus, looks on as Fabrice Bregier, second left, COO of Airbus Industrie, shakes hands with an unidentified Chinese official during the signing ceremony in Beijing's Great Hall of the People yesterday.
PHOTO: AFP
The total amounts of the deals -- both in industries currently undergoing speedy expansion in China -- were given by Areva CEO Anne Lauvergeon and officials involved in the Airbus talks.
The long-anticipated Areva deal will see the French company deliver two European Pressurized water Reactors (EPRs) to China Guangdong Nuclear Power Corp (CGNPC).
"It's a record. In the history of the civilian nuclear industry, there's never been a deal of this magnitude," Lauvergeon said ahead of the official signing.
Areva and CGNPC also agreed to set up a company that will operate the two EPRs until 2026, the second agreement said.
In a third deal, CGNPC will take over 35 percent in the operations of three African uranium mines which Areva gained control over this summer after acquiring Canadian uranium producer UraMin.
The Airbus purchase includes 110 planes from the short-haul A320 family and 50 A330 wide-body passenger airliners, a source said.
Ten of the 50 A330s will go to China Southern Airlines which made that part of the deal public late last month.
The deal is welcome news to Airbus, which has struggled with a decline in the US dollar and delays with its A400M military transport aircraft and the A380 superjumbo that has wiped billions of euros off its profit.
The Chinese order stands to push Airbus past Boeing in total orders for commercial aircraft.
Boeing said last week it had received 1,047 commercial airplane orders this year, already beating last year's record-setting total of 1,044 orders. Airbus had logged 1,021 commercial jet orders as of the end of last month, the most recent data available on the company's Web site.
Comments will be moderated. Keep comments relevant to the article. Remarks containing abusive and obscene language, personal attacks of any kind or promotion will be removed and the user banned. Final decision will be at the discretion of the Taipei Times.