Oil group seeks to skirt Malacca Strait
A DIFFERENT ROUTE The 300km, US$7 billion pipeline will be an alternative to the problematic Strait of Malacca, through which half of the world's oil is shipped
A US$7 billion pipeline to be laid across northern Malaysia will divert up to a third of oil now being carried through the Malacca Strait, ensuring a secure supply from the Middle East to East Asia, officials said yesterday.
Work on the 300km pipeline from Kedah state on the northwestern coast to Kelantan state in the northeast will begin next year finish in 2014, said Rahim Kamil Sulaiman, chairman of the project owner, Trans-Peninsula Petroleum Sdn Bhd.
"This is not a political project. It is a commercial undertaking. The project is economically viable," he told a news conference.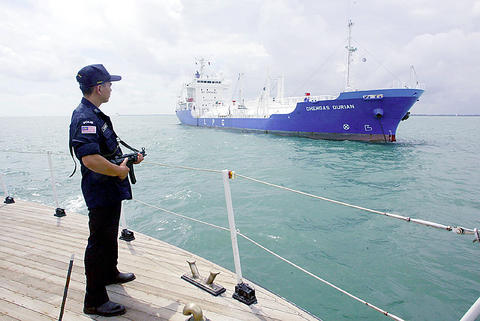 A marine policeman stands guard while patrolling the Malacca Strait on July 3, 2003. Malaysian, Indonesian and Saudi Arabian companies signed agreements yesterday for the construction of a pipeline that will divert 20 percent of oil flowing through the Malacca Strait.
PHOTO: AFP
He said the pipeline will be a substitute for the Strait of Malacca, through which half the world's oil is shipped.
The strait is also notorious for robberies and hijackings, although the number of attacks has fallen since Malaysia, Indonesia and Singapore, which share the waterway, increased patrols in 2005.
Rahim said the timing of the pipeline was perfect as more oil is headed to China, which has become the world's second largest importer of oil.
Earlier yesterday, the Trans-Peninsula company signed an agreement with Malaysia's Ranhill Engineers and Constructors as well as Indonesia's PT Tripatra for the design and construction of the pipeline.
The signing was witnessed by Malaysian Prime Minister Abdullah Ahmad Badawi and Indonesian President Susilo Bambang Yudhoyono.
Trans-Penisula has also tied up with Saudi Arabia's Al-Banader International Group for oil supplies but has given no details.
Funds for the construction of the pipeline will come from local and foreign investors, Rahim said, declining to reveal details.
Under the plan, crude oil would be refined in Kedah, pumped through the pipe to Kelantan and then loaded onto tankers bound for Japan, China and South Korea, completely bypassing Singapore and the Malacca Strait.
Kedah Chief Minister Mahdzir Khalid told reporters that two refineries, costing a total of US$9 billion, will be built in Kedah by 2010 with a combined refining capacity of 450,000 barrels a day.
Malaysian companies SKS Ventures and Merapoh Resources Corp are expected to unveil details of the refineries in August, he said.
In a statement, Trans-Peninsula said the project will create reserve oil facilities for Asia, which accounts for about a third of world oil consumption.
It said offshore mooring facilities will be built in Yan in Kedah and Bachok in Kelantan to accommodate very large crude carriers, while a major storage tank will be built in Jeli in Kelantan.
In the first phase, which is to become operational by mid-2011, it said the pipeline can carry 2 million barrels of oil a day with a 60 million barrels of storage capacity.
This would triple to 6 million barrels a day of throughput and 180 million barrels in storage when fully completed in 2014, it added.
"There will be a faster turn around of oil tankers. Congestion in the Straits [sic] of Malacca will be eased. There will be ample strategic reserve of crude oil reachable within seven days to East Asia," it said.
It takes oil tankers up to three weeks to sail through the strait to reach east Asia.
Rahim said construction will abide by environmental guidelines and will be designed to traverse through the least settled areas to minimize social impact.
Comments will be moderated. Keep comments relevant to the article. Remarks containing abusive and obscene language, personal attacks of any kind or promotion will be removed and the user banned. Final decision will be at the discretion of the Taipei Times.