Sri Lanka seeks to become `lingerie capital'
For some engineers in this Sri Lankan industrial town, making women happy is their main job -- they design sexy bras that are comfortable, too.
Ranil Vitarana is one of hundreds of Sri Lankans developing exotic undergarments for top international brands including Victoria's Secret, Marks and Spencer and Triumph -- making Sri Lanka a global hot spot for lingerie.
"The perfect bra is all about getting the cup size right," said Vitarana, a technical director attached to MAS Holdings, one of the country's top clothing firms that ships millions of articles to shops in the US and Europe.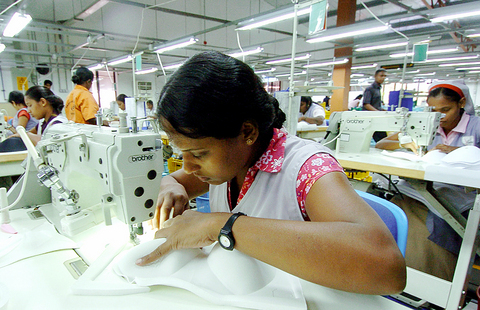 A Sri Lankan factory worker sews cups to be used in the manufacture of brassieres in Biyagama, Sri Lanka, last Monday.
PHOTO: AFP
Sri Lanka, better known for tea and a 35-year old ethnic conflict, is remaking its image. The private sector is investing heavily in the lingerie market so it can remain competitive with China, India and Vietnam.
"We would like to be known as the lingerie capital, a place where you can get the most intricate designs done," says Ajith Dias, chairman of the Joint Apparel Association Forum.
The clothing industry is a lifeline for Sri Lanka, earning US$2.9 billion in revenue last year. It accounts for over 50 percent of the country's total exports and provides jobs to nearly one million people.
Dias said women's intimate wear has boosted Sri Lanka's prospects in the price-sensitive global apparel market, with the US alone buying US$256 million worth last year.
"Lingerie is one of our best secrets, where we have invested millions to develop high-tech plants, accessories and a sound raw material base to ensure the country remains competitive, amidst intense competition," Dias said.
Local heavyweights like MAS Holdings and Brandix Lanka are expanding in the region, which offers good opportunities thanks to rich raw material supply bases and skilled workers.
"It's a process where we take part in shaping the entire product from conceptualizing designs to making it. It is the only way we can stay competitive," said Dias, who is also a director at Brandix.
In 2004, MAS Holdings set up Silueta, a fully-integrated foam lamination and bra cup moulding plant, enabling local clothing manufacturers to turn out bras that could reach overseas markets in just five weeks.
"A cup is a very integral part of a bra, which in turn is an integral part of any women's basic garment," Silueta CEO Yusuf Saleem said.
Saleem, who trained as a mechanical engineer, spends hours with more than two dozen engineers to dream up ideas for the next-generation bra.
At the plant in Biyagama, 25km outside Colombo, 800 workers use state-of-the-art techniques to produce more than 1 million bra cups each month for overseas clients.
Giant posters of models in lingerie adorn the walls of the factory.
The Silueta team is now working on a design called "Bellissima" which involves a moulding process to attach lace to padded bra cups without a single stitch.
"It's slightly expensive, but we are trying to get buyers interested because Bellissima lasts more washes. Cups where the lace is stitched on tend to lose their shape after a few dozen washes," Yusuf said.
An average bra is made up of 30 to 40 components. Nearly 70 percent of women wear the wrong size, industry figures showed.
Comments will be moderated. Keep comments relevant to the article. Remarks containing abusive and obscene language, personal attacks of any kind or promotion will be removed and the user banned. Final decision will be at the discretion of the Taipei Times.