HK park gears up to take on Disneyland
Ocean Park has been Hong Kong's most successful theme park for nearly 30 years, wowing generations of visitors with dolphin shows, stomach-churning roller coasters and a cable car ride over a mountain with spectacular views of the South China Sea.
But the marine park's hammerhead sharks are about to face a fierce new competitor: Mickey Mouse. Disneyland is opening in Hong Kong in September, so Ocean Park has to figure out how to compete with one of the biggest names in its industry.
It's a problem more companies are facing in the era of globalization. Some stick to what they've always been doing and hope the foreign intruder will stumble or be spurned by loyal local customers. But Ocean Park is taking a riskier approach, making plans to spend HK$5.55 billion (US$711 million) to revamp an attraction that has become faded, worn and dated.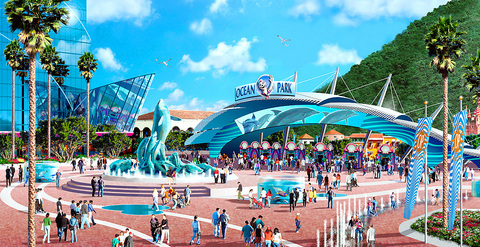 The new entrance to Hong Kong Ocean Park is seen in this computer graphic image released by the company on Friday. The park plans a massive remodeling project.
PHOTO: AP
"Ocean Park needs to survive," said Allan Zeman, one of Hong Kong's most successful entrepreneurs who's overseeing the park's overhaul. "The only way it can survive is if it becomes world class."
But Ocean Park's makeover isn't just about spiffing up a venue. It's also key to Hong Kong's strategy to become Asia's top holiday destination for families. The government is backing both parks financially, and their success might depend on luring enough foreign visitors to a city known more for fine dining, dealmaking and shopping than thrill rides.
"When families think of having a holiday, they will think of Hong Kong first," said Eva Cheng, Hong Kong's tourism commissioner.
Ocean Park has no plans to go head-to-head with Disney, a US$3.5 billion park built on reclaimed land on Hong Kong's outlying Lantau Island, said Tom Mehrmann, Ocean Park's chief executive.
Mehrmann said the two parks will complement each other, and tourists will want to visit both of them. Ocean Park will be about animals and Disney will be about cartoons. Ocean Park will highlight nature, and Disney's theme will be movies. One will have a cable car, and the other a castle.
"We're Hong Kong. They're an American import," Mehrmann said.
Disneyland also says it wants to be a friendly neighbor and work together to make Hong Kong the top draw for families.
"Together with Ocean Park, Hong Kong Disneyland will bring the family tourists to Hong Kong, diversifying the tourism mix and creating new opportunities for the territory," said Don Robinson, group managing director for the Disneyland park.
The government is expected to soon approve a new subway line to Ocean Park. If built, visitors would be able to take a 30-minute ride between the park and Disneyland, which opens Sept. 12.
About 70 million people have visited Ocean Park since it opened in 1977, says the nonprofit organization that runs the government-owned venue. It calls itself an "edu-tainment" attraction because it mixes rides like the turbo drop with displays of live pandas, sharks, killer whales and other educational sites. It's a popular stop on the school field-trip circuit.
A mountain divides the park into two, and the cable car ride over the mountain shuttles people back and forth, providing a stunning view of the South China Sea. The park's new blueprint includes a 1.4km funicular tunnel through the mountain that can transport 5,000 passengers per hour, Mehrmann said.
Other new planned attractions include a "soaker coaster," a roller coaster equipped with water cannons in the cars and on the ground. People riding in the cars can shoot water at people on the ground and they can fire back.
Comments will be moderated. Keep comments relevant to the article. Remarks containing abusive and obscene language, personal attacks of any kind or promotion will be removed and the user banned. Final decision will be at the discretion of the Taipei Times.