India facing skilled labor shortage
PROFESSIONALS A conference on outsourcing heard how the country would probably face a shortfall of more than 250,000 professionals in the sector by 2012
High labour attrition, poor infrastructure and lack of data protection laws could derail India's booming outsourcing industry, the CEO of Indian software giant Infosys Technologies said yesterday.
Nandan Nilekani, chief executive officer of Infosys Technologies, India's second-biggest software exporter, said business process outsourcing (BPO) was based on reputation and urged the industry to deliver quality work.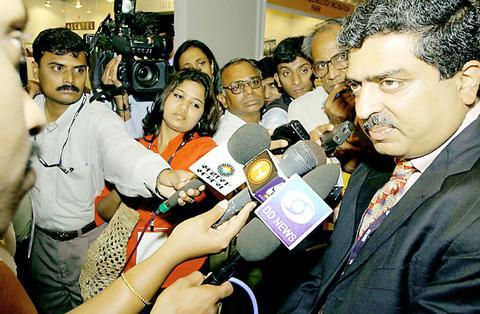 Chief executive officer of India's Infosys Technologies Nandan Nilekani, right, ponders a journalist's question after the opening session of a two-day outsourcing summit entitled ``ITES-BPO Strategy Summit 2004'' in Bangalore yesterday. NASSCOM, India's leading outsourcing body, said in a recent report that the nation's outsourcing industry was expected to face a shortage of 262,000 professionals by 2012.
PHOTO: AFP
"Every year, about 70,000 jobs are added and the main challenge is how to attract people," he told delegates at a conference held by National Association of Software and Service Companies (NASSCOM), India's leading information technology body, in the southern city of Bangalore.
"The challenge is also how to retain the pool. It's a collective challenge. We require a holistic approach to expand the pool and train people. The question here is how to retain the manpower to deliver quality and value."
Analysts say outsourcing labour attrition rates vary between 20 and 40 percent in some companies while at top firms it averages at least 15 percent.
NASSCOM said in a recent report the outsourcing industry was expected to face a shortage of 262,000 professionals by 2012.
The looming shortage, even in the short-term, poses a significant challenge for the nascent industry where foreign firms have outsourced jobs ranging from payroll processing to air ticketing, it said.
"We're in a situation where customer expectations are going up and we have to invest in people to make this industry successful," Nilekani said.
Noshir Kaka, Partner, Mackinsey and Company Inc, said the Indian outsourcing industry faced a tough challenge in attracting quality manpower and a "public-private partnership" was the only solution.
"India churns out two million graduates [annually] and only 5 percent of them are employable by the call center industry. Of the rest, 15 to 20 percent are trainable and recruitable and 80 percent are not even trainable.
"This industry is going to run out of steam if that 15 percent to 20 percent trainable people is not unlocked soon, at the latest by 2007," he said.
Nilekani, whose firm has an outsourcing arm in India's high-tech hub of Bangalore employing over 1,500 people, said the industry also needed to create an atmosphere in which foreign firms were confident privacy would be respected.
"For mission-critical applications there's a need for data privacy and intellectual protection laws. It's a big thing ... companies internally have to adhere to this [privacy] and a legal framework must be in place," he said.
Arun Seth, managing director of British telecommunications firm BT Worldwide Ltd, said high wages were also eroding competitiveness of outsourcing firms.
"Other countries are catching up and we can't be complacent. One has to look at areas such as telecommmunications, where presently costs are high and try to bring down costs to make up for high salaries," Seth said.
The flow of jobs into India from the US and Europe has led to an outcry from Western workers but analysts say the cost-savings from outsourcing still make it a good bet for foreign firms.
Outsourcing contributed 29 percent to India's total software exports and posted revenue growth of 46 percent to US$3.6 billion in the fiscal year to March this year, according to NASSCOM. Revenues are forecast to grow about 40 percent in this financial year to US$5.1 billion.
Comments will be moderated. Keep comments relevant to the article. Remarks containing abusive and obscene language, personal attacks of any kind or promotion will be removed and the user banned. Final decision will be at the discretion of the Taipei Times.