Biden pardons turkeys, jokes about his age
Turkeys Liberty and Bell have new appreciation for the phrase: "Let freedom ring."
The Thanksgiving birds played their part on Monday in annual White House tradition that this year coincided with US President Joe Biden's 81st birthday: a president issuing a pardon and sparing them from becoming someone's holiday dinner.
First, Biden — the oldest president in US history — wanted to make light of his age.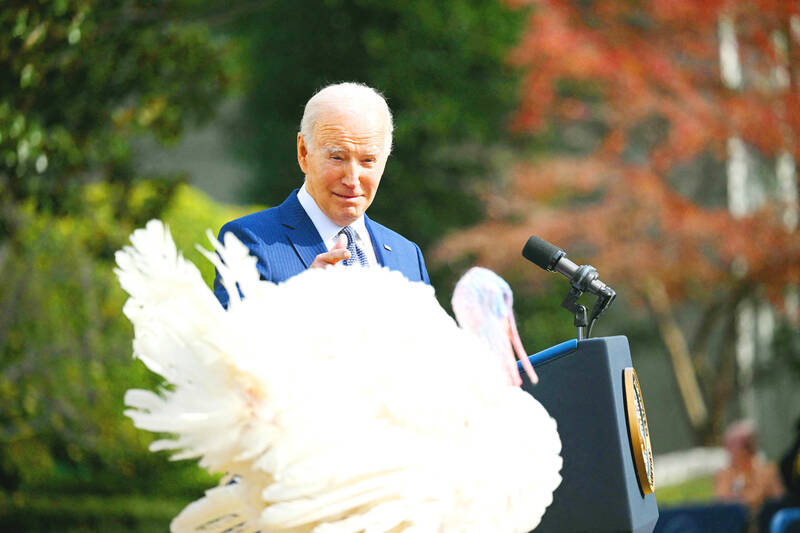 US President Joe Biden pardons the national Thanksgiving turkey Liberty during a pardoning ceremony at the White House in Washington on Monday.
Photo: AFP
"By the way, it's my birthday today," the president said, adding that guests in the Oval Office sang Happy Birthday to him before the event. "I just want you to know, it's difficult turning 60. Difficult."
He also noted that the presentation of a National Thanksgiving Turkey to the White House has been a tradition for more than seven decades.
"This is the 76th anniversary of this event, and I want you to know I wasn't there at the first one," Biden said.
The Democrat's age has become an issue as he seeks re-election next year.
Before issuing the pardons, Biden said that although Liberty and Bell are Minnesota natives, they were named for the Liberty Bell in Philadelphia.
"These birds have a new appreciation for the word, 'let freedom ring,'" he said, adding that they love Honeycrisp apples, ice hockey, a thousand lakes and the Mall of America — all things the Midwest state is famous for.
Minnesota is known as the "land of 10,000 lakes."
They overcame "some tough odds" to get to the White House, he said, adding that "they had to work hard, show patience and be willing to travel over a thousand miles."
He suggested their feat probably was harder than getting a ticket to Beyonce's Renaissance Tour or "Britney's tour, she's down in, it's kind of warm in Brazil right now."
He apparently mixed up his female pop stars; Taylor Swift was in Brazil over the weekend for her Eras Tour; Britney Spears is currently not on tour.
"Look folks, based on their commitment to being productive members of society as they head to their new home at the University of Minnesota ... I hereby pardon Liberty and Bell. Congratulations, birds," Biden said.
Hundreds of guests, including Cabinet secretaries and White House staff who brought children, watched from the South Lawn as Biden kicked off the unofficial start of Washington's holiday season. His grandchildren Maisy Biden and Beau Biden watched from the sidelines, and Beau was led over to pet one of the turkeys after the ceremony.
Later on Monday, military families joined first lady Jill Biden, as she accepted delivery of a 5.6m Fraser fir from the Cline Church Nursery in Fleetwood, North Carolina. It is to go on display in the Blue Room as the official White House Christmas tree.
Comments will be moderated. Keep comments relevant to the article. Remarks containing abusive and obscene language, personal attacks of any kind or promotion will be removed and the user banned. Final decision will be at the discretion of the Taipei Times.