Milei sees two years to tame inflation
INTERACTION: A Chinese government spokesperson said that it would be a 'serious mistake' for Argentina to cut ties with China after Javier Milei's anti-China campaign
Argentine president-elect Javier Milei on Monday said that it could take between 18 and 24 months to bring rampant inflation under control, as he outlined his plans to reform the economy.
Milei won a resounding victory in Sunday's presidential election, trouncing Argentine Minister of Economy Sergio Massa by 12 points with a pledge to halt decades of unbridled state spending and "end the decline of Argentina."
The 53-year-old outsider, who has drawn comparisons with former US president Donald Trump and former Brazilian president Jair Bolsonaro for his abrasive style and controversial remarks, vowed to "very quickly put public accounts in order."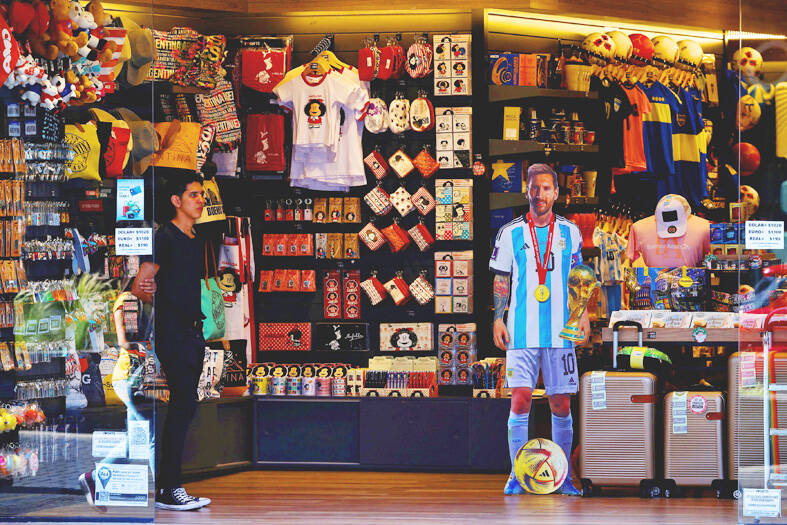 A person stands at a store on Monday, a day after Argentina's presidential runoff, in Buenos Aires.
Photo: Reuters
In a series of morning radio interviews to lay out his vision, he said he had a "clear plan" to tackle annual inflation that has hit 140 percent and a poverty rate of 40 percent.
During the campaign, Milei vowed to ditch the ailing peso for the US dollar and get rid of the central bank, which he accuses of fueling inflation by printing money to finance government overspending.
"The empirical evidence for the Argentine case says that if you cut monetary emission today, it takes between 18 and 24 months to destroy" inflation, he said.
Milei is anti-abortion, suggesting a referendum to repeal access to the procedure, and does not believe humans are responsible for climate change. However, he has toned down his controversial rhetoric, and has focused on his plans to reform the state.
"Everything that can be in the hands of the private sector is going to be in the hands of the private sector," including the state oil company YPF and state media, he said.
Milei added that he would push for the elimination of strict currency exchange controls, with analysts saying the official rate of the peso to the US dollar is an expensive fiction.
However, Milei said he would first seek to resolve the debt issued by the central bank.
"If the problem of the central bank is not resolved, the shadow of hyperinflation will follow us at all times," he said.
Asked about his dollarization platform, Milei said the priority was "to close the central bank, then the currency will be the one that Argentines freely choose."
Milei is to take office on Dec. 10, inheriting a country whose coffers are in the red, with US$44 billion in debt with the IMF looming over his incoming government.
IMF managing director Kristalina Georgieva congratulated Milei and said that she looked forward to working with him "to develop and implement a strong plan to safeguard macroeconomic stability and strengthen inclusive growth for all Argentinians."
Monday was a public holiday, meaning the impact of Milei's win on the volatile peso has been delayed.
Reactions poured in for the new leader of Latin America's third-largest economy, including congratulations from Brazil and China — which he had previously vowed to cut ties with, saying: "We don't make deals with communists."
Milei toned down much of his more controversial rhetoric after winning the backing of the center-right opposition, and it remains to be seen which of his policies would materialize.
In Beijing, Chinese Ministry of Foreign Affairs spokesperson Mao Ning (毛寧) told a regular news briefing yesterday that it would be a "serious mistake" for Argentina to cut ties with countries such as China and Brazil.
Diana Mondino, an economist tipped to become foreign minister in the Milei administration, said that Argentina would not join the BRICS — Brazil, Russia, India, China and South Africa — Russia's RIA Novosti news agency cited her as saying.
Mondino told RIA Novosti that Argentina would "stop interacting" with the governments of China and Brazil, when asked whether Argentina would encourage exports and imports with those countries.
Asked by reporters about Mondino's remarks, Mao said: "The two sides have strong economic complementarity and huge potential for cooperation."
Comments will be moderated. Keep comments relevant to the article. Remarks containing abusive and obscene language, personal attacks of any kind or promotion will be removed and the user banned. Final decision will be at the discretion of the Taipei Times.