Seoul warns Pyongyang to scrap satellite launch
South Korea's military yesterday warned North Korea to immediately stop preparations for a spy satellite launch, vowing to take "necessary measures" if it goes ahead.
North Korea is preparing to launch a spy satellite for the third time, after failing twice this year to put a military eye in the sky.
Earlier this month, Seoul's spy agency said that Pyongyang was in the final stages of preparations for its third try and South Korean Minister of National Defense Shin Won-sik on Sunday said that the liftoff could take place as early as this week.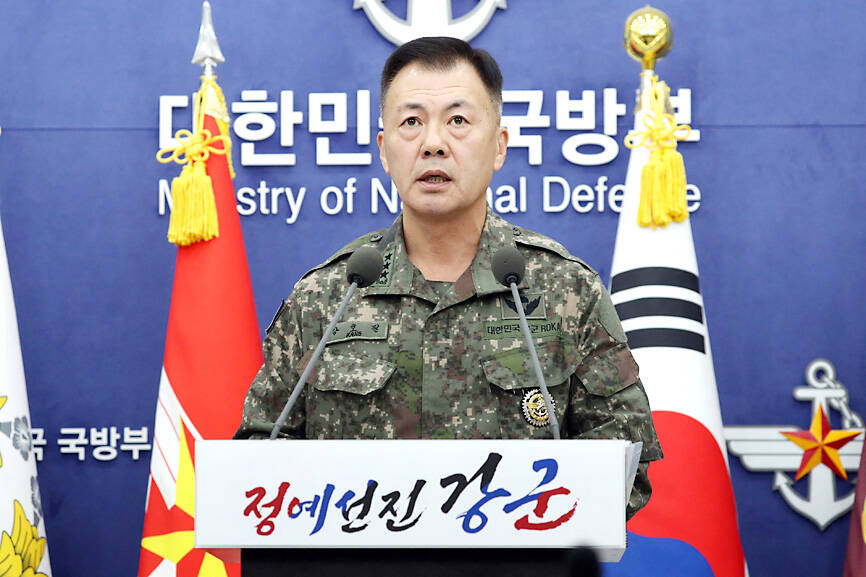 Kang Ho-pil, chief director of operations at the South Korean Joint Chiefs of Staff, speaks during a news conference at the South Korean Ministry of National Defense in Seoul yesterday.
Photo: AFP / handout / South Korean Ministry of National Defense
"We sternly warn North Korea to ... immediately suspend the current preparations to launch a military spy satellite," said Kang Ho-pil, chief director of operations at the South Korean Joint Chiefs of Staff.
"If North Korea goes ahead with the launch of a military reconnaissance satellite despite our warning, our military will take necessary measures to guarantee the lives and safety of the people," he added.
He did not explicitly say what retaliatory steps South Korea could take, but strongly hinted they could include a resumption of aerial surveillance activities and live-fire drills at border areas, in breach of the 2018 inter-Korean military agreement on easing frontline tensions.
Kang said that North Korea has already contravened that agreement numerous times.
After a failed second attempt in August, Pyongyang said it would carry out the third launch in October, though it never materialised.
South Korea has said Pyongyang is providing Moscow with arms in exchange for Russian space technology.
Analysts have said there is significant technological overlap between space launch capabilities and the development of ballistic missiles, from which Pyongyang has been banned under multiple UN sanctions.
North Korea has conducted a record number of weapons tests this year, ignoring warnings from the United States, South Korea and their allies.
Last week, it said it carried out successful ground tests of a "new type" of solid-fuel engine for its banned intermediate-range ballistic missiles, calling it a crucial step against "the grave and unstable security environment."
Additional reporting by AP
Comments will be moderated. Keep comments relevant to the article. Remarks containing abusive and obscene language, personal attacks of any kind or promotion will be removed and the user banned. Final decision will be at the discretion of the Taipei Times.