Russian drones target Kyiv for 2nd day
MORE SANCTIONS: Kyiv sanctioned 37 Russian groups and 108 people, including those who were allegedly involved in kidnapping Ukrainian children to Russia, Zelenskiy said
Russia early yesterday launched several waves of drone attacks on Kyiv for the second night in row, stepping up its assaults on the Ukrainian capital after several weeks of pause, the city's military administration said.
"The enemy's UAVs [uncrewed aerial vehicles] were launched in many groups and attacked Kyiv in waves, from different directions, at the same time constantly changing the vectors of movement along the route," Serhiy Popko, the head of the Kyiv's military administration, said on the Telegram messaging app. "That is why the air raid alerts were announced several times in the capital."
The Ukrainian Air Force said its air defense systems destroyed 15 of 20 Russia-launched Shahed kamikaze drones over Kyiv, Poltava and Cherkasy regions.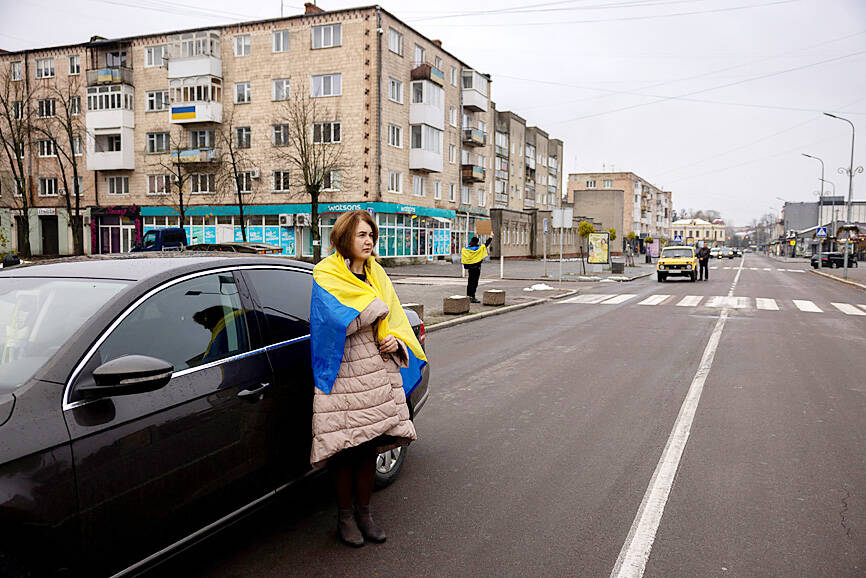 People observe a minute of silence, a daily ritual commemorating soldiers who have died during Russia's ongoing invasion of Ukraine, in Kovel, Ukraine, yesterday.
Photo: Reuters
There had been no initial reports of "critical damage" or casualties, Popko said earlier.
He also said that close to 10 of the drones were downed over Kyiv and its outskirts.
Meanwhile, the Russian Ministry of Defense said that Ukraine also targeted Moscow with drones overnight.
"An attempt by the Kyiv regime to carry out a terrorist attack using a drone against facilities of the Russian Federation was thwarted," the ministry said in a statement.
Ukrainian drone attacks on Moscow were particularly frequent in the spring, ahead of the launch of its counteroffensive in June, but they have been rare in the past few weeks.
Moscow Mayor Sergei Sobyanin said on Telegram that the foiled attack "did not cause any damage or casualties."
On Saturday evening, Ukrainian President Volodymyr Zelensky said he expected Russia to step up its attacks on the Ukrainian energy system with the aim of paralyzing the country's heating and electricity supplies through the winter.
"The closer we get to winter, the more Russian attempts will be made to make the strikes more powerful," he said in his daily address, calling on his army to be "100 percent effective, despite all the difficulties, despite all the fatigue."
Zelenskiy also announced that Kyiv had sanctioned 37 Russian groups and 108 people including a former prime minister and a former education minister, adding that he aimed to fight wartime abductions of children from Ukraine and other "Russian terror."
"We are increasing the pressure of our state onto them and each of them must be held responsible for what they have done," he said.
Zelenskiy did not associate specific individuals or groups with particular wrongdoings. The decrees showed a range of 10-year penalties against individuals and five-year penalties against nonprofit groups including one named in English as the Russian Children's Foundation.
Zelenskiy said in his address that the list included "those involved in the abduction and deportation of Ukrainian children from the occupied territory" and individuals who "in various ways help Russian terror against Ukraine."
Some of the newly sanctioned people, which included many with Russian citizenship, had previously been punished with separate or similar penalties.
Those included former Ukrainian minister of education and science Dmytro Tabachnyk, who had his citizenship stripped from him in February, and former Ukrainian prime minister Mykola Azarov.
With former Ukrainian president Viktor Yanukovich, Azarov previously had assets and property frozen among other penalties. The two men fled Ukraine for Russia in 2014 after a crackdown on street protests that killed more than 100 demonstrators in Kyiv.
The sanctioned Russian groups included several whose names or Web sites indicate they work with children.
One sanctioned group was named Kvartal Lui, which matches an organization with a Web site that says its founder is Children's Rights Commissioner for the President of Russia Maria Lvova-Belova, herself sanctioned by Kyiv in October last year.
The International Criminal Court in The Hague this month issued an arrest warrant against Lvova-Belova, along with Russian President Vladimir Putin, accusing them of the war crime of deporting children from Ukraine.
Kyiv says that about 20,000 children have been removed to Russia or Russian-held territory without the consent of family or guardians, which it says amounts to a war crime that meets the UN treaty definition of genocide.
Additional reporting by AFP
Comments will be moderated. Keep comments relevant to the article. Remarks containing abusive and obscene language, personal attacks of any kind or promotion will be removed and the user banned. Final decision will be at the discretion of the Taipei Times.