China sonar 'likely' injured Australian divers: defense head
Australian navy divers were "likely" injured by sonar pulses emitted by a Chinese warship this week, the country's defense minister said yesterday, accusing Beijing of "unsafe and unprofessional" conduct at sea.
Australian Minister for Defence Richard Marles said the HMAS Toowoomba — a long-range frigate — had been supporting UN sanctions enforcement efforts within Japan's exclusive economic zone.
The divers had plunged into the water to clear fishing nets from the ship's propeller, when the vessel was approached by a Chinese destroyer, Marles said.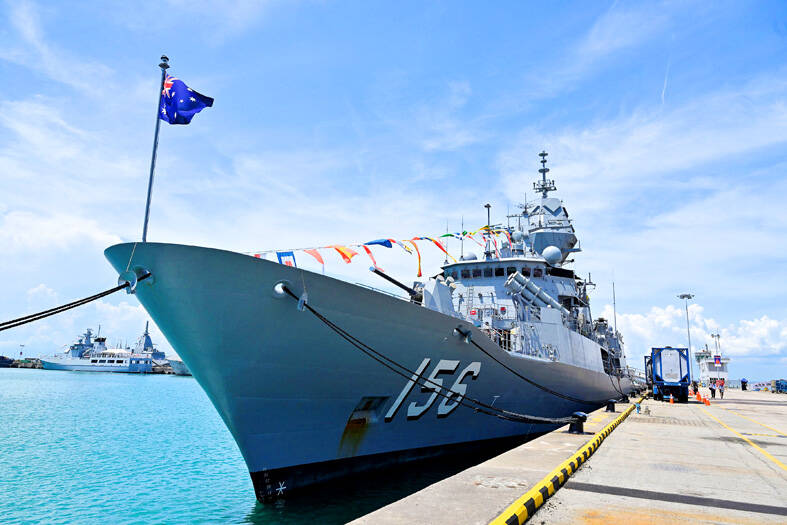 The Royal Australian Navy's HMAS Toowoomba is docked at Changi Naval Base in Singapore on May 4.
Photo: Reuters
"Despite acknowledging Toowoomba's communications, the Chinese vessel approached at a closer range," he added in a statement that did not reveal the number of divers involved. "Soon after, it was detected operating its hull-mounted sonar in a manner that posed a risk to the safety of the Australian divers, who were forced to exit the water."
The divers sustained minor injuries that doctors say were "likely" linked to the sonar pulses, Marles said.
"This is unsafe and unprofessional conduct," he said. "Australia expects all countries, including China, to operate their militaries in a professional and safe manner."
China and Australia have been working to patch up their once-close trading relationship after years of bickering and tit-for-tat reprisals.
Australian Prime Minister Anthony Albanese made a breakthrough trip to Beijing earlier this month, hailing the progress as "unquestionably very positive," but tensions remain when it comes to security, as Australia draws closer to the US in an effort to blunt China's expanding influence in the Asia-Pacific region.
The Diving Medical Advisory Committee, an independent London-based organization, has said that sonar sound waves can cause divers to experience dizziness, hearing damage and organ damage.
The HMAS Toowoomba — commissioned in 2005 — is a long-range frigate packed with advanced surveillance capabilities and "world class" weapons systems, the Royal Australian Navy said.
Comments will be moderated. Keep comments relevant to the article. Remarks containing abusive and obscene language, personal attacks of any kind or promotion will be removed and the user banned. Final decision will be at the discretion of the Taipei Times.