One-third of AAPIs in US faced racial abuse: survey
DISCRIMINATION: About 15% of Asian Americans and Pacific Islanders said they have been victims of hate crimes, and 51% believe racism is a serious problem
Despite ongoing advocacy and legislation to combat anti-Asian racism that arose after the COVID-19 pandemic, about one-third of Asian Americans and Pacific Islanders (AAPI) said they have experienced an act of abuse based on their race or ethnicity in the past year, including being on the receiving end of verbal harassment, slurs, physical threats or cyberbullying.
A new poll from AAPI Data and The Associated Press-NORC Center for Public Affairs Research found that 15 percent of Asian Americans and Pacific Islanders specifically said they believe they have ever been the victim of a hate crime, while 51 percent believe racism is an "extremely" or "very serious" problem in the US.
From as early as a decade ago to as recently as two weeks ago, Jennifer Lee, a 29-year-old Filipino American in San Diego, California, can recall being called racial slurs and being discriminated against.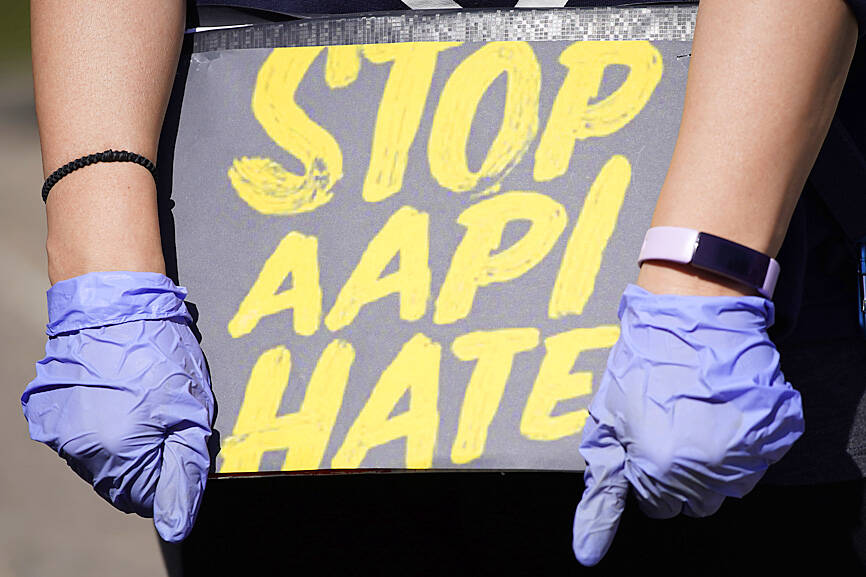 A person holds a sign at a rally to stop AAPI (Asian Americans and Pacific Islanders) hate at the Logan Square Monument in Chicago on March 20, 2021.
Photo: AP
Lee recently interviewed for a job at a tutoring service.
The interviewer assumed Lee was Japanese and said: "You people are always so obedient. Why? That's so pathetic," Lee shared.
About two in 10 Asian Americans and Pacific Islanders (23 percent) said they have experienced being verbally harassed or abused in the past year, and 22 percent have been called a racial or ethnic slur. About one in 10 said they have been physically assaulted or threatened physically.
About one-third said they often or sometimes face discrimination because of their race or ethnicity when applying for jobs.
Last month, the FBI reported an overall 7 percent increase in hate crimes, even as the agency's data showed anti-Asian incidents last year were down 33 percent from 2021.
That seeming contradiction does not surprise Stephanie Chan, director of data and research at Stop AAPI Hate, an advocacy group.
"We know that Asian Americans are among the most likely to not report the crime that they've experienced," Chan said. "It's really sobering to see that even when the world seems to have returned to normal, after the pandemic, these levels are still really elevated in terms of anti-Asian American hate."
The poll also shows US President Joe Biden gets mediocre ratings from Asian Americans, who viewed him favorably at 52 percent. That is still higher than US adults overall who viewed the president favorably at 44 percent in a June AP-NORC poll.
US Vice President Kamala Harris, who is of Asian American and African American descent, is also seen favorably by less than half (47 percent) of Asian Americans.
Lee, a Democrat, believes the president should be a role model and not turn a blind eye to racism, but she has reservations about Biden, who is just shy of his 81st birthday, filling that role.
"It seems like he's more performative and he's trying to say whatever the people want to hear. Also, I understand he's of an older age, not that all people of that age are Joe Biden. But mentally, I think he's not all there," Lee said.
"Asian Americans are really no different than the national mood, which is Biden's favorability is low," said Natalie Masuoka, professor of political science and Asian American Studies at University of California, Los Angeles. "The relatively lower favorability for Biden actually could impact turnout at lower-level offices."
Still, former US president Donald Trump, who is seeking a rematch with Biden, fares even worse, with seven in 10 saying they have an unfavorable opinion of Trump.
No current Republican candidate asked about in the poll is viewed favorably by more than one in four, while two candidates of Indian descent — Vivek Ramaswamy and Nikki Haley — each remain largely unknown by at least four in 10 Asian Americans and Pacific Islanders.
Thomas Lee, of Long Island, New York, fears the possibility of Trump getting re-elected could lead to an increase in discrimination and hate crimes.
"His followers are typically more of the like ... very far radical rights. They don't mesh well with minorities," Thomas Lee said. "Of course, it's got to be dependent on him becoming president, but that is kind of like the direction where I feel like it's very likely that something's going to happen."
The 42-year-old Taiwanese American switched from Republican to Democrat before the 2020 presidential election, partly due to the anti-Asian sentiment he attributed to Trump. In the first year of the pandemic, Thomas Lee felt like he needed protection every time he and his family went out. He also has unease about Biden's age, but would rather have him than Trump back in the White House.
However, Tia Davis, a 26-year-old Pacific Islander and black California resident, downplayed the idea that people like her face significant racism and praised Trump. As a person of Samoan descent, she said the worst other Samoans have to endure is "healthy teasing."
Beyond that, Davis, who switched from Democrat to Republican after Trump was elected, said she wants a president who is a smart businessman. How they deal with racism and hate crimes is not a crucial factor.
"I'm more concerned about feeding my family," she said.
The survey shows how AAPI communities' perceptions of levels of discrimination runs along political party lines. Democrats are more likely than Republicans to say that Asian Americans and other people of color face "a great deal" or "quite a bit" of discrimination and that white Americans do not. Overall, the poll shows about half of Asian Americans and Pacific Islanders identify as Democrats and about a quarter lean Republican.
Many Asian Americans and Pacific Islanders are not optimistic about anti-Asian racism easing in the future. About half believe they are at least somewhat likely to be a victim of discrimination because of their race or ethnicity within the next five years, and 40 percent believe it is at least somewhat likely they will be the target of a hate crime based on race or ethnicity within the same period. Of those who have been hate crime victims, 20 percent believe it is "very" or "extremely likely" to happen again sometime in the next five years.
Still, Chan hoped the poll would lessen people's ignorance surrounding anti-Asian discrimination. She hoped people would understand it is more than just hate crimes, which tend to get the most media coverage.
"People's daily lives are impacted by things like verbal harassment or bullying in schools or online acts of hate or civil rights violations," Chan said. "Like not even being allowed to dine at a restaurant or stay at a hotel or being rejected for an Uber ride. I would say pay attention to these. These are the experiences that we're having in America today."
The poll of 1,178 US adults who are Asian, Native Hawaiian or Pacific Islanders was conducted from Oct. 10 to 20, using a sample drawn from NORC's probability-based Amplify AAPI Panel, designed to be representative of the Asian American and Pacific Islander population. The margin of sampling error for all respondents is plus or minus 4.2 percentage points.
Comments will be moderated. Keep comments relevant to the article. Remarks containing abusive and obscene language, personal attacks of any kind or promotion will be removed and the user banned. Final decision will be at the discretion of the Taipei Times.