N Korea threatens to respond with a 'shower of shells'
North Korea yesterday criticized rival South Korea for removing a law that banned private activists from sending anti-Pyongyang propaganda leaflets to the North, insisting that such activities amount to psychological warfare and threatening to respond with a "shower of shells."
The statement published by North Korea's official Korean Central News Agency (KCNA) was the first time state media commented on the September decision by South Korean Constitutional Court to invalidate a 2020 law that criminalized leafleting. The decision was based on concerns that it excessively restricted free speech.
The ruling came in response to a complaint filed by North Korean defector-activists in the South. They included Park Sang-hak, who has been a frequent target of the North Korean government's anger for his years-long campaign of flying leaflets across the border with giant balloons.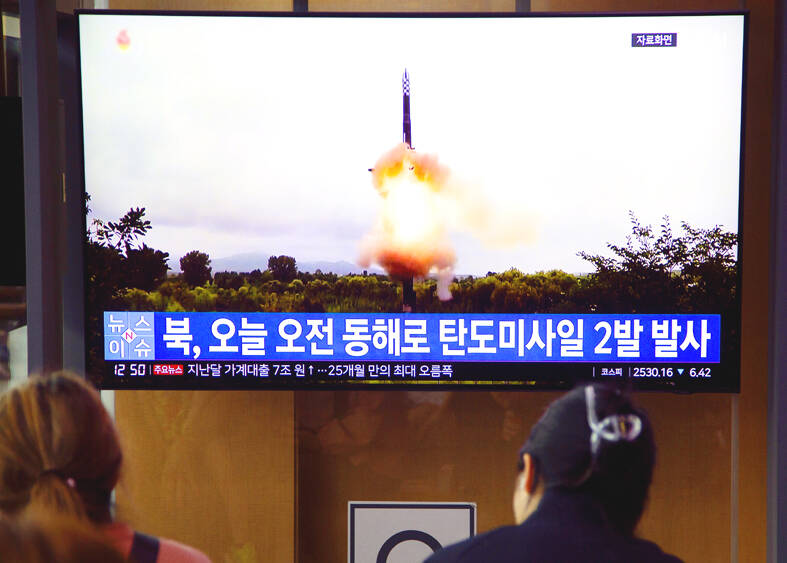 People watch a news segment on North Korea at a station in Seoul on Sept. 13.
Photo: EPA-EFE
Park and other defectors from the North have for years used huge helium-filled balloons to launch leaflets criticizing the leadership of North Korean ruler Kim Jong-un, his nuclear weapons ambitions and the country's dismal human rights record. The leaflets are often packaged with US dollar bills and USB sticks containing information about world news.
In comments attributed to a political commentator, KCNA warned that the North would consider leafleting "high-level psychological warfare" and even a "preemptive attack conducted before a start of war."
"Under the present situation where a spark may lead to explosion, there is no guarantee that such military conflicts as in Europe and the Middle East would not break out on the Korean Peninsula," KCNA said.
The agency claimed that future leafleting campaigns could trigger an unprecedented response from North Korea's military, which stands ready to "pour a shower of shells" toward the sites where the leaflets are launched.
The statement came hours before US Secretary of State Antony Blinken was to arrive in Seoul for talks with allies on the growing threat posed by North Korea's military nuclear program and Pyongyang's growing alignment with Russia.
Blinken was in Tokyo on Tuesday taking part in the second and final day of the G7 foreign ministers' talks.
Comments will be moderated. Keep comments relevant to the article. Remarks containing abusive and obscene language, personal attacks of any kind or promotion will be removed and the user banned. Final decision will be at the discretion of the Taipei Times.