Sixty arrested after mob storms Russian airport
ANTI-SEMITIC CHANT: All Dagestanis emphatize with the suffering of Palestinians, but the attack at the airport in Makhachkala is outrageous, Dagestan's governor said
Russian police yesterday said they had arrested 60 people suspected of storming an airport in the Muslim-majority Caucasus republic of Dagestan, seeking to attack Jewish passengers coming from Israel.
Dozens of protesters, many of them chanting Allahu Akbar ("God is greatest"), broke through doors and barriers at the airport on Sunday, with some charging onto the runway.
Nine police officers were injured while trying to restore order, and two of them were admitted to hospital, the Russian Ministry of the Interior said.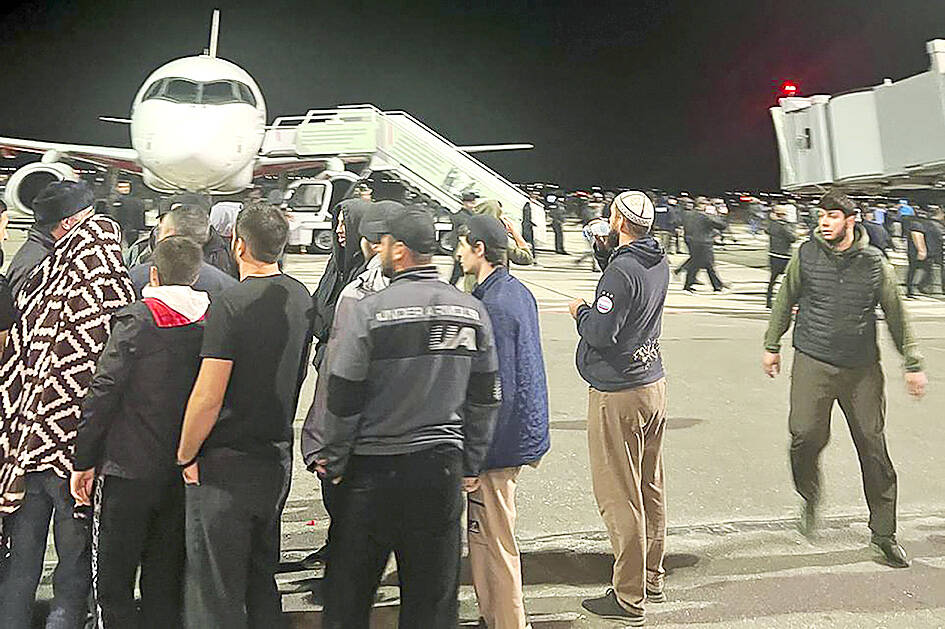 People shout anti-Semitic slogans at an airfield of the airport in Makhachkala, Russia, yesterday.
Photo: AP
The violence prompted Israel to call on Russia to protect its citizens, while the US condemned the "anti-Semitic protests."
Flight tracking Web site Flightradar24 indicated that a Red Wings flight out of Tel Aviv had landed at Makhachkala at 7pm on Sunday.
The independent Russian media outlet Sota said it was a transiting flight that had been due to take off again for Moscow two hours later.
Dagestan Governor Sergei Melikov promised that those responsible would be punished, and the republic's Ministry of the Interior later said that 60 people had been arrested.
"More than 150 active participants in the unrest have been identified, 60 of them have been arrested," the ministry said in a statement early yesterday.
"The airport is now totally under the control of security forces," it added.
Russia's aviation agency initially said the airport would remain closed until Monday next week, but then announced it would reopen today.
Several local Telegram channels showed photos and videos of dozens of men waiting outside the airport to stop cars.
One protester appeared in the videos holding a sign that read: "Child killers have no place in Dagestan".
Other videos showed a crowd inside an airport terminal trying to break down doors as staff members tried to deter them.
Prominent figures in Dagestan have spoken in support of Palestine and against Israel since Oct. 7, when Hamas militants stormed across the Gaza border, killing 1,400 people and kidnapping 239 others, according to the latest Israeli tallies.
Israel retaliated by relentlessly bombing Gaza, killing more than 8,000 people, half of them children, according to the health ministry in the Hamas-run territory.
A statement from Israeli Prime Minister Benjamin Netanyahu's office on Sunday evening said: "Israel expects the Russian authorities to protect all Israeli citizens and all Jews, and to act decisively against the rioters and against incitement to violence against Jews and Israelis."
White House National Security Council spokeswoman Adrienne Watson said: "The United States vigorously condemns the anti-Semitic protests in Dagestan, Russia.
"The US unequivocally stands with the entire Jewish community as we witness a worldwide surge in antisemitism," Watson wrote on social media platform X.
Melikov on Sunday posted a message, saying: "All Dagestanis empathize with the suffering of victims by the actions of unrighteous people and politicians and pray for peace in Palestine.
"But what happened at our airport is outrageous and should receive the appropriate assessment from law enforcement," he said.
The "initiators of this action are our enemies who organized it from Ukrainian territory," Russia's Ria-Novosti news agency quoted him as saying yesterday.
Comments will be moderated. Keep comments relevant to the article. Remarks containing abusive and obscene language, personal attacks of any kind or promotion will be removed and the user banned. Final decision will be at the discretion of the Taipei Times.