Ending fossil fuels 'unrealistic': China
COP28 AGENDA: Beijing's climate envoy said that China was open to negotiating a global renewable energy target as long as it took economic conditions into account
The complete phasing-out of fossil fuels is not realistic, China's top climate official said on Thursday, adding that such fuels must continue to play a vital role in maintaining global energy security.
Chinese Special Envoy on Climate Change Xie Zhenhua (解振華) was responding to comments by ambassadors at a forum in Beijing ahead of the UN's COP28 climate meeting in Dubai, United Arab Emirates, in November.
Reporters obtained a copy of text of Xie's speech and a video recording of the meeting.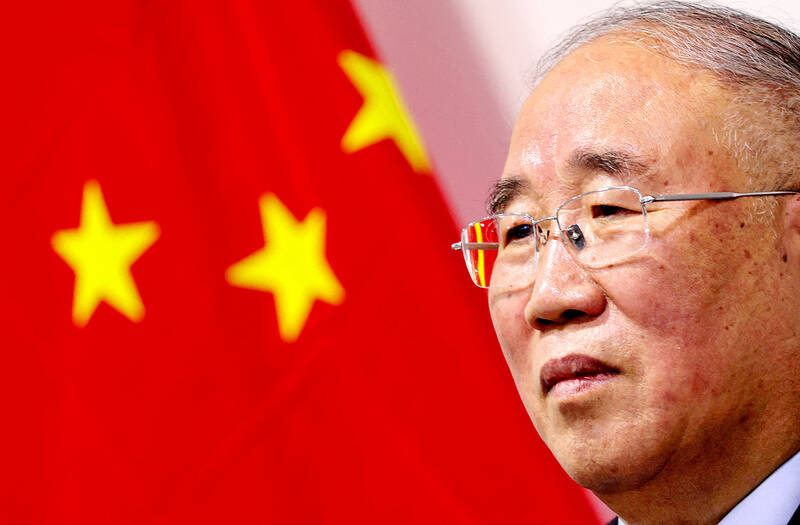 Chinese Special Envoy on Climate Change Xie Zhenhua speaks at a news conference at the COP27 summit in Sharm el-Sheikh, Egypt, on Nov. 9 last year.
Photo: Reuters
Countries are under pressure to make more ambitious climate pledges after a UN-led global "stocktake" said that 20 gigatonnes of additional carbon dioxide reductions would be needed this decade alone to keep temperatures from exceeding the threshold of 1.5°C.
The stocktake is expected to be at the center of discussions at the COP28 meeting, with campaigners hoping it will create the political will to set clear targets to end coal and oil use.
However, Xie said that the intermittent nature of renewable energy sources and the immaturity of key technologies such as energy storage mean the world must continue to rely on fossil fuels to safeguard economic growth.
"It is unrealistic to completely phase out fossil fuel energy," said Xie, who would represent China at COP28.
At climate talks in Glasgow in 2021, China led efforts to change the language of the final agreement from "phasing out" to "phasing down" fossil fuels.
China also supports a bigger role for abatement technologies such as carbon capture and storage.
While ending fossil fuel use is not on the agenda at COP28, Xie said that China was open to setting a global renewable energy target as long as it took the economic conditions of countries into account.
He also said he welcomed pledges made to him by US Special Presidential Envoy for Climate John Kerry that a US$100 billion annual fund to help developing countries adapt to climate change would soon be made available, adding that it was "only a drop in the bucket."
China and the US, the world's two biggest emitters of greenhouse gases, resumed top-level climate talks in July after a hiatus following a visit by then-US House of Representatives speaker Nancy Pelosi to Taiwan.
China has rejected US attempts to treat climate change as a diplomatic "oasis" that can be separated from the broader geopolitical tensions between the two sides, with US trade sanctions on Chinese solar panels still a sore point.
Xie said that protectionism could drive up the price of solar panels by 20 to 25 percent and hold back the energy transition, and called on countries not to "politicize" cooperation in new energy.
He also reiterated China's opposition to the EU Carbon Border Adjustment Mechanism, which would impose carbon tariffs on imports from China and elsewhere.
Comments will be moderated. Keep comments relevant to the article. Remarks containing abusive and obscene language, personal attacks of any kind or promotion will be removed and the user banned. Final decision will be at the discretion of the Taipei Times.