Beijing ousted Qin due to affair in the US: report
The Chinese Communist Party (CCP) removed former minister of foreign affairs Qin Gang (秦剛) from his post after an investigation concluded that he had conducted an affair and fathered a child while serving as ambassador to the US, the Wall Street Journal reported.
Top officials were told in August that a CCP inquiry into Qin uncovered "lifestyle issues," the newspaper reported yesterday, citing people familiar with the situation that it did not describe.
That phrase usually means sexual misbehavior of some type in the parlance of Chinese officialdom.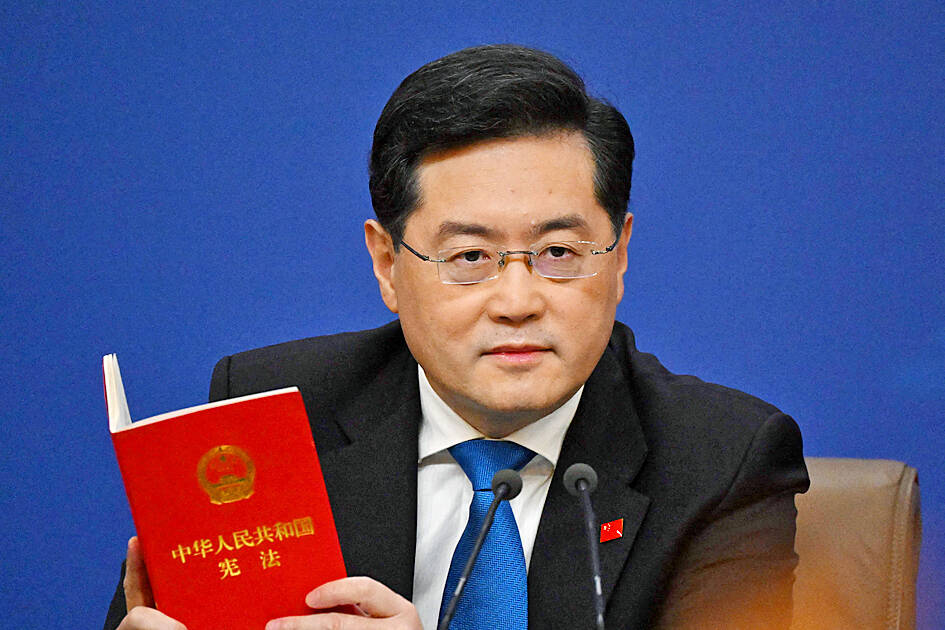 Then-Chinese minister of foreign affairs Qin Gang holds a copy of the constitution at a news conference in Beijing on March 7.
Photo: AFP
Two of the people said the affair led to the birth of a child in the US. The probe, with Qin's assistance, is now focusing on whether or not the affair compromised national security.
China is locked in an ideological battle with the US, its chief economic and geopolitical rival, which has seen Beijing intensify a national security drive to shield it from foreign threats.
The Chinese Ministry of Foreign Affairs did not immediately respond to a request for comment.
China stripped Qin from his ministerial post in July, just seven months after he started the job — making his tenure the shortest in that role. No explanation was given for Qin's removal as his predecessor Wang Yi (王毅) was reinstated.
The removal raised questions about the decisionmaking of Chinese President Xi Jinping (習近平) and the stability of the government running the world's second-largest economy. Those concerns have been rekindled by the unexplained absence of Chinese Minister of National Defense Li Shangfu (李尚福), amid reports he is being probed for corruption.
The CCP's senior ranks are now being scrutinized for their dealings with foreigners, the insiders told the Journal, adding that top brass in China's military were also under the spotlight.
Few Chinese officials have risen as swiftly through the diplomatic ranks as Qin. His big break came in 2015 when he was given oversight of protocol at the foreign ministry. That stint saw him organize state visits of world leaders to China.
It was likely in that role that Qin gained access to Xi. He was pictured beside the Chinese president during a meeting with then-US president Donald Trump in Beijing in 2017.
Qin in 2021 was sent to Washington while he was still relatively unknown outside diplomatic circles. He showed a flair for public relations, embracing US culture by attending a baseball game and riding in a Tesla with Elon Musk.
He also made moderate remarks on hot topics, arguing Beijing would have tried to stop Russia from invading Ukraine if it had known its plans and playing down the risk of a war with Taiwan.
Comments will be moderated. Keep comments relevant to the article. Remarks containing abusive and obscene language, personal attacks of any kind or promotion will be removed and the user banned. Final decision will be at the discretion of the Taipei Times.