Russia urges ICJ to toss out Ukraine's case
Russia yesterday called a Ukrainian case alleging that Moscow abused the Genocide Convention to justify its invasion last year an "abuse of process," as lawyers for Moscow sought to have judges at the UN's highest court throw it out.
Gennady Kuzmin, the leader of Moscow's legal team at the International Court of Justice (ICJ), told the 16-judge panel that Ukraine's case that seeks to halt the invasion "is, hopelessly flawed and at odds with the longstanding jurisprudence of this court."
He said Ukraine's filing is "a manifest disregard of the proper administration of justice and constitutes an abuse of process."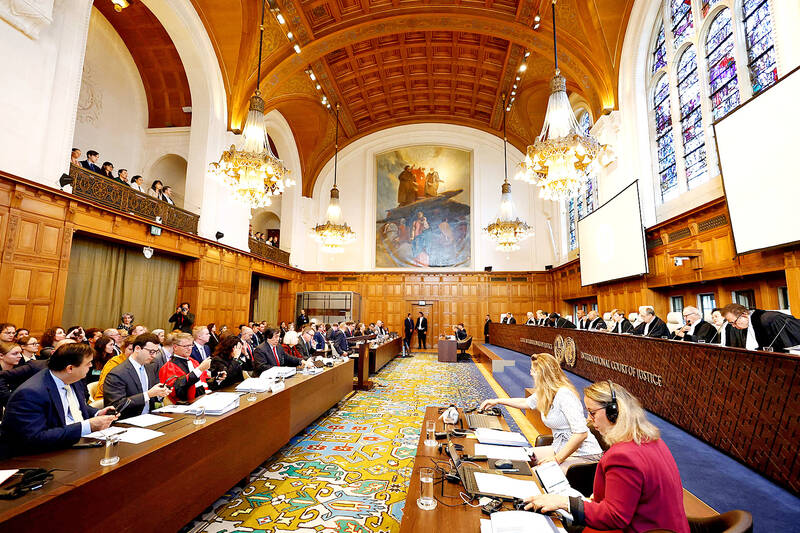 Members of the International Court of Justice listen as Russia begins presenting its objections against the jurisdiction of the World Court in a genocide case brought by Ukraine, which claims Moscow falsely applied genocide law to justify its invasion on Feb. 24 last year, in The Hague, Netherlands, yesterday.
Photo: Reuters
Kyiv's case, filed shortly after Russia invaded Ukraine, argues that the attack was based on false claims of acts of genocide in the Luhansk and Donetsk regions of eastern Ukraine and alleges that Moscow was planning genocidal acts in Ukraine.
Ukraine claimed that "Russia has turned the Genocide Convention on its head — making a false claim of genocide as a basis for actions on its part that constitute grave violations of the human rights of millions of people across Ukraine."
Lawyers for Russia insist that the court does not have jurisdiction and that the Genocide Convention cannot be used to regulate use of force by nations.
Ukraine's legal team is to respond today and urge judges to press ahead to hearings on the substance of its claims.
In his opening speech, Kuzmin echoed Russian claims about what he called "neo-Nazis" in Kyiv, and drew parallels between Russia's attack on Ukraine and the 1999 NATO airstrikes on Serbia aimed at halting Belgrade's military campaign in Kosovo.
Ukraine brought the case to the Hague-based court based on the 1948 Genocide Convention, which both Moscow and Kyiv have ratified.
In an interim ruling in March last year, the court ordered Russia to halt hostilities in Ukraine, a binding legal ruling that Moscow has flouted as it presses ahead with its devastating attacks on Ukrainian towns and cities.
In an unprecedented show of international support for Kyiv, 32 of Ukraine's allies — including Canada, Australia and every EU member country except Hungary — are to make statements tomorrow in support of Kyiv's legal arguments.
The US asked to make legal arguments on Ukraine's behalf, but the UN court's judges rejected the US request on a technicality.
The court's panel of international judges is likely to take weeks or months to reach a decision on whether the case can proceed.
If it does, a final ruling is likely years away.
The International Court of Justice, also known as the World Court, hears disputes between nations over matters of law, unlike the International Criminal Court, also based in the Hague, which holds individuals criminally responsible for offenses including war crimes and crimes against humanity.
The International Criminal Court, has issued a war crimes arrest warrant for Russian President Vladimir Putin, accusing him of responsibility for the abduction of Ukrainian children.
Comments will be moderated. Keep comments relevant to the article. Remarks containing abusive and obscene language, personal attacks of any kind or promotion will be removed and the user banned. Final decision will be at the discretion of the Taipei Times.