Controversial leader Buthelezi laid to rest in South Africa
Prince Mangosuthu Buthelezi, a controversial South African politician and traditional minister of the Zulu nation, was laid to rest on Saturday after dying at the age of 95 last week.
South African President Cyril Ramaphosa delivered a eulogy at Buthelezi's funeral in Ulundi in the KwaZulu-Natal Province, where he had been living, praising him for his work as a lawmaker and commitment to eventually participate in South Africa's peaceful transition to a democratic state.
Mourners including leaders of rival political parties, government officials, the clergy and community members gathered to pay their respects to a man who continues to divide opinion in South Africa.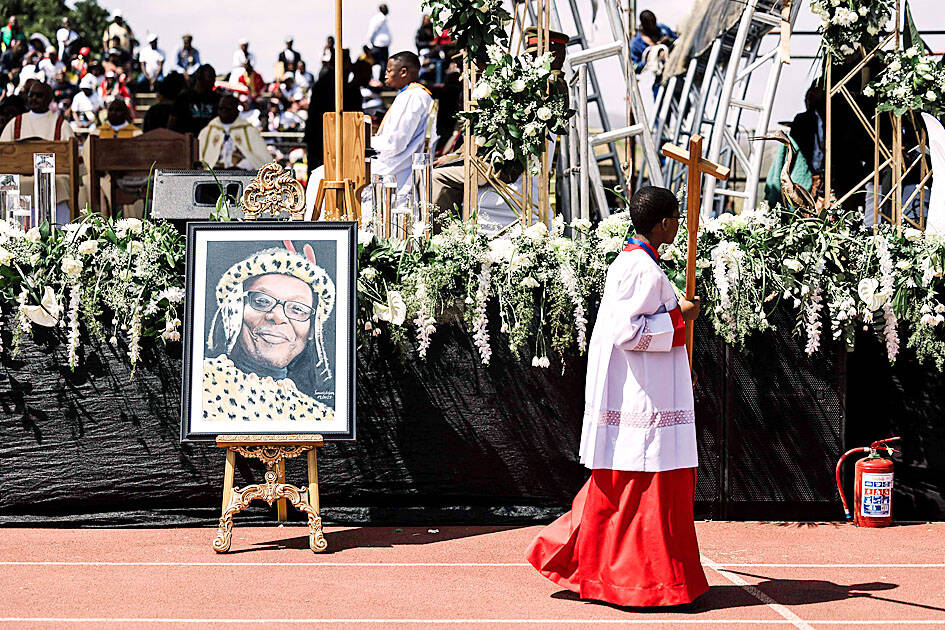 A member of the Anglican Church of Southern Africa walks past a photograph of Zulu prince Mangosuthu Buthelezi, founder of the Inkatha Freedom Party, at his funeral in Ulundi, South Africa, on Saturday.
Photo: AFP
Buthelezi founded the Inkatha Freedom Party in 1975, which was responsible for some of the worst political violence seen in the country in the 1980s and early 1990s.
Although opposed to apartheid — the policy of racial segregation implemented by the white minority government in South Africa before the country's transition to democracy in 1994 — Buthelezi was at odds with liberation leaders, who labeled him a sellout.
He headed the administrative region of Zululand, one of the "homelands" the apartheid government created to enforce the segregation policy.
Buthelezi was one of the longest-serving lawmakers in South Africa and served as a minister in former South African president Nelson Mandela's Cabinet despite previous tensions with Mandela and the African National Congress party.
Three former South African presidents, Thabo Mbeki, Kgalema Motlanthe and Jacob Zuma, attended his burial.
Comments will be moderated. Keep comments relevant to the article. Remarks containing abusive and obscene language, personal attacks of any kind or promotion will be removed and the user banned. Final decision will be at the discretion of the Taipei Times.