Aid groups warn of Libya disease risk
'SECOND CRISIS': After the city of Derna was flooded last week, affecting more than 1.2 million people, MSF said it was sending teams to assess water and sanitation
Aid groups warned of growing risk posed by the spread of disease that could compound the humanitarian crisis in Libya, as hopes dwindled yesterday of finding more survivors days after deadly flooding.
The flood on Sunday last week submerged the port city of Derna, washing thousands of people and homes out to sea after two upstream dams burst under the pressure of torrential rains triggered by the hurricane-strength storm.
Conflicting death tolls have been reported, with officials in the east of the divided country giving different estimates, and one speaking of at least 3,840 dead.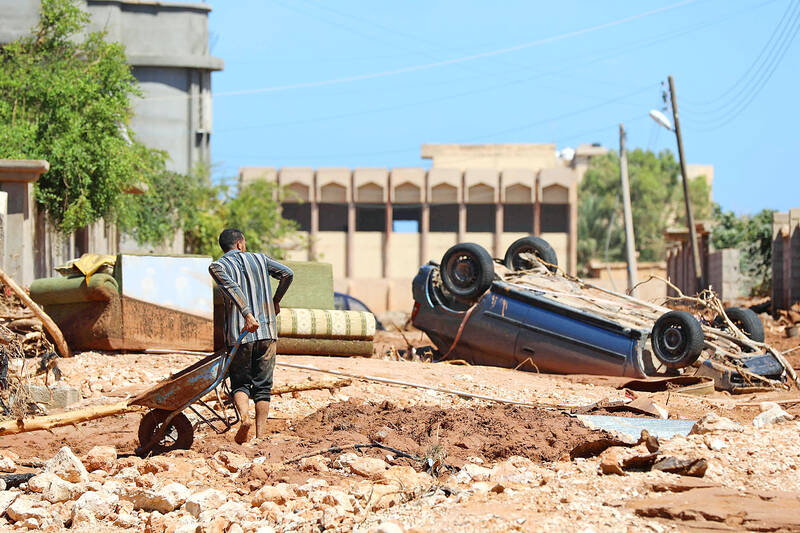 A man works to clear rubble in Soussa, Libya, on Friday after a hurricane-strength storm hit the nation on Sunday last week.
Photo: AFP
In Al-Bayda, 100km west of Derna, locals had already begun cleanup efforts, working to clear roads and homes of the mounds of mud left behind by the deluge.
Meanwhile, aid organizations such as Islamic Relief and Doctors Without Borders (MSF) have warned of the spread of disease as well as grave difficulties in delivering aid to those most in need.
Islamic Relief said there could be a "second humanitarian crisis" after the flood, pointing to the "growing risk of water-borne diseases and shortages of food, shelter and medicine."
"Thousands of people don't have anywhere to sleep and don't have food," Islamic Relief deputy director of partner development Salah Aboulgasem said.
"In conditions like this, diseases can quickly spread as water systems are contaminated," he said. "The city smells like death. Almost everyone has lost someone they know."
MSF said it was deploying teams to the east to assess water and sanitation.
"With this type of event we can really worry about water-related disease," said Manoelle Carton, MSF's medical coordinator in Derna, who described efforts to coordinate aid as "chaotic."
However, the Red Cross and the WHO said that contrary to widespread belief, the bodies of victims of natural disasters rarely pose a health threat.
An Agence France-Presse journalist in Derna said that central neighborhoods on either side of the river, which normally dries up at this time of year, looked as if a steam roller had passed through, uprooting trees and buildings and hurling vehicles onto the port's breakwaters.
Ahmed al-Mesmari, spokesman for the east-based Libyan National Army, on Friday night said the flood had affected "over 1.2 million people."
"Everything was washed away... The waters have completely cut off the roads in these regions," he said.
Stephanie Williams, a US diplomat and former UN envoy to Libya, urged global mobilization to coordinate aid efforts in the wake of the flood in a social media post.
She spoke of the "predilection of Libya's predatory ruling class to use the pretext of 'sovereignty' and 'national ownership' to steer such a process on their own and in a self-interested manner."
The UN launched an appeal for more than US$71 million to assist hundreds of thousands in need and said that the "extent of the problem" remains unclear.
"We don't know the extent of the problem," UN Emergency Relief Coordinator Martin Griffiths said in Geneva on Friday, as he called for coordination between Libya's two rival administrations — the UN-backed, internationally recognized government in Tripoli, and one based in the disaster-hit east.
However, the scale of the devastation gave way to shows of solidarity, as volunteers in Tripoli gathered aid for the flood victims in the east.
"Everyone in Tripoli is mobilized, and they're bringing us goods. Tomorrow, we hope that aid will be sent to Derna," said Mohamed Omar Benour, one of the volunteers. "We hope everything goes well, and may God help everyone."
Comments will be moderated. Keep comments relevant to the article. Remarks containing abusive and obscene language, personal attacks of any kind or promotion will be removed and the user banned. Final decision will be at the discretion of the Taipei Times.