Libyan city closed as flood toll rises to 11,300
THOUSANDS MISSING: An official said rescue teams were searching wrecked buildings and divers were combing the sea off Derna, where two dams broke
Libyan authorities yesterday blocked civilians from entering the flood-stricken eastern city of Derna so search teams could look through the mud and wrecked buildings for 10,100 people still missing after the toll rose to 11,300 dead.
The disaster after two dams collapsed in heavy rains and sent a massive flood gushing into the Mediterranean city early on Monday underscored the storm's intensity, but also Libya's vulnerability.
The oil-rich state since 2014 has been split between rival governments in the east and west backed by militia forces and international patrons.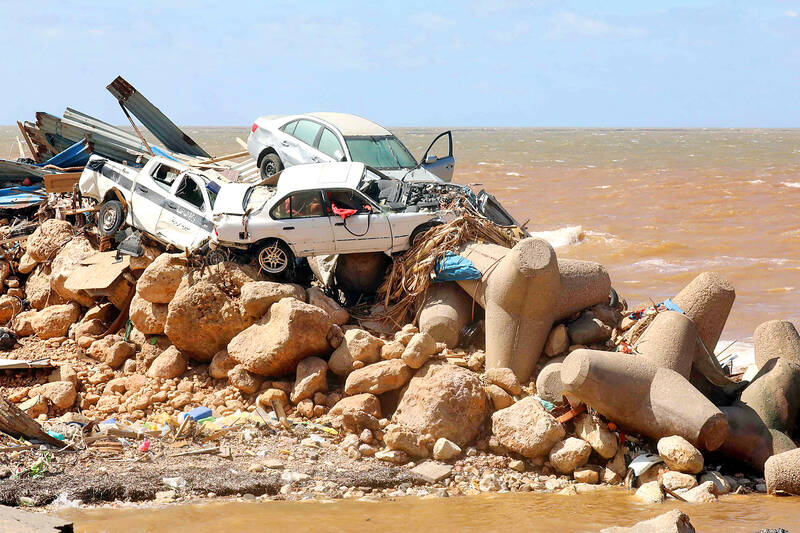 Vehicles are piled atop wave breakers and rubble on Thursday after flash floods breached dams in Derna, Libya, on Sunday.
Photo: AFP
Derna was being evacuated, and only search and rescue teams would be allowed to enter, Salam al-Fergany, director general of the Ambulance and Emergency Service in eastern Libya, announced late on Thursday.
The disaster has brought rare unity, as government agencies across Libya's divide rushed to help the affected areas, with the first aid convoys arriving in Derna on Tuesday evening.
Relief efforts have been slowed by the destruction after several bridges that connect the city were destroyed.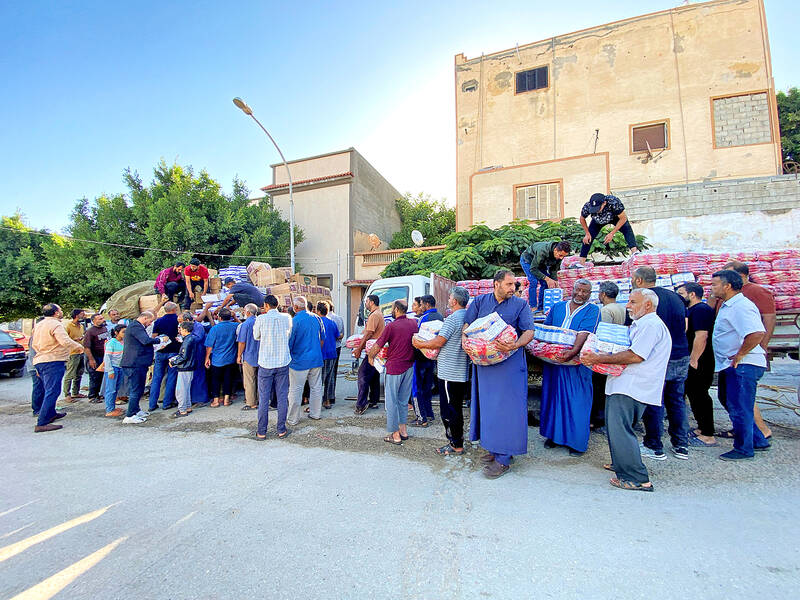 People yesterday receive food in the aftermath of the floods in Derna, Libya.
Photo: Reuters
The Libyan Red Crescent said as of Thursday that 11,300 people in Derna had died and 10,100 were missing.
Mediterranean storm Daniel also killed about 170 people elsewhere in the country.
Eastern Libya's health minister, Othman Abduljaleel, has said that the burials so far were in mass graves outside Derna, and nearby towns and cities.
Abduljaleel said that rescue teams were searching wrecked buildings in the city center and divers were combing the sea off Derna.
Soon after the storm hit the city on Sunday night, residents said they heard loud explosions when the dams outside the city collapsed.
Floodwaters gushed down Wadi Derna, a valley that cuts through the city, crashing through buildings and washing people out to sea.
Lori Hieber Girardet, the head of the risk knowledge branch the UN Office for Disaster Risk Reduction, told reporters on Thursday that because of years of chaos and conflict, Libyan "government institutions are not functioning as they should."
As a result, "the amount of attention that should be paid to disaster management, to disaster risk management isn't adequate," she said.
The city of Derna is governed by Libya's eastern administration, which is backed by military commander Khalifa Haftar.
Comments will be moderated. Keep comments relevant to the article. Remarks containing abusive and obscene language, personal attacks of any kind or promotion will be removed and the user banned. Final decision will be at the discretion of the Taipei Times.