N Korea's Kim inspects Russian jets
EASTERN VISIT: A Russian governor said they shared with North Korea history of fighting against Japanese militarism, 'and now we are resisting Western pressure'
North Korean leader Kim Jong-un yesterday peered into the cockpit of Russia's most advanced fighter jet as he toured an aircraft factory.
Since entering Russia aboard his armored train on Tuesday, Kim has met with Russian President Vladimir Putin, and visited weapons and technology sites.
Foreign governments and experts speculate that Kim will likely supply ammunition to Russia for its war efforts in Ukraine in exchange for receiving advanced weapons or technology from Russia.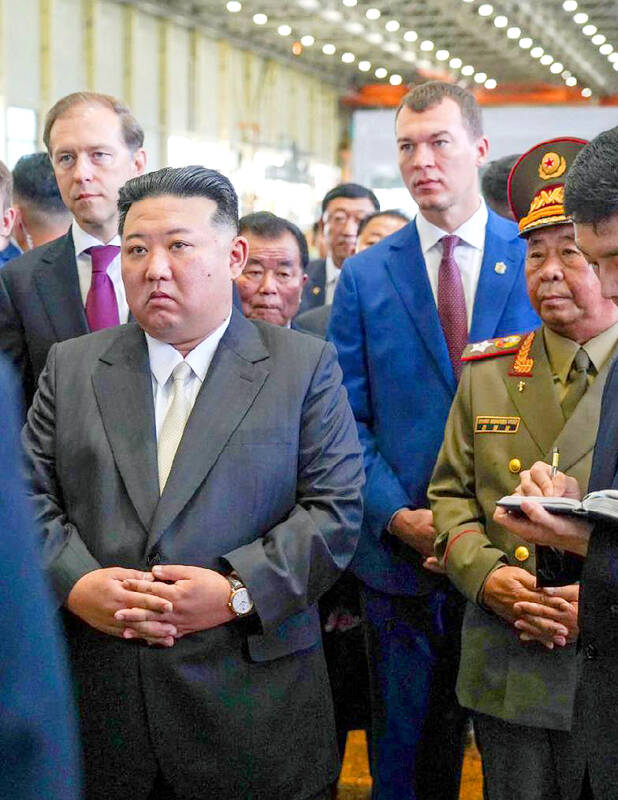 North Korean leader Kim Jong-un, left, visits an aviation plant in Komsomolsk-on-Amur, Russia, in a photograph posted on telegram yesterday by Khabarovsk Krai Governor Mikhail Degtyarev.
Photo: AFP / official telegram channel of the Governov of Khabarovsk region Mikhail Degtyaryov
Earlier yesterday, Russia's state news agency RIA Novosti published a video showing Kim's train pulling into a station in Komsomolsk-on-Amur in Khabarovsk Krai and Kim's convoy sweeping out of the station shortly afterward.
Later, Khabarovsk Krai Governor Mikhail Degtyarev posted on social media pictures showing Kim at the aircraft factory looking at the Su-57, Russia's most sophisticated fighter jet, and shaking hands with a pilot.
One photograph showed a demonstration flight of a Su-35, another Russian fighter jet manufactured at the plant.
Degtyarev said that Kim's late father, Kim Jong-il, also visited the plant in 2002.
"Our fathers and grandfathers jointly fought against the Japanese militarism, our country supported North Korea in its fight against the US imperial ambitions in the 1950s and now we are jointly resisting Western pressure," he said. "I'm sure that our countries will keep upholding the ideals of freedom and the multipolar world through our joint efforts."
Besides Degtyarev, Russian Deputy Prime Minister Denis Manturov accompanied Kim Jong-un to the plant.
A Russian Cabinet statement said that Kim Jong-un visited a facility producing Sukhoi SJ-100 passenger planes as well.
"We have shown one of our leading aircraft plants to the leader of" North Korea, Manturov said in the statement. "We are seeing potential for cooperation in the aircraft-making and other industries, which is particularly acute for solving our countries task of achieving technological sovereignty."
Kim Jong-un was to travel to Vladivostok to view Russia's Pacific fleet, a university and other facilities, Putin told Russian media after he met with the North Korean leader.
Experts say that in return for helping Putin to replenish war supplies, Kim Jong-un would seek Russian help to modernize his air force and navy.
On Thursday, the national security advisers of the US, South Korea and Japan talked by telephone and expressed "serious concerns" about prospective weapons deals between Russia and North Korea.
They warned that Russia and North Korea would "pay a clear price" if they go ahead with such deals, South Korea's presidential office said.
The White House said the three national security advisers noted that any arms export from North Korea to Russia would directly violate multiple UN Security Council resolutions, including resolutions that Russia, a permanent member of the UN council, itself voted to adopt.
They reiterated their cooperation toward the complete denuclearization of the Korean Peninsula as well, the White House said in a statement.
South Korean Minister of Unification Kim Yung-ho said that potential arms transfers between the North and Russia would invite stronger responses from South Korea, the US and Japan, which have been stepping up their trilateral security cooperation to cope with regional threats.
Some analysts question how much Russia would be willing to share its weapons technologies with North Korea in return for its conventional arms.
Comments will be moderated. Keep comments relevant to the article. Remarks containing abusive and obscene language, personal attacks of any kind or promotion will be removed and the user banned. Final decision will be at the discretion of the Taipei Times.