Paintings on pesos depict inflation woe
A jaguar lies beside George Washington, while the US' first president holds a rifle with one hand as he rests the other on the dead Argentine predator.
The backdrop is a US dollar and an Argentine 500 peso (US$1.43) note joined like a book, a clear allusion to the rapid depreciation of the local currency.
That has made it difficult for Argentines to make ends meet. The peso has depreciated about 60 percent compared with the US dollar over the past year. It has occurred in parallel to one of the world's highest inflation rates.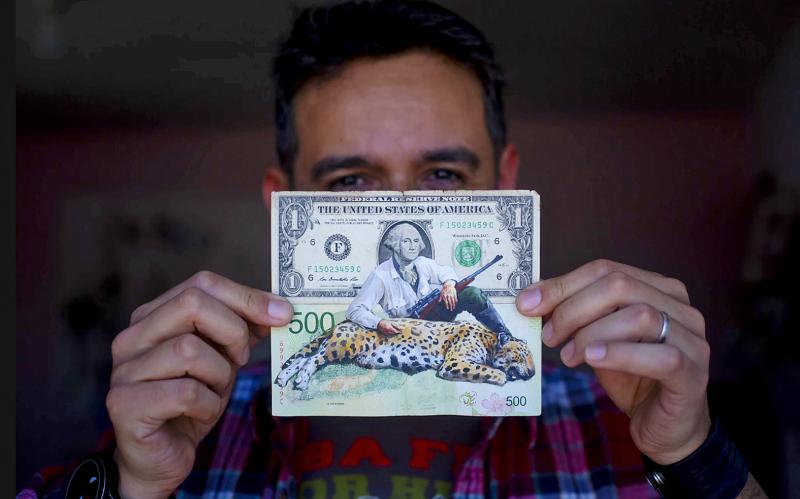 Artist Sergio D穩az holds up a piece of his Money Art; the backdrop a U.S. dollar and an Argentine 500-peso note featuring George Washington holding a rifle alongside a dead jaguar, in his studio in Salta, Argentina, Saturday, Sept. 9, 2023.
Photo:AP
As millions of Argentines express dismay and anger, a group of artists is seeking to show the economic damage the best way they know how, with art.
As they express themselves, the artwork increases the value of the increasingly worthless bills they use as material.
It is one of the starkest illustrations of how runaway inflation has taken its toll and is changing habits; from middle-class women giving up beauty-parlor visits to families buying secondhand clothes.
Argentines with extra cash buy stockpiles of things they need, knowing prices are certain to rise in a month.
The runaway inflation conversely means that restaurants in the capital are packed, because there is no point in saving when a paycheck loses purchasing power every month.
The Money Art movement of Sergio Diaz and other Argentine artists uses moderately priced brushes and acrylics to paint banknotes of 10, 20, 100 or 1,000 pesos and then share their work on social media.
The artwork fetches prices ranging from 40,000 to 70,000 pesos domestically and as much as US$300 abroad.
Stringent capital controls in Argentina mean that access to the official foreign exchange market is extremely limited, so parallel rates have flourished.
The artists are reclaiming the currency at a time when the bills have often been the target of disdain from Argentina's neighbors.
Brazilian soccer fans have torn up peso bills as a mockery to their Argentine rivals.
Inflation last month surged 12.4 percent from July, the highest rate of monthly consumer price increases since February 1991.
Diaz is to exhibit the piece in which Washington is shown with the jaguar, along with others from the series, "The Art of Devaluation," in November in Salta, his hometown in northern Argentina.
"There is an element of transgression, of vandalism ... but my idea is to go beyond that and transform the bills while addressing the issue of inflation that affects us all," Diaz said.
The artist has painted portraits of Argentine soccer stars Diego Maradona and Lionel Messi on bills, along with the terrifying clown Pennywise from It, and characters from Harry Potter, among others.
He has also participated in Money Art exhibitions abroad and, along with other Argentine colleagues, maintains contact with Venezuelan artists who were pioneers in this form of art, as their country's bills also suffered a sharp drop in value making many of them virtually worthless.
Fellow artist Cristian English began working on bills three years ago when, during the quarantine imposed amid the COVID-19 pandemic, he found it difficult to get canvases and used bank notes as a substitute.
The Argentine government unveiled a new 2,000 peso bill in May and English called it "a 2,000 peso bill that's worth nothing. It's just printing for the sake of printing."
English has received orders from people in Paraguay and Chile, asking him to create one work he has made featuring Diego Maradona on a 10 peso bill, the number Maradona wore while playing for the national team.
English, 38, said that he has no plans to stop using the 2,000 peso bills for his art, in part because it is much cheaper than the traditional canvas.
However, it is not an easy material to work with, because the paper is of a very low quality, he said.
Comments will be moderated. Keep comments relevant to the article. Remarks containing abusive and obscene language, personal attacks of any kind or promotion will be removed and the user banned. Final decision will be at the discretion of the Taipei Times.