Afghan soldier granted asylum in US after long trek
An Afghan soldier who fled the Taliban and traveled through nearly a dozen countries before being arrested at the Texas-Mexico border and detained for months has been granted asylum, allowing him to remain in the US, his brother said on Wednesday.
Abdul Wasi Safi, 27, is one of tens of thousands of Afghan citizens who fled to the US following the withdrawal of its forces from Afghanistan in August 2021.
The soldier, called Wasi by family and friends, and his older brother, Sami Safi, worried that if Wasi Safi was not granted asylum, he could be sent back to Afghanistan, where he would likely be killed by the Taliban because he had worked with the US military.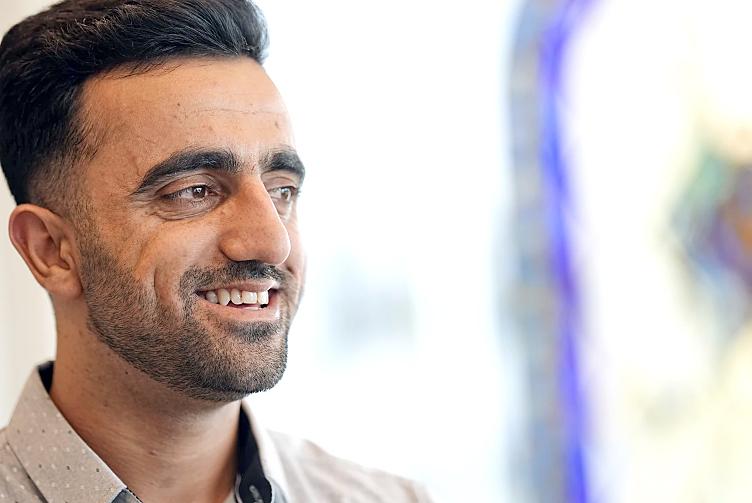 Abdul Wasi Safi talks about the dental treatments he received after a clinic appointment, April 26, 2023, in Houston.
Photo: AP
However, Wasi Safi's lawyer on Tuesday surprised the brothers with news that his asylum request had been granted.
The brothers, who live in Houston, had thought a decision was not coming until a Nov. 19 court hearing.
"I have tears of joy in my eyes," Sami Safi said. "Now he can live here. Now he can be safe here."
Olsa Alikaj-Cano, Wasi Safi's immigration attorney, who represented him with his credible fear interview as well as with his asylum application before the Houston Immigration Court, said that she and an attorney representing the federal government on Friday last week filed a joint motion asking an immigration judge to waive the November trial hearing and grant asylum.
Alikaj-Cano said that the judge's decision came after Wasi Safi was thoroughly vetted by the US government.
That included background checks, a strong asylum application with letters of support and questioning by immigration officials, all of which detailed the fear Wasi Safi felt over a possible return to Afghanistan, she said.
"It's great news. It's the true story of someone who's done so much for our country and who deserves asylum. Asylum is meant to be issued to individuals like Wasi," Alikaj-Cano said.
The US Department of Justice's Executive Office for Immigration Review, which handles immigration cases, did not immediately reply to an e-mail seeking comment about Wasi Safi being granted asylum, which was first reported by the Military Times.
An intelligence officer for the Afghan National Security Forces, Wasi Safi made his way to Brazil last year. Last summer, he started a months-long journey on foot and by boat to the US, crossing 10 countries on his trek.
At the US-Mexico border near Eagle Pass, Texas, Wasi Safi was arrested in September last year and spent several months in detention before being freed following intervention by lawyers and lawmakers.
Those working on Wasi Safi's case say it highlights how the US' chaotic military withdrawal from Afghanistan continues to harm Afghan citizens who helped the US, but were left behind.
Nearly 90,000 Afghans who worked with US soldiers since 2001 have arrived in the US on military planes since the withdrawal, US Department of Homeland Security data showed.
Other Afghans, like Wasi Safi, made their way to the US on their own.
"This was supposed to happen because if you give so much sacrifice to a country's government, to a country's military who promised you: 'We will never leave our allies behind,' it was the right thing for the government to do," said Sami Safi, 30, who was a translator for the US military and has lived in Houston since 2015.
Comments will be moderated. Keep comments relevant to the article. Remarks containing abusive and obscene language, personal attacks of any kind or promotion will be removed and the user banned. Final decision will be at the discretion of the Taipei Times.