Ukraine hits Russian ships in Crimea
A Ukrainian attack on a strategic shipyard in Russia-annexed Crimea wounded 24 people, damaged two ships undergoing repairs and caused a fire at the facility yesterday, Russian authorities reported.
The attack in the port city of Sevastopol, which serves as the main base for Russia's Black Sea Fleet, took place as Moscow launched drones against southern Ukraine's Odesa region. The predawn onslaught damaged port and civilian infrastructure in the region's Izmail district and wounded seven people, three seriously, Odesa Governor Oleh Kiper said.
Ukraine's air force said it intercepted 32 of 44 Shahed-type drones launched over the country overnight, most of them directed toward the southern parts of the Odesa region.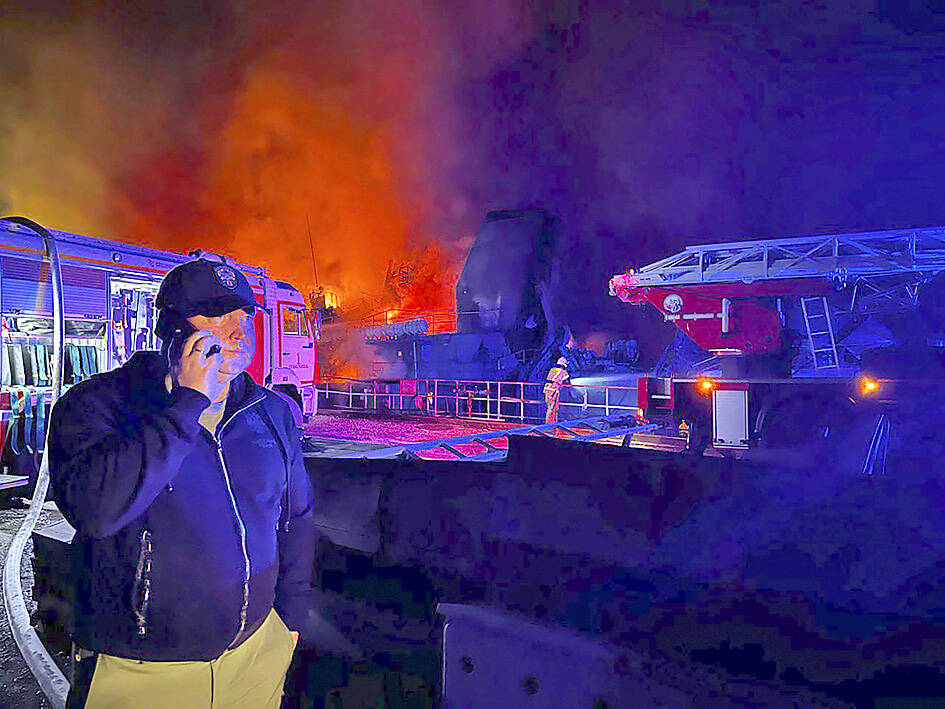 Sevastopol Governor Mikhail Razvozhaev speaks on the mobile phone as smoke and flame rise from a burning Sevastopol Shipyard in Crimea.
Photo: Sevastopol Governor Mikhail Razvozhaev telegram channel via AP
The Crimean Peninsula, which Russia annexed from Ukraine in 2014 in an act that most of the world considered illegal, has been a frequent target since Russian President Vladimir Putin ordered a full-scale invasion of Ukraine last year.
Yesterday's attack on the Sevastopol Shipyard appeared to be one of the biggest in recent weeks.
The Russian Ministry of Defense said Ukraine launched 10 cruise missiles at the shipyard and three sea drones at Russian ships in the Black Sea.
The shipyard is of strategic importance to Russia because vessels in its Black Sea fleet are repaired there.
Seven missiles were shot down, and all the sea drones were destroyed, the Russian military said, but some of the missiles damaged two ships that were being repaired at the shipyard.
Mikhail Razvozhayev, the Moscow-appointed governor of Sevastopol, said on Telegram that the resulting fire injured 24 people. He posted a photo showing the shipyard in flames with smoke billowing over it.
RBC-Ukraine news outlet reported, citing unnamed sources in Ukrainian military intelligence, that an amphibious landing ship and a submarine were damaged in the attack.
Some Russian messaging app channels made the same claim.
There was no immediate comment from Ukrainian officials.
Comments will be moderated. Keep comments relevant to the article. Remarks containing abusive and obscene language, personal attacks of any kind or promotion will be removed and the user banned. Final decision will be at the discretion of the Taipei Times.