Philippines, China continue to spar in South China Sea
The Philippines has completed a supply mission for troops stationed in a rusty World War II-era ship, but not without a usual cat and mouse chase with Chinese vessels in the South China Sea.
Reuters on Friday went on board one of the Philippine Coast Guard's vessels escorting the mission to the Second Thomas Shoal (Renai Shoal, 仁愛暗沙), which Taiwan also claims, and witnessed how the China Coast Guard and maritime militia vessels tried to chase and block the Philippine contingent from reaching their destination.
China said the vessels entered the waters without its permission.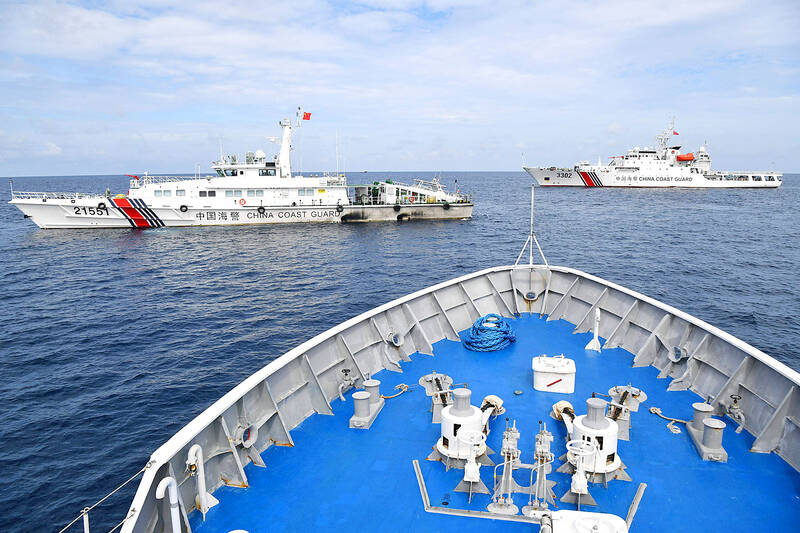 This photo taken on August 22, 2023 shows Chinese coast guard ships blocking the path of Philippine coast guard ship BRP Cabra.
Photo: AFP
During the mission, two Chinese ships blocked two Philippine coast guard vessels. In another instance, a Philippine ship was surrounded by a Chinese coast guard vessel and three maritime militia vessels.
One of the Chinese ships was also seen heading dangerously close to the Philippine vessel, which Reuters was aboard, while several Chinese militia vessels tried to block its path.
"We always encounter dangerous maneuvers, shadowing activities, blocking not only from China Coast Guard vessels, but also from China militia vessels," Philippine Coast Guard Commander Emmanuel Dangate told reporters after the mission.
"It is imperative that the supplies be delivered to BRP Sierra Madre to support our soldiers stationed there," he said.
The Philippines intentionally grounded the warship in 1999 as part of its sovereignty claim to the shoal, which is inside its 322km exclusive economic zone.
The China Coast Guard on Friday said that two Philippine supply boats and two coast guard ships had entered the waters adjacent to the shoal without permission from the Chinese government.
China claims that the Philippines is bringing construction materials that reinforces the rusty warship and violates China's sovereignty in the shoal. The Philippines says it is taking water and food to its troops.
A US Navy plane was also spotted overhead during Friday's mission.
In a radio message to its Chinese counterpart, the Philippine Coast Guard warned that the Chinese actions would affect relations between the two countries.
The actions are "illegal, aggressive and destabilizing," it said.
It was the second successfully completed resupply mission since Aug. 5, when China's coast guard used a water cannon to deter the Philippine ships.
Comments will be moderated. Keep comments relevant to the article. Remarks containing abusive and obscene language, personal attacks of any kind or promotion will be removed and the user banned. Final decision will be at the discretion of the Taipei Times.