Biden cancels oil, gas leases in Alaska refuge
In an aggressive move that angered Republicans, US President Joe Biden's administration on Wednesday canceled the seven remaining oil and gas leases in Alaska's Arctic National Wildlife Refuge, overturning sales held in the waning days of former US president Donald Trump, and proposed stronger protections against development on vast swaths of the National Petroleum Reserve-Alaska.
The US Department of the Interior's scrapping of the leases comes after the Biden administration disappointed environmental groups earlier this year by approving the Willow oil project in the petroleum reserve, a massive project by ConocoPhillips Alaska that could produce up to 180,000 barrels of oil a day on Alaska's petroleum-rich North Slope. Protections are proposed for more than 51,800km2 of land in the reserve in the western arctic.
Some critics who said the approval of Willow flew in the face of Biden's pledges to address climate change lauded Wednesday's announcement, but added that more could be done. Litigation over the approval of the Willow project is pending.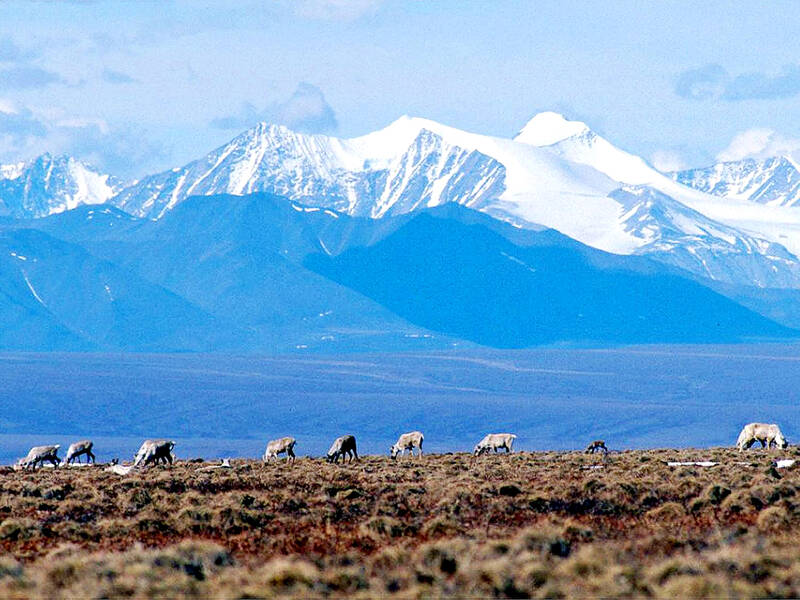 Caribou graze in the Arctic National Wildlife Refuge in Alaska on June 1, 2001.
Photo: AP
"Alaska is home to many of America's most breathtaking natural wonders and culturally significant areas. As the climate crisis warms the Arctic more than twice as fast as the rest of the world, we have a responsibility to protect this treasured region for all ages," Biden said in a statement.
His actions "meet the urgency of the climate crisis" and will "protect our lands and waters for generations to come," Biden said.
Alaska's Republican governor condemned Biden's moves and threatened to sue, and at least one Democratic lawmaker said the decision could hurt indigenous communities in an isolated region where oil development is an important economic driver.
US Secretary of the Interior Deb Haaland, who drew criticism for her role in the approval of the Willow project, said that "no one will have rights to drill for oil in one of the most sensitive landscapes on Earth."
However, a 2017 law mandates another lease sale by late next year. Administration officials said they intend to comply with the law.
The Biden administration also announced proposed rules aimed at providing stronger protections against new leasing and development in portions of the National Petroleum Reserve-Alaska that are designated as special areas for their wildlife, subsistence, scenic or other values. The proposal must still go through public comment. Willow lies within the reserve, but was not expected to be affected by the proposed rules.
The Arctic National Wildlife Refuge's (ANWR) 600,000-hectare coastal plain, which lies along the Beaufort Sea on Alaska's northeastern edge, is seen as sacred by the indigenous Gwich'in because it is where caribou they rely on migrate and come to give birth. The plain is marked by hills, rivers and small lakes and tundra. Migratory birds and caribou pass through the plain, which provides habitat for wildlife, including polar bears and wolves.
Alaskan political leaders, including some Democrats, have long pushed to allow oil and gas drilling in the refuge in part because of its economic impact on indigenous communities in an area with few other jobs. Many of those same voices pressed Biden to approve the Willow project for the same reason.
"I am deeply frustrated by the reversal of these leases in ANWR," said US Representative Mary Peltola, a Democrat. "This administration showed that it is capable of listening to Alaskans with the approval of the Willow Project, and it is some of those same Inupiat North Slope communities who are most impacted by this decision. I will continue to advocate for them and for Alaska's ability to explore and develop our natural resources."
Comments will be moderated. Keep comments relevant to the article. Remarks containing abusive and obscene language, personal attacks of any kind or promotion will be removed and the user banned. Final decision will be at the discretion of the Taipei Times.