Italy moves to exit China's Belt and Road plan
UNDER DISCUSSION: Just before flying to China, Italian Minister of Foreign Affairs Antonio Tajani said that the 2019 agreement had not met expectations
When Italian Minister of Foreign Affairs Antonio Tajani arrived in China yesterday, he was focused on balancing two competing interests: laying the ground for Italy's exit from a controversial investment pact with Beijing, while also trying to avoid a rupture with the world's second-largest economy.
During the three-day trip, Italian Prime Minister Giorgia Meloni's deputy is to meet with Chinese Minister of Foreign Affairs Wang Yi (王毅) and other officials to discuss the possibility of leaving the Belt and Road Initiative, an investment pact designed to deepen economic ties with allies.
Just before boarding a plane to China on Saturday, Tajani said that the 2019 agreement had fallen short of expectations.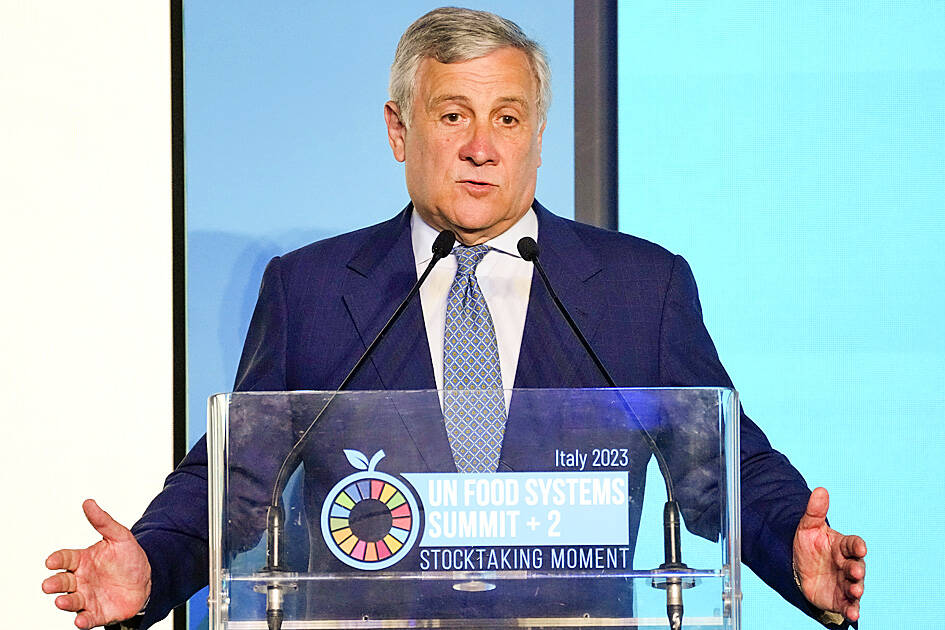 Italian Foreign Minister Antonio Tajani addresses the assembly during the opening session of a three-day U.N. Food and Agriculture Agency's summit on food systems in Rome, Monday, July 24, 2023.
Photo: AP
"Belt and Road was a decision made in the past," Tajani told Francine Lacqua in a Bloomberg Television interview at the Ambrosetti Forum in Cernobbio, Italy.
Regardless of what Italy decides regarding the pact, "it will not be a message against China," he said.
Bloomberg reported earlier that Italy was signaling to allies that it intended to pull out of the initiative, but delivering on such a scenario would require a significant diplomatic effort.
Meloni has said she will visit China in the coming months as part of the outreach started by Tajani. The issue is sensitive, particularly since the Chinese ambassador to Italy has warned there would be "negative consequences" for Rome if it withdraws from the agreement.
Italy's membership in the initiative has turned into a dilemma for the government after making it an outlier among the G7 countries. It raised questions about Rome's foreign alliances at a time of an increasingly fraught rivalry between China and a US suspicious of Beijing's ambitions.
The impact of Italy's controversial pact with China on trade has been twofold, Bloomberg calculations based on Eurostat data showed.
While imports from China accelerated from 2020 and last year, following the signing of the Belt and Road memorandum, the trend has been more volatile for exports. After growing almost 20 percent in 2021, they only rose 5 percent last year, lagging behind the pace of inflation.
Meloni's government must decide by the end of the year whether to renew its involvement in the program that was once the backbone of Chinese President Xi Jinping's (習近平) efforts to deepen economic ties across the world.
Comments will be moderated. Keep comments relevant to the article. Remarks containing abusive and obscene language, personal attacks of any kind or promotion will be removed and the user banned. Final decision will be at the discretion of the Taipei Times.