Faith, trade behind PNG Jerusalem embassy opening
Papua New Guinea will join a handful of countries to open an embassy in Jerusalem, a decision long sought by pro-Israel church groups in the deeply Christian Pacific nation, and as Prime Minister James Marape seeks to boost foreign investment.
Marape has pledged to voters to make Papua New Guinea (PNG), a resource-rich, but largely undeveloped nation north of Australia, the "richest black Christian nation."
He previously told parliament Israel was important because of its agriculture technology; however, church groups have long lobbied for a Jerusalem embassy.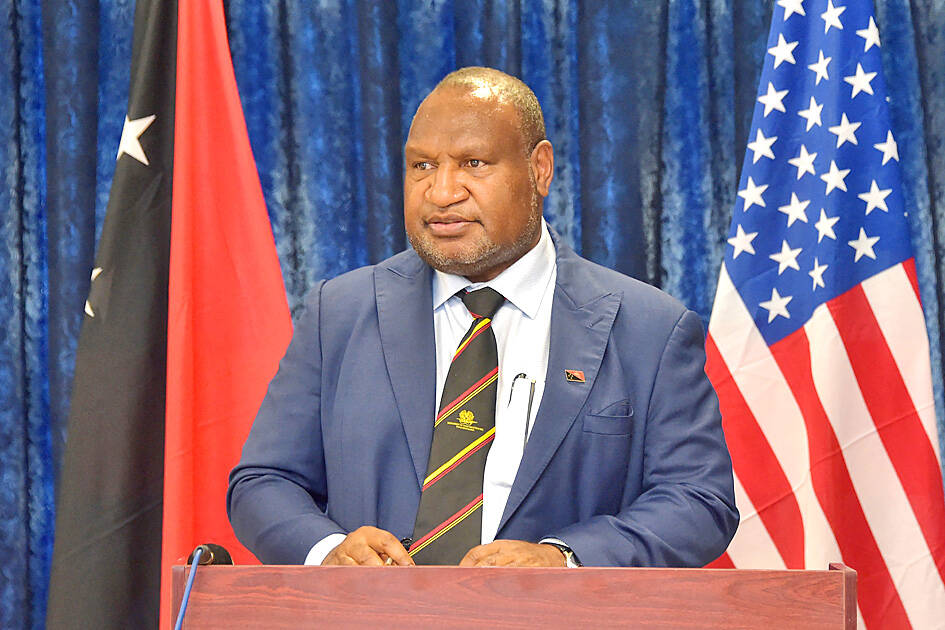 Papua New Guinea Prime Minister James Marape speaks during a joint press conference with USAID Administrator Samantha Power after their bilateral meeting in Port Moresby on Aug. 13.
Photo: AFP
On Saturday last week, Marape announced he would travel to Israel for the embassy opening on Tuesday next week. He also said a law would be introduced to officially declare Papua New Guinea a Christian country.
A delegation of pastors is traveling to Israel for the opening, PNG government and church officials said.
DREAM
"We have to have the relationship with Israel. This is what the people have been dreaming of," Pastor Peter Harut, PNG delegate for International Christian Embassy Jerusalem, a Christian Zionist group, said in a telephone interview.
The majority of countries with an official diplomatic presence in Israel have their embassies in Tel Aviv, with only the US, Kosovo, Guatemala and Honduras basing theirs in Jerusalem.
Citing Jewish biblical roots, Israel deems Jerusalem its indivisible capital. That status has not won wide recognition abroad, and Palestinians want the east of the city — which Israel captured in a 1967 war, and is the site of major Jewish, Christian and Muslim shrines — as the capital of their hoped-for future state.
United Nations for Israel, a Florida-based Zionist group with pastors in PNG, wrote to Marape to congratulate him.
In the letter viewed by Reuters, the group's president, Dominiquae Bierman, who has visited PNG several times to preach, said she was "very involved in bringing the Biblical Message to your nation about the importance of honoring Israel."
"This includes positioning the embassies of all the nations in the eternal capital of Israel, Jerusalem," Bierman said.
SPECIAL GUEST
Israel has yet to formally announce the embassy opening, but an Israeli official told Reuters Marape would be visiting from Monday to Wednesday, with Israeli Prime Minister Benjamin Netanyahu attending Tuesday's opening.
The visit would allow Netanyahu to burnish his statesman credentials amid diplomatic deadlock on other fronts for his hard-right government.
An Israeli official who requested anonymity said the PNG embassy would have 200m2 of floor space and can expect to get a discount of about 70 percent on municipal property tax as part of standing policy meant to draw embassies and corporations to Jerusalem.
Comments will be moderated. Keep comments relevant to the article. Remarks containing abusive and obscene language, personal attacks of any kind or promotion will be removed and the user banned. Final decision will be at the discretion of the Taipei Times.