Nations criticize Fukushima release
CHINA'S LEAD? A former diplomat said the release has created a political opening for Beijing, as the decision would be very unpopular in Pacific island communities
China's Pacific allies from the Solomon Islands' government to Fiji's opposition yesterday echoed Beijing's criticism of Japan releasing wastewater from its disaster-hit Fukushima Dai-ichi nuclear plant.
Treated wastewater is to be released into the Pacific Ocean over decades in a plan endorsed by the International Atomic Energy Agency (IAEA), but China has issued a furious response, and its allies in the Pacific have backed that criticism despite safety assurances from Japan and the IAEA.
Solomon Islands Prime Minister Manasseh Sogavare — who has delayed elections and scolded Western powers while embracing Beijing's checkbook diplomacy — issued a "strong statement against Japan's decision."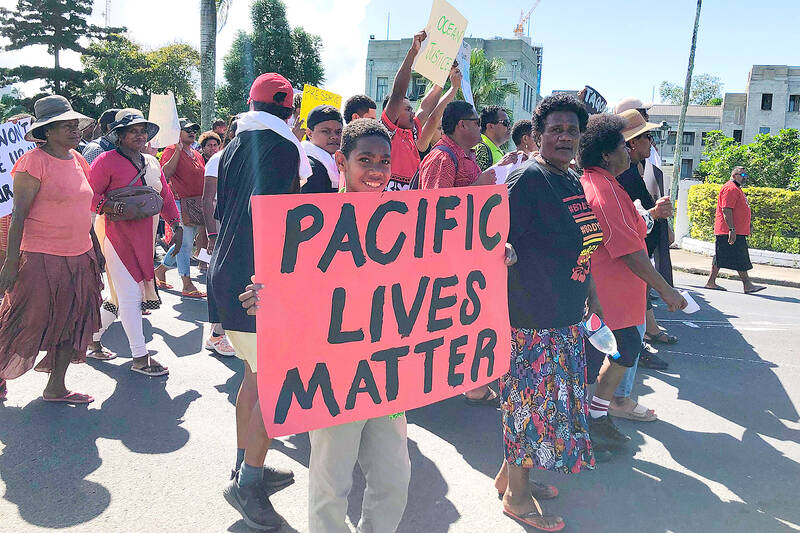 People march and hold banners during a protest in Suva yesterday against Japan's decision to release treated wastewater from the crippled Fukushima Dai-ichi nuclear power plant.
Photo: AFP
The water release "has an impact on our people, ocean, economy and livelihood," Sogavare said.
There was a similar message in the Fijian capital, Suva, where a rare protest attracted hundreds.
Demonstrators carried placards saying "Nuclear-free sea" and "Pacific Lives Matter."
The protest was promoted by FijiFirst, an opposition party whose leader, former Fijian prime minister Voreqe Bainimarama, courted closer ties with China while in office.
The party accused Fiji's government of "failing future generations by allowing Japan to dump its nuclear waste into our ocean."
Other leaders in the region appeared to be convinced by the safety assessments.
"Japan has reassured the region that the water has been treated," said Cook Islands Prime Minister Mark Brown, who is chair of the Pacific Islands Forum, a regional bloc. "I believe that the discharge meets international safety standards."
China has repeatedly and strongly criticized the release plan, banned Japanese seafood imports and cast doubt on the expert assessments that concluded the operation poses no harm to the environment.
Nigel Marks, a physics professor at Australia's Curtin University, said the released water contains negligible amounts of radioactive tritium.
"The Pacific Ocean contains 8,400 grams of pure tritium, while Japan will release 0.06 grams of tritium every year," Marks said. "The minuscule amount of extra radiation won't make the tiniest jot of difference."
Regardless of the data, the Fukushima release has created a political opening for Beijing, said Mihai Sora, a former Australian diplomat who is now with the Lowy Institute in Sydney.
Japan has "done a lot of diplomacy to win over as many Pacific leaders as they can," but "almost universally this will be an unpopular decision among Pacific communities," Sora said.
"You can imagine Beijing using its diplomatic access to encourage some of its partners to speak out about this strongly, because it serves Beijing's interests," he said.
As well as fears about damaging vital fish supplies and sensitive marine ecosystems, the Fukushima water release has caused disquiet in a region where nuclear issues are highly sensitive.
For decades, major powers including the US, Britain and France used the sparsely populated South Pacific to test atomic weapons — with consequences that linger to this day.
Meanwhile, samples of seawater taken following the release showed radioactivity levels well within safe limits, data provided yesterday by operator Tokyo Electric Power Co showed (TEPCO).
"We confirmed that the analyzed value is equal to the calculated concentration and that the analyzed value is below 1,500" becquerels per liter, TEPCO spokesman Keisuke Matsuo said a day after the release began.
The national safety standard is 60,000 becquerels per liter.
Comments will be moderated. Keep comments relevant to the article. Remarks containing abusive and obscene language, personal attacks of any kind or promotion will be removed and the user banned. Final decision will be at the discretion of the Taipei Times.