UK band nix Taipei, Jakarta gigs after LGBTQ uproar
'IMPOSSIBLE TO PROCEED': It was unclear why The 1975 canceled their performance in Taiwan, which in 2019 became the first East Asian nation to legalize same-sex marriage
British band The 1975 yesterday said they have canceled shows in Taiwan and Indonesia, a day after Malaysia banned them from performing there after their frontman kissed a bandmate on stage and criticized the country's anti-LGBT laws.
Indonesia's LGBTQ laws are less strict than those in neighboring countries such as Malaysia, where homosexuality is a crime, but several events have been canceled over the past few years because of opposition in the Muslim-majority country.
Malaysian authorities canceled the Good Vibes music festival in the capital, Kuala Lumpur, after cutting short the band's set on Friday, because of Matt Healy's profanity-laden speech and kiss with the band's bassist Ross MacDonald.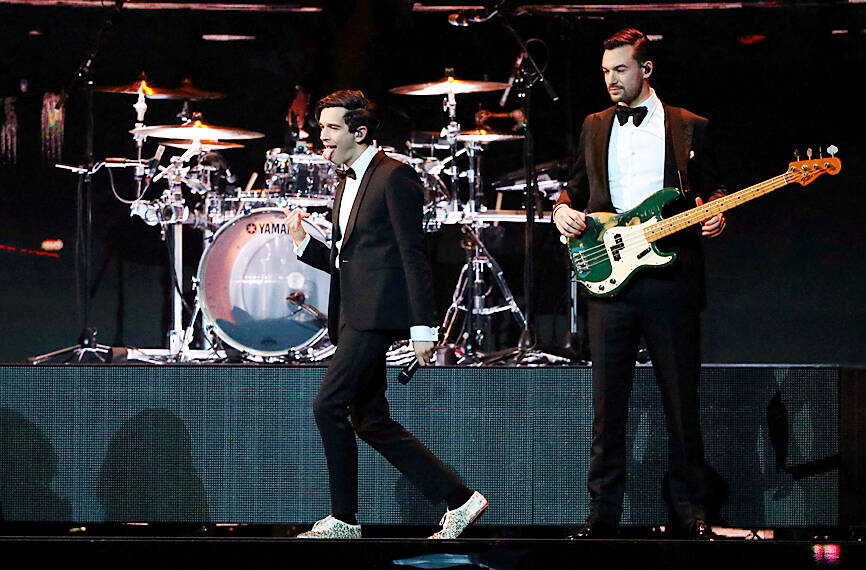 The 1975 perform at the Brit Awards at the O2 Arena in London on Feb. 20, 2019.
Photo: Reuters
The band subsequently announced it would cancel its performance at the We The Fest event in Indonesia's capital, Jakarta yesterday, as well as a show in Taipei tomorrow.
It was not immediately clear why the band canceled their show in Taiwan, which has a proud reputation as a bastion of LGBT rights and liberalism, and in May 2019 became the first country in East Asia to legalize same-sex marriage.
"The 1975 regret to announce that their forthcoming shows in Jakarta and Taipei will no longer be going ahead as planned," the band said in a statement yesterday on the We The Fest Instagram page.
"The band never take the decision to cancel a show lightly and had been eagerly looking forward to playing for fans in Jakarta and Taipei but unfortunately, due to current circumstances, it is impossible to proceed with the scheduled shows," the statement said.
The Indonesian government and festival organizers have yet to comment on the cancellation.
The band's next scheduled concert is Lollapalooza festival in the US early next month.
Healy had told Malaysian fans on stage that the band had thought of pulling out of the festival on Friday, saying: "I do not see the point of inviting The 1975 to a country and then telling us who we can have sex with."
Homosexuality is a crime in Malaysia, and rights groups have warned of growing intolerance against lesbian, gay, bisexual and transgender people.
The events on Friday caused an uproar, angering not only the government, but members of the LGBT community, who said Healy's actions could expose LGBT people to more stigma and discrimination.
Comments will be moderated. Keep comments relevant to the article. Remarks containing abusive and obscene language, personal attacks of any kind or promotion will be removed and the user banned. Final decision will be at the discretion of the Taipei Times.