Chinese ship heads for Philippines as 'friendly' tour ends
China's largest naval training ship sailed for the Philippines yesterday, its last stop of a regional "friendly" tour, amid growing unease over Chinese maritime activities in the South China Sea.
The giant training vessel, Qi Jiguang, bigger than a typical destroyer, left Brunei on Thursday for the Philippines as part of a 40-day trip, which has included stops in Vietnam and Thailand.
At the end of its trip, Qi Jiguang and its crew of 476 navy students and officers would have passed through the Yellow Sea, East China Sea, South China Sea, Gulf of Thailand and Western Pacific.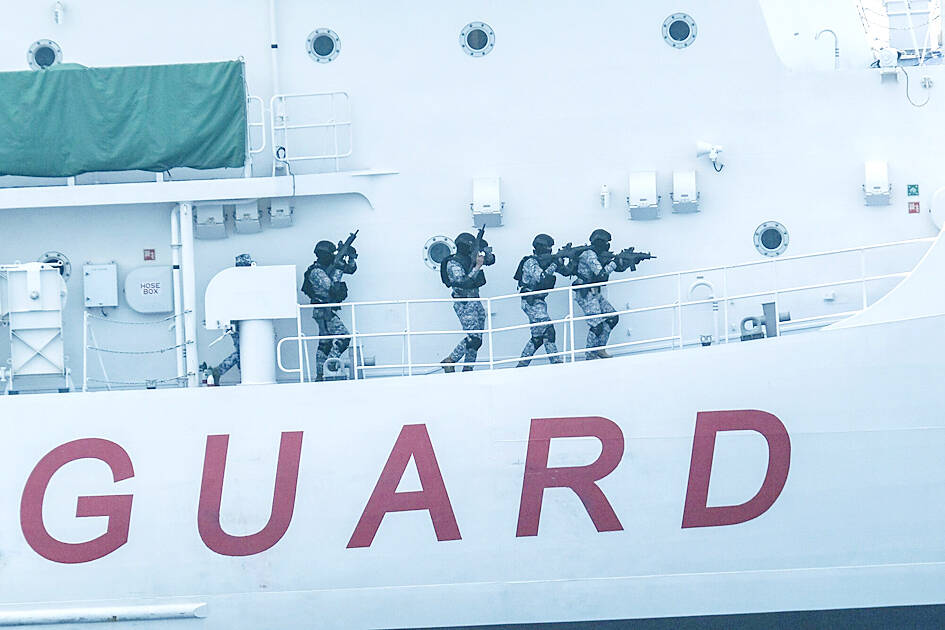 Members of the Philippine Coast Guard participate in a joint maritime exercise with Japanese and US coast guards off the coast of the Philippines on Tuesday.
Photo: Bloomberg
'FRIENDLY'
Training conducted by the ship, named after a Ming Dynasty general who fought against Japanese pirates, would focus on navigation, anti-piracy and shooting exercises with lightweight weapons, Chinese state media reported, describing its passage in the region as "friendly."
Its arrival in the Philippines comes amid tensions with its neighbors over the South China Sea, which China mostly claims, but parts of which are also claimed by Taiwan, Brunei, Malaysia, the Philippines and Vietnam.
The visit also comes immediately after the first-ever trilateral coast guard exercise involving the Philippines, Japan and the US that ended on Wednesday.
The Philippines has strengthened its military ties with the US this year, conducting more drills and allowing US access to local military bases.
China was angered when Manila said the access would be useful if Chinese forces attacked Taiwan.
MARITIME CHALLENGE
Heightening tensions, the Philippines last month placed navigational buoys in the contested Spratly Islands in the South China Sea, prompting China to do the same.
From May 23 to 25, the training vessel made port in Vietnam, overlapping with the sailing of a Chinese research ship in Vietnam's exclusive economic zone from May 7 to Tuesday.
The presence of the research ship prompted a rare protest from Hanoi.
The 10-member ASEAN is to hold its first-ever multilateral military drill in the South China Sea in September, its chair Indonesia said on Thursday.
Comments will be moderated. Keep comments relevant to the article. Remarks containing abusive and obscene language, personal attacks of any kind or promotion will be removed and the user banned. Final decision will be at the discretion of the Taipei Times.