Philippine radio broadcaster murdered
OUTSPOKEN: Cresenciano Bunduquin, who was killed by motorcycle-riding shooters, hosted a program about 'hard-hitting' local issues such as illegal gambling and politics
A radio broadcaster was yesterday fatally shot outside his home in the central Philippines, police said, the latest in a long list of journalists killed in the country.
Cresenciano Bunduquin, 50, was killed by motorcycle-riding shooters in Calapan City in Oriental Mindoro province, police Colonel Samuel Delorino said.
One of the assailants died after Bunduquin's son hit the shooters with his vehicle as they fled the scene of the pre-dawn attack.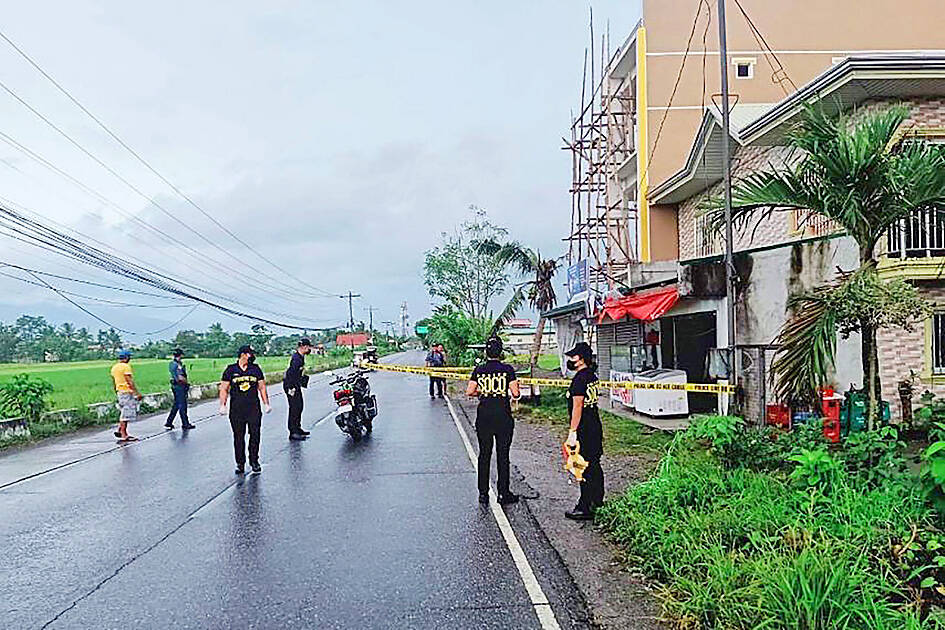 Police search for evidence after radio broadcaster Cresenciano Bunduquin was fatally shot outside his home in Calapan, Philippines, yesterday.
Photo: AFP / Oriental Mindoro Provincial Police Public Information Office
"The remaining suspect was able to run off. The hot pursuit operation is still ongoing," Delorino said.
The archipelago nation is one of the most dangerous places in the world for journalists, and most of the killers often go unpunished.
Radio broadcasters outside the capital are often the targets.
Bunduquin hosted a program on radio station 101.7 DWXR as well as on Facebook, said station manager Jester Joaquin, who described the broadcaster as "hard-hitting" on local issues.
He had been outspoken about an oil spill affecting the province, illegal gambling and politics.
"He told me before that he's receiving threats, but he didn't elaborate," Joaquin said. "He mentioned to me that he wanted a change in his line of work — that's why he put up a chicken farm, because he wants to go quiet."
Bunduquin is the third journalist to be killed since Philippine President Ferdinand Marcos Jr took office in June last year.
"Bunduquin's killing further shows that journalists in the Philippines still operate under threat despite our improvement in the press freedom index and the relatively friendlier relations that media has with the current administration," National Union of Journalists of the Philippines chairman Jonathan de Santos said.
"When perpetrators of attacks on media are not held to account ... future attacks become more likely," De Santos said.
Comments will be moderated. Keep comments relevant to the article. Remarks containing abusive and obscene language, personal attacks of any kind or promotion will be removed and the user banned. Final decision will be at the discretion of the Taipei Times.