Philippines braces for Typhoon Mawar
READY FOR ACTION: Military, police, firefighters and volunteers were standing by for search-and-rescue operations, with an official saying they 'cannot afford not to prepare'
Philippine officials yesterday began evacuating thousands of people, shut down schools and offices and imposed a no-sail ban as Typhoon Mawar approached the country's northern provinces a week after battering the US territory of Guam.
The typhoon was packing maximum sustained winds of 155kpm and gusts of up to 190kph, but was forecast to spare the mountainous region a direct hit. Current projections show the typhoon veering northeast toward Taiwan or southern Japan.
Although it is expected to slow down considerably, authorities warned of dangerous tidal surges, flash floods and landslides as it blows past the northernmost province of Batanes from today to tomorrow.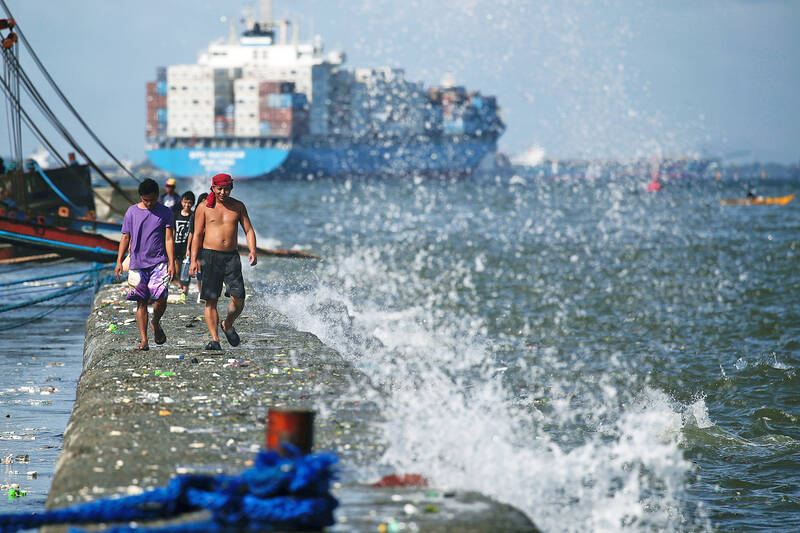 Fishers walk on a breakwater in Manila yesterday.
Photo: EPA-EFE
Disaster-preparedness officials said the typhoon's course could change abruptly and there was no room for complacency.
"Even if the sun is up, the weather is so unpredictable nowadays and could change any time so we should always stay on the side of safety," Philippine Office of Civil Defense Assistant Secretary Raffy Alejandro said. "We're talking here of potential threats to lives."
Mawar tore through Guam last week as the strongest typhoon to hit the US Pacific territory in more than two decades, flipping vehicles, tearing off roofs and knocking out power.
"These typhoons, earthquakes and natural calamities have been a part of our lives," Batanes Vice Governor Ignacio Villa said. "We cannot afford not to prepare because that would potentially mean the loss of lives and major damage."
Military personnel, police, firefighters and volunteer groups were standing by for search-and-rescue operations in northern provinces and more than 1 million food packs have been prepared for any contingency, officials said.
More than 4,800 people have been evacuated to emergency shelters in Cagayan, Batanes and other provinces, Alejandro said.
He added that the number of the displaced was expected to rise given the precautionary evacuations that were under way yesterday in flood and landslide-prone regions.
Classes and office work, except those involved in disaster-preparedness, have been suspended in most of Cagayan and Batanes provinces, where occasional downpours and gusty wind were reported on Sunday night. Flights to and from the provinces have been canceled and fishing and passenger vessels prohibited from sailing.
In at least one province, officials imposed a liquor ban.
Villa said the local government lent ropes to villagers living in high-risk communities to strengthen their houses as the typhoon approached.
About 20 typhoons and storms each year batter the Philippine archipelago, which also lies on seismic faults where volcanic eruptions and earthquakes occur, making the Southeast Asian nation one of the world's most disaster-prone.
In November 2013, Typhoon Haiyan left more than 7,300 people dead or missing, flattened entire villages, swept ships inland, demolished about 1 million shanties and houses and displaced more than 5 million in one of the country's poorest regions in the central Philippines.
Comments will be moderated. Keep comments relevant to the article. Remarks containing abusive and obscene language, personal attacks of any kind or promotion will be removed and the user banned. Final decision will be at the discretion of the Taipei Times.