Over 1,500 climate activists arrested in the Netherlands
More than 1,500 people were arrested during a protest by the Extinction Rebellion climate group in The Hague on Saturday, Dutch police said.
Activists blocked a section of a motorway during the afternoon in protest against Dutch fossil-fuel subsidies.
Police said they had used water cannon to disperse activists blocking a major road in the city, and arrested "a total of 1,579 people ... 40 of whom will be prosecuted" on charges including vandalism.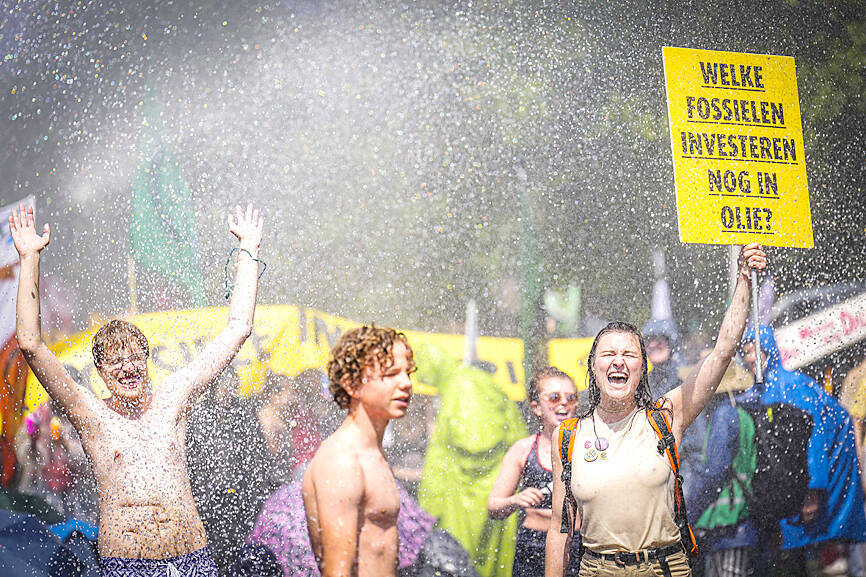 Protesters react as police douse them with water cannons on the A12 motorway in The Hague, the Netherlands, on Saturday.
Photo: EPA-EFE
One of the activists bit a policeman during his arrest, police said.
According to Extinction Rebellion, about 7,000 people gathered to join the demonstration.
Anticipating the water cannon, some wore swimsuits or carried umbrellas as they sat in protest across the A12 motorway, holding banners and signs.
The protest marks the seventh organized by Extinction Rebellion in the same section of motorway at The Hague, close to the parliament and main ministry buildings.
However, Saturday saw the highest number of people arrested at a protest yet, Dutch news agency ANP said.
"We're going to stay here until they drag us away," said postgraduate student Anne Kerevers, 31. "Climate change is an unfolding crisis and we know the cause and it's still being subsidised by our government and it needs to stop," she told reporters.
Several Dutch celebrities were among the protesters, including actor Carice van Houten, best known for her role as Melisandre in the hit TV series Game of Thrones.
Van Houten posted a video on Instagram showing herself wearing a red poncho, getting drenched from a water cannon.
ANP reported that she was arrested and later allowed to return home, but did not specify whether she was among those who would be prosecuted.
Police said they had repeatedly "given activists the opportunity to end their action and leave" before using the water cannon and making arrests.
"We've been coming back every month, or every two months, and every time the number [of protesters] has doubled," Extinction Rebellion spokesman Aaron Pereira said.
"There is broad popular support for real climate action and people are waking up to the fact that the government is actively going against this by subsidizing the fossil-fuel industry," Pereira said.
Comments will be moderated. Keep comments relevant to the article. Remarks containing abusive and obscene language, personal attacks of any kind or promotion will be removed and the user banned. Final decision will be at the discretion of the Taipei Times.