US, China trade heads swap complaints
TIME TO TALK: Among China's grievances were economic and trade issues related to Taiwan, but both countries emphasized the need to maintain communication
US Trade Representative Katherine Tai (戴琪) on Friday raised complaints about China's state-led economic policies during a meeting with Chinese Minister of Commerce Wang Wentao (王文濤), who objected to US tariffs and trade policies, as well as issues related to Taiwan, their offices said.
However, statements from the US Trade Representative's (USTR) office and the Chinese Ministry of Commerce emphasized the need for Washington and Beijing to maintain communication on trade.
"Ambassador Tai highlighted the need to address the critical imbalances caused by China's state-led, non-market approach to the economy and trade policy," the USTR said in a statement released after the meeting on the sidelines of an APEC conference in Detroit.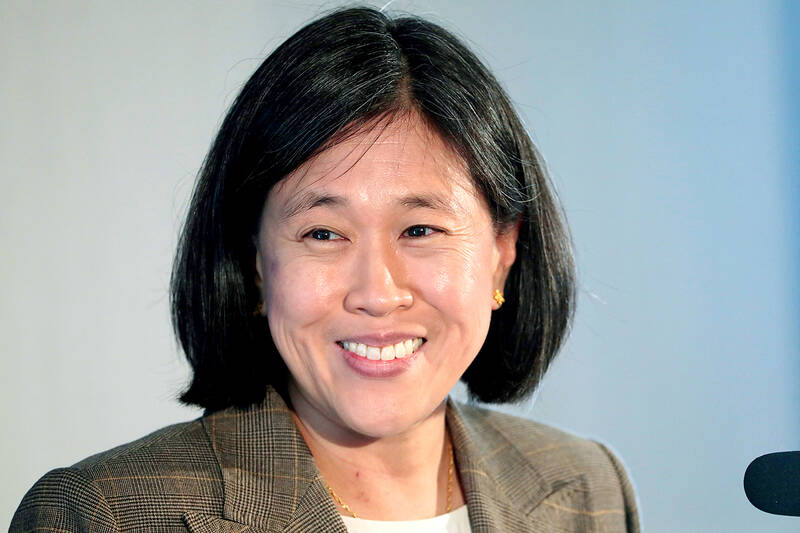 US Trade Representative Katherine Tai smiles while speaking at the APEC Ministers Responsible for Trade meeting in Detroit, Michigan, on Friday.
Photo: AFP
"She also raised concerns about PRC [People's Republic of China] actions taken against US companies operating there," it said.
The Chinese commerce ministry said that Wang raised complaints about US economic and trade policies toward China, including US tariffs on Chinese goods, economic and trade issues related to Taiwan, and the US-led Indo-Pacific Economic Framework (IPEF), which excludes China.
Tai was yesterday scheduled to hold a ministerial meeting of countries in the IPEF talks, which aim to provide a US-centered alternative to China's influence.
Last week, she announced initial trade agreements with Taiwan.
USTR is conducting a four-year review of US tariffs on hundreds of billions of US dollars worth of Chinese imports, imposed in 2018 and 2019 by then-US president Donald Trump.
Tai has long raised objections to China's attempts to dominate certain industries using massive state subsidies, and said such issues continue to come up in the relationship.
Asked during a news conference whether the US would resort to using further trade tools to address China's practices, such as a new "Section 301" investigation that could lead to more US tariffs, Tai said that "aspects" of Washington's response were already evident in US economic policies.
"The benefit of sitting down and having a conversation with interlocutors from Beijing is so that we can understand each other better and understand how we are experiencing the impacts that we have on each other's economies," Tai said.
Wang's meetings with Tai in Detroit and with US Secretary of Commerce Gina Raimondo in Washington on Thursday marked the first cabinet-level exchange in months between US and Chinese officials, following a series of setbacks that raised tensions between the world's two largest economies.
Tai stressed the importance of maintaining open lines of communication between Washington and Beijing as they spoke on the sidelines of APEC, the US statement said.
The Chinese statement was similar in tone to concerns raised with Raimondo about US trade, investment and export policies.
US President Joe Biden and Chinese President Xi Jinping (習近平) pledged more frequent communications at a G20 summit in Indonesia in November last yearto avoid US-China tensions from turning into a new Cold War, but those plans suffered several setbacks, starting with the downing of a suspected Chinese spy balloon in US coastal waters.
These irritants continued through last Sunday, when G7 leaders pledged to resist China's "economic coercion" and Beijing responded by declaring US memory chip maker Micron Technology a national security risk, banning its sales to major domestic industries.
Comments will be moderated. Keep comments relevant to the article. Remarks containing abusive and obscene language, personal attacks of any kind or promotion will be removed and the user banned. Final decision will be at the discretion of the Taipei Times.