Imran Khan faces 'end of the road' in Pakistan
MILITARY CONFLICT: Several Pakistan Tehreek-e-Insaf party leaders were arrested in police raids, and many stepped down from the party due to military pressure
Holed up at his fortified home in Lahore, Pakistan, former Pakistani prime minister Imran Khan is looking increasingly besieged and isolated, as Pakistan's military instigates a sweeping crackdown against his political party.
Following unprecedented attacks against military-owned properties and widespread protests after Khan was briefly jailed earlier this month, more than 10,000 people linked to Khan's Pakistan Tehreek-e-Insaf (PTI) party — or Movement for Justice — have been arrested in police raids.
Several prominent leaders are in jail and more than two dozen PTI stalwarts have quit the party this week.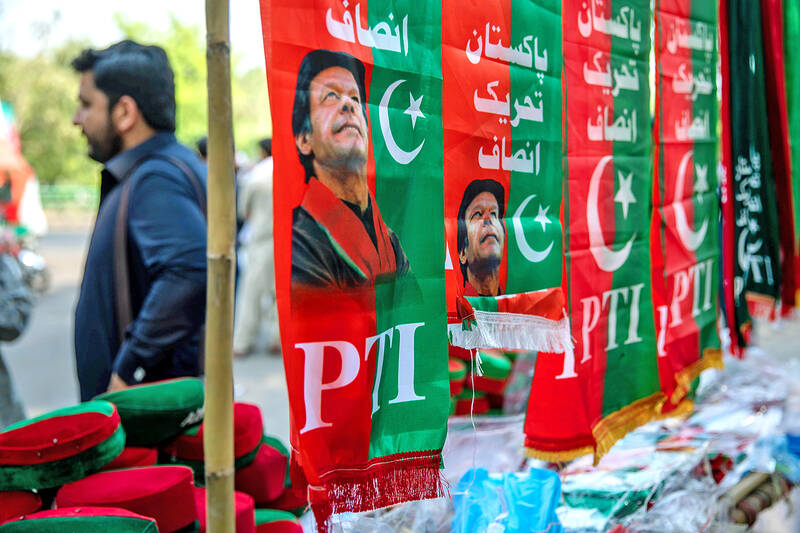 Merchandise for the Pakistan Tehreek-e-Insaf party is displayed near the residence of former Pakistani prime minister Imran Khan in Lahore, Pakistan, on May 12.
Photo: Bloomberg
Publicly, the army and the government said they are holding accountable anyone who attacked state-owned property.
However, behind the scenes, there is a recognition that Khan's popularity is unmatched and his party must be cut down to size ahead of elections due in October at the latest, two people familiar with the military's thinking said.
Khan risks meeting a similar fate as previous prime ministers, who have been jailed, exiled or executed following power struggles with Pakistan's generals.
Although army support was widely credited in bringing Khan to office in the last national election in 2018, his predicament stems from his attempts to mess with military hierarchy — a red line for Pakistan's most powerful institution, which has directly controlled the nuclear-armed nation for much of its post-independence history.
"This is the end of the road for Imran Khan," King's College London senior fellow and expert on Pakistan's military Ayesha Siddiqa said. "The question is will they be able to take away his support base?"
Khan's connection with the outside world and marshal support is already being eroded.
On Wednesday, the Internet at his Lahore residence was abruptly cut off before a scheduled call with British lawmakers concerned about Pakistan's deteriorating political, economic and security situation.
Police have compounded most of his armored vehicles, limiting his movements, his aide Zulfi Bukhari said.
Yesterday, a news report said that Khan and his wife had been placed on a no-fly list and were barred from leaving the country.
Khan survived an assassination attempt at the end of last year.
Pakistan's military did not respond to a request for comment.
Since his ousting as prime minister last year following a parliamentary no-confidence vote, Khan has campaigned relentlessly for fresh elections.
He has blasted the unwieldy coalition headed by Pakistani Prime Minister Shehbaz Sharif — who is seen as more amenable to the army even though his brother was once ousted in a coup — as a corrupt force of self-serving dynastic parties.
Comments will be moderated. Keep comments relevant to the article. Remarks containing abusive and obscene language, personal attacks of any kind or promotion will be removed and the user banned. Final decision will be at the discretion of the Taipei Times.