Extremist sentenced to 18 years for US Jan. 6 attack
'DANGEROUS': The court interpreted the plot to storm the US Capitol as 'terrorism,' and the judge said that the defendant posed a continued threat to democracy
Oath Keepers extremist group founder Elmer Stewart Rhodes was on Thursday sentenced to 18 years in prison for orchestrating a weeks-long plot that culminated in his followers attacking the US Capitol in a bid to keep US President Joe Biden out of the White House after winning the 2020 election.
Rhodes, 58, is the first person convicted of seditious conspiracy in the Jan. 6, 2021, attack to receive his punishment, and his sentence is the longest handed down in the hundreds of Capitol riot cases.
It is a milestone for the US Department of Justice's sprawling Jan. 6 investigation, which has led to seditious conspiracy convictions against the top leaders of two far-right extremist groups authorities have said went to Washington prepared to fight to keep then-US president Donald Trump in power at all costs.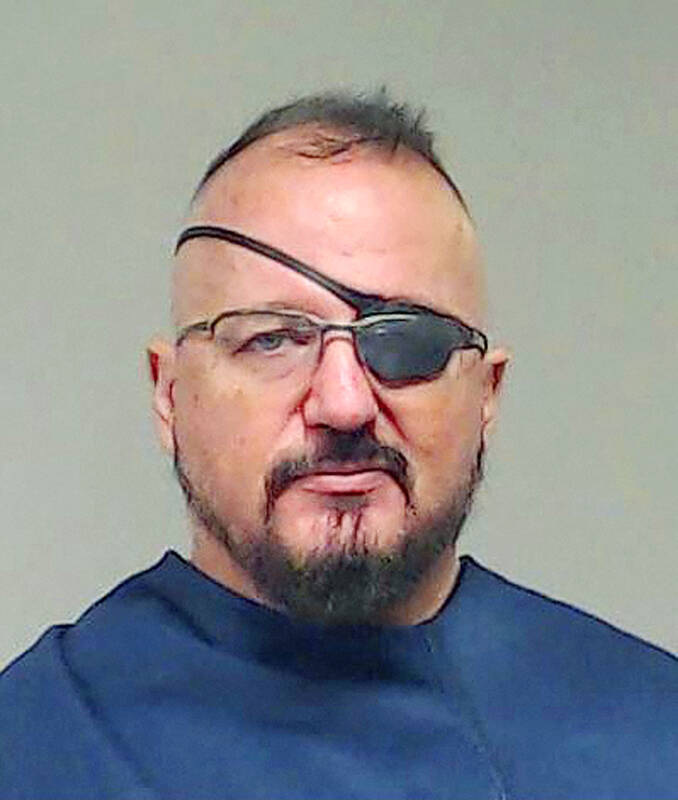 Oath Keepers founder Elmer Stewart Rhodes is photographed at Collin County Sheriff's Office, Texas, on Jan. 13 last year.
Photo: AFP
In a first for a Jan. 6 case, the judge agreed with the Department of Justice that Rhodes' actions should be punished as "terrorism," which increases the recommended sentence under federal guidelines.
That decision could foreshadow lengthy sentences for other far-right extremists, including former Proud Boys leader Enrique Tarrio, who have also been convicted of the charge.
Before announcing Rhodes' sentence, US District Judge Amit Mehta described a defiant Rhodes as a continued threat to the US and democracy.
The judge said that what happened on Jan. 6 could be repeated, and that Americans would "now hold our collective breaths every time an election is approaching."
"You are smart, you are charismatic and compelling and frankly that's what makes you dangerous," the judge told Rhodes. "The moment you are released, whenever that may be, you will be ready to take up arms against your government."
Rhodes did not use his chance to address the judge to express remorse or appeal for leniency, but instead said he was a "political prisoner," criticizing prosecutors and the Biden administration and playing down his actions on Jan. 6.
"I'm a political prisoner and, like President Trump, my only crime is opposing those who are destroying our country," Rhodes said.
Mehta said that Rhodes was not prosecuted for his political beliefs, but for actions the judge described as an "offense against the people of the country."
"You are not a political prisoner, Mr Rhodes," Mehta said.
Another Oath Keeper convicted of seditious conspiracy alongside Rhodes — Florida chapter leader Kelly Meggs — was sentenced later on Thursday to 12 years in prison.
Meggs said that he was sorry that he was involved in something that has left a "black eye on the country," but said that he never planned to go into the Capitol.
The judge found that Meggs does not present a threat to the country in the way that Rhodes does, but told him "violence cannot be resorted to just because you disagree with who got elected."
Other Oath Keepers were expected to be sentenced yesterday, and more next week.
A Washington jury found Rhodes guilty of leading a plot to forcibly disrupt the transfer of presidential power.
Prosecutors alleged that Rhodes and his followers recruited members, amassed weapons and set up "quick reaction force" teams at a Virginia hotel that could ferry guns into the nation's capital if they were needed to support their plot. The weapons were never deployed.
It was one of the most consequential Capitol riot cases brought by the government, which has sought to prove that the attack by right-wing extremists such as the Oath Keepers was not a spur-of-the-moment protest, but the culmination of weeks of plotting to overturn Biden's victory.
Rhodes' arrest in January last year was the culmination of a decades-long path of extremism that included armed standoffs with federal authorities at Nevada's Bundy Ranch.
After founding the Oath Keepers in 2009, the Yale Law School graduate built it into one of the largest far-right antigovernment militia groups in the US, but it appears to have weakened in the wake of the Oath Keepers' arrests.
The judge agreed to prosecutors' request for a so-called "terrorism enhancement" — which can lead to a longer prison term — based on the argument that the Oath Keepers sought to influence the government through "intimidation or coercion."
Judges in less serious Jan. 6 cases had rejected such requests.
Prosecutors had sought 25 years for Rhodes, saying that a lengthy sentence was necessary to deter political violence.
Assistant US Attorney Kathryn Rakoczy presented interviews and speeches Rhodes had given from jail, saying that the 2020 election had been stolen and that it would be again next year.
In remarks this week, Rhodes called for "regime change," the prosecutor said.
People "across the political spectrum" want to believe that Jan. 6 was an "outlier," Rakoczy said. "Not defendant Rhodes."
Comments will be moderated. Keep comments relevant to the article. Remarks containing abusive and obscene language, personal attacks of any kind or promotion will be removed and the user banned. Final decision will be at the discretion of the Taipei Times.