Technical issues mire DeSantis' launch
CHAOS: While organizers said the Twitter glitches were due to the event's popularity, Donald Trump tried to capitalize on the issues plaguing the governor's presidential bid
Florida Governor Ron DeSantis' long-awaited entry into next year's US presidential campaign descended into a fiasco on Wednesday as the opening of the live Twitter event intended to announce his candidacy was derailed by glitches.
The conversation repeatedly crashed as the platform's servers were apparently overwhelmed, and many of the more than 400,000 users hoping to listen missed the 44-year-old conservative throwing down the gauntlet to Republican primary front-runner and former US president Donald Trump.
DeSantis began speaking after almost half an hour of confusion and chaos — although what should have been an exultant launch had been overshadowed by the time he made his case for the Republican nomination.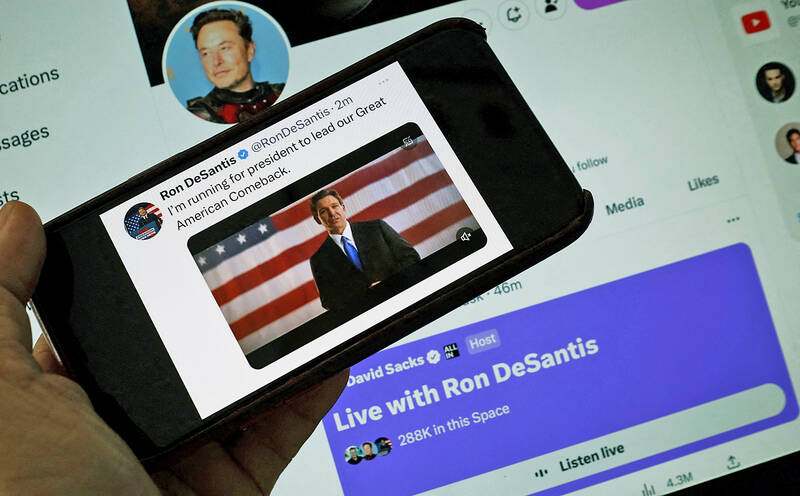 The Twitter page of Ron DeSantis is pictured alongside a live Twitter talk with Elon Musk on Wednesday.
Photo: AFP
"I am running for president of the United States to lead our great American comeback," he told listeners, although tens of thousands had abandoned Twitter by that point.
As the Web site struggled to get the event back on track, its owner Elon Musk, performing hosting duties, could be heard saying that the "massive number of people online" had caused the servers to begin "straining somewhat."
While organizers sought to highlight the event's popularity — the DeSantis camp said that it had raised US$1 million online in one hour.
US President Joe Biden's team was quick to capitalize on the glitches, posting on Twitter a link to a fundraising page, along with the message: "This link works."
"My Red Button is bigger, better, stronger, and is working," Trump wrote on his Truth Social platform, in a reference to a war of words he once had with North Korean leader Kim Jong-un.
The conversation went on for more than one hour, but technical problems persisted — a setback mocked as encapsulating the downward turn the governor's image has taken of late.
Long viewed as the most formidable challenger to twice-impeached Trump, DeSantis boasts deep midwestern roots, a large campaign fund, a list of ultra-conservative legislative wins and an unblemished record of election victories.
While Trump has dominated headlines with his legal woes, DeSantis has presented himself as the tip of the spear in the struggle of ordinary Americans against progressive values he sees as authoritarian and divisive.
The governor gave an interview on conservative television network Fox News after the Twitter event, and tried to reclaim his reputation for order and competence.
"If you nominate me, I pledge to you that on January 20, 2025, at high noon, I'll be the guy on the west side of the Capitol with the left hand on the Bible and the right hand in the air, taking the oath of office as the 47th president of the United States," he said.
"No more excuses — we've got to get this one done," he said.
DeSantis has used his position as Florida's governor to stack up a litany of conservative accomplishments, signing off on about 80 state laws targeting "woke indoctrination" in schools and other public institutions.
They include a ban on discussing gender identity and sexual orientation in schools, a block on funding efforts to promote diversity at public universities and one of the most restrictive abortion laws in the country.
"The woke mind virus is basically a form of cultural Marxism. At the end of the day, it's an attack on the truth, and because it's a war on truth, I think we have no choice but to wage a war on woke," he told Fox News.
Without explicitly criticizing Trump, the governor used the event to draw a distinction between his record of getting policy initiatives into the statute books and the former president's reputation for legislative inertia and chaos in his personal and professional life.
However, DeSantis lacks the front-runner's national profile, and the launch comes with his ratings in decline, as a number of policy missteps have prompted disquiet about his readiness to take on Trump.
He faces the task of closing an enormous polling gap, with Trump posting a lead of about 40 percentage points, despite being indicted on felony financial charges and being found liable for sexual abuse in a New York civil trial.
The Trump and DeSantis camps have been jostling to secure endorsements from state lawmakers while, at the national level, Florida's congressional delegation has broken heavily for Trump.
However, DeSantis is seen as lacking the natural charm needed to peel away some of the 14 million voters who backed Trump in the last Republican primary, in 2016.
Trump has not posted on Twitter since his two-year ban over the 2021 US Capitol riot ended in November, but has been using his own social network to attack DeSantis almost daily.
Comments will be moderated. Keep comments relevant to the article. Remarks containing abusive and obscene language, personal attacks of any kind or promotion will be removed and the user banned. Final decision will be at the discretion of the Taipei Times.